Finding a new job isn't easy. It's not like there's a universal portal that displays all the world's job opportunities (although it's high time somebody made one!).
Information on job opportunities is scattered about in different places, and not everybody is aware of where to look. Knowing those places can give you a significant boost in the right direction to find a new job.
Some may be obvious, like classifieds in the newspapers or job sites online, but there are so many more places beyond that where you can search for work opportunities.
We've narrowed down some tips and places for you to include in your search strategy to find a new job. Don't just pick one, use all of them, and leave no stone unturned! Here are 12 places to find a new job.
1) Get in Touch with Your Contact List
Sponsored Content - Posts And Ads You May Like:
Do not feel shy nor underestimate the people you know. Get in touch with former colleagues and contacts in your industry and let them know that you are on the market and looking for job opportunities. They might know of some unannounced job opening or ask you to help out at their organization.
Also, talk to your family and friends. Even though they might not be in the same industry as you, they could know of somebody else who is and put in the right word for you. Many colleges and high schools have alumni job boards where they post job opportunities having a higher preference for alumni.
At the end of the day, most people get jobs through people they know. So do make an effort to reach out to your contacts.
2) Use Online Job Boards
Take advantage of the Internet and the numerous sites dedicated to job listings. Hundreds of jobs are listed on these sites, which can be filtered according to your location, qualification, skills, and more.
The problem with these listings is that the competition can be quite high. Below is a list of some of the best job sites. Register at more than one and apply to as many jobs as you can.
Remember that the post has to be the right one for your professional experience and skills. The higher the number of applications, the better.
Applications are also a great option, and most of these websites have their own apps that help you track new opportunities.
Job search apps like LinkedIn have proved to be immensely handy for professionals seeking a new career. The app allows you to monitor jobs by using filters like "keywords" and "location," making it immensely convenient for job-seekers to make a beeling for the kind of jobs they're looking for.
3) Track Your Favorite Companies and Apply Directly
Another effective method to find a new job is to apply to companies directly. This requires some research.
You'll need to make a list of all the companies and small businesses that could use your qualifications and skills for starters. Then, find out the name of the hiring manager of each organization.
You can do that by browsing the company website or LinkedIn page and find out who is your primary contact in the HR department.
In a cover letter addressed to the HR manager, mention specific projects the company is working on and how your skills and/or experience could be an asset – you can find out about the company's plans by scanning their company blog or Twitter and Facebook page.
4) Use LinkedIn to Network
With more than 660 million users in more than 200 countries and territories worldwide, LinkedIn has fast become the go-to for job recruiters, hiring managers, and job seekers. Every minute, approximately two new people join LinkedIn.
With a quick search, you can find organizations in your industry and locality and determine what connections you may have there. Likewise, recruiters can search for potential employees through the site and reach out to them directly. LinkedIn is an excellent resource for those seeking job opportunities.
The site is free to join and posts your work history, achievements, summary, education, recommendation, endorsements, and more. Keep your profile up to date with your latest work and accomplishments.
5) Connect with Headhunters
A professional headhunter can be valuable in your job search. They have inside information on the industry and know about jobs that haven't been advertised.
Senior-level executives are almost exclusively recruited by headhunters or through recommendations. They have vast experience in finding openings that are publicly not known.
Do some research and work with a genuine headhunter with good reviews (there are some phonies out there collecting confidential information, so beware not to fall into a trap).
Have a meeting with the headhunter beforehand and be honest about your past work history and future aspirations.
6) Use the Classic Method to Find a New Job: Newspapers
A job advertisement in the newspaper is an old and classic method. Even today, some successful companies prefer to post their job openings in the paper. Scour a copy every day and apply it to jobs that might be right for you. Competition can be much lower than those online job posts.
Also, grab some local newspapers as well. The job ads they publish are targeted for locals in the area and can be great for job seekers who wish to move.
7) Go to Events Outside Of Your Industry
It is quite tempting to narrow your circle of connections when trying to find a new job. People often think that they should concentrate only on the events that take place within their industry. Attending events outside their industry seems to them to be a waste of time and energy.
Yet, human connections don't work that way, and you may get job opportunities in the most unlikely of places. This can be an NGO event or some awareness seminar.
It might also help you in exploring yourself and coming across new skills that were until now hidden beneath the desperate job-seeking professional. You might run into people from your industry and impress how you are willing to participate in such events.
Earn some brownie points that can earn you a call from a company looking for responsible and aware professionals.
8) Go to Job Search Parties
In a world filled up with competition, there is no shortage of professionals looking for a job. Be conscious enough to know if there is such a group around you. Better still, you can host your job-search party and invite people who are either looking for or working in the industry you want to get into.
Converse with them, get to know about the qualities they require in a professional and put forth your willingness to join.
By being not too straightforward, you might get a shot at entering an industry you've long wanted to. However, the trick is not to make it too evident that the party is all about your job. Interact with people genuinely, and you're sure to run into a plethora of opportunities if you've been careful with your invitations.
9) Take the Initiative
The world is becoming aware by the passing day, and being a competent professional isn't enough to find a new job. Large companies have no option but to be sensitive toward impending issues such as an environmental crisis.
Make yourself aware and act in whatever small way you can. The problems you see around you, the people you need to help around you, raise issues that matter, and it will surely be an invaluable addition to your resume.
You can walk into an interview and let them know how valuable you've been with your efforts. An enterprising, aware, and valuable professional, just what companies look forward to.
10) Try to Find a New Job Offline
There is a consensus in the professional world that online is the way to find a new job. Although there is no doubt that online opportunities are high in number and most cases, better offline job opportunities often go unnoticed.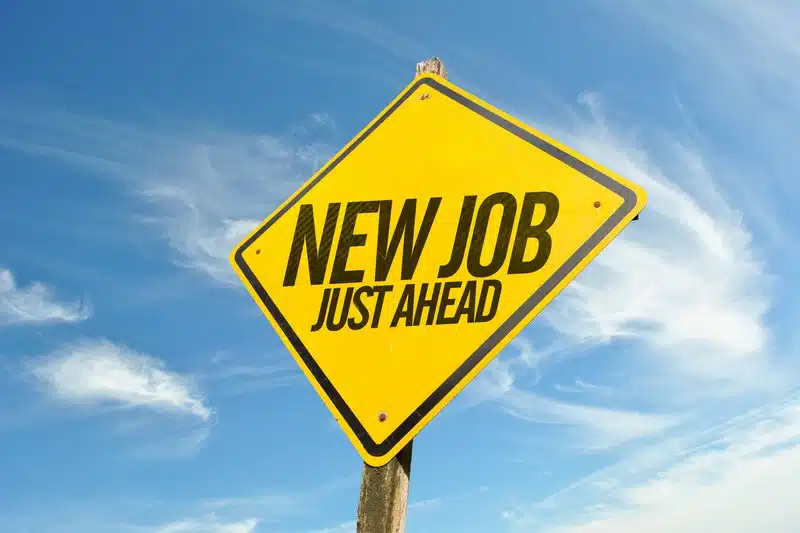 Look for openings around you in small businesses that do not have an online presence. If you are open to exploring different fields are not limited to exploring a particular field, you can surely find a plethora of job opportunities around your locality.
11) Attend Job Fairs
Make sure you are aware of any job fairs or walk-in-interview drives around you. These fairs mean that companies are going out of their way to look for professionals, and you can make the most of them.
All you need to do is type a simple search, and you can know about all the upcoming job fairs around you. You can exhibit all your skills and get lots of different opportunities from huge companies and the upcoming ones.
If there's one place you're almost sure to come out of with a job, these job fairs are it. Don't forget to keep a tab on any fairs taking place around you.
12) Volunteer Yourself to Speak at Conferences
There's no room for those who sit back and wait for their opportunity in today's competitive world. You cannot wait for the apple to ripen. You've got to pluck it out to taste it.
Volunteering to speak at conferences and events is one way you can make a lasting impression.
Speaking about something you deeply understand can give your audience a sense of your knowledge. If you are a specialist in something that can even speak at a conference, you are probably good at what you do. This builds your personal brand and improves your networking.
Even if you're not a great orator, it is important to show the willingness to stand up and speak your mind freely. This is a rare quality, and to stand apart, it is surely a quality you need to work on. Companies look for those who have the will to participate in matters that concern the general public, make your presence felt at such an event.