Make the most of your new job with these solid networking tips
Money isn't the only thing you get out of a job. Sure it may be the main reason that stops you from throwing your alarm against the wall every morning, but at the end of the day, there's more to your job than just a means of filling your wallet. Some networking tips might as well help you with understanding the pros of being at a job.
Here we will present 15 steps you can take to improve your network:
Your job connects you with people in your line of work and helps you grow professionally.
Networking with others cements your position in the industry. It also brings you closer to professionals that can help you succeed in your work and career. They can be instrumental in helping you secure better work opportunities.
Anytime you plan on switching jobs or changing careers, you rely on your network.
Sponsored Content - Posts And Ads You May Like:
The more extensive the network, the better your prospects will be. Getting hired for a new job doesn't mean you should stop networking; instead, it means the opposite.
A new job opens up doors and meeting points with potential contacts in your profession. Implement some networking tips after being hired in a new place to bring long-term benefits to your professional life.
Networking Tip #1: Make a lasting impact
One of the significant sources of networking is your job. It gives you a platform to connect with your colleagues. Work activities help you get acquainted with individuals both inside and outside of your organization. Talk to people, listen to them and make interesting comments. By listening to people, you have better chances to understand them and contribute somehow.
Sat next to somebody at a digital marketing meeting last week? Worked with someone on a project in London? Introduced to an executive by your boss?
They all can be part of your network, and you are part of theirs. However, only if you leave a memorable impression.
Networking Tip #2: Be interesting
Professionals meet dozens of new people every single day, so it's not so hard for one five-minute conversation to be forgotten in the midst of it all.
Only those who are interesting stay in mind longer than others. People who look, say, or do something interesting are likely to make a lasting impact and are easier to recall.
To be interesting, you need to showcase a detail that differentiates you from the crowd. That doesn't mean becoming a James Bond figure clad in black and oozing mystique and charisma in a not-so-relatable way.
Interesting can be your haircut, your personality, or an interesting story about why you got late.
In a new job, making an impression on customers and external stakeholders is usually much more complicated than an experienced employee. Due to the company's lack of knowledge, the industry, or the position itself, it's harder to connect with them.
In such cases, steer the conversation from what you currently do to what you have done. Focus on your strengths to find something familiar to connect on.
Networking Tip #3: Exchange business cards
One of the networking tips is ordering your business cards after joining a company.
They are a great tool to connect with people both within and outside your company. Especially during the first few weeks of a new job when you are introduced to the team.
Exchanging business cards is a great way to establish a connection. Using the information on their card makes it easier to reach your contacts if the need arises, and they too can contact you.
A business card clearly defines your position and full name, which can be challenging to communicate in routine conversations.
Exchanging cards lets both parties know whom they are dealing with and gives them a way to connect again. Any mentor giving you networking tips will tell you to immediately make and distribute business cards after taking on a new job.
Networking Tip #4: Use LinkedIn
It only makes sense in today's Internet age to keep a digital network, in which there is no better way than LinkedIn, the world's largest online professional networking site.
The website has a host of tools and features to keep you relevant in your network's mind and preserve long-lasting connections.
After you are hired in a new organization, your colleagues will typically reach out to you and connect on LinkedIn. However, it would be best if you also made an effort. Find and follow your company's business page on LinkedIn and send requests to connect to all your branch employees.
The eagerness to connect with your organization will positively reflect the workplace and make it easier to fit in with the working staff.
Networking Tip #5: Attend events
For new hires, professional events are a great way to meet new people and associate with other people in the same industry. They could be events organized by your company or just birthdays and unions.
Most professional events arrange networking sessions allowing attendees to meet new people and connect. It would be best if you tried to attend these events as much as you can. Also, take a bunch of business cards with you to exchange with the people you meet.
Networking Tip #6. Maintain your network
Taking on a new job introduces you to new connections and a modern web of networks, but networking doesn't just end with exchanging contact information. It is, in fact, a continuous and ongoing process.
Not only must you extend your network by including new colleagues and contacts, but you must also commit to maintaining your current network and past connections. Sustaining your professional network requires effort starting from the time you are first introduced to a contact.
No amount of networking tips can help you if you don't remember who your contacts are. Use whatever method is convenient for you to create a system that lists them and enables you to remember them.
Schedule regular meetings or phone calls with those contacts in the most critical group, and maybe limit Christmas or Eid cards for the least essential group.
You can make a plan on how to engage with contacts of different groups according to your preferences and create a schedule to keep on track.
Networking Tip #7: Be Visible, Not Pompous
There can be times when in pursuit of networking at their new job, employees tend to come off as pompous. There's a difference between being available when needed and all the time. Respect this difference.
Networking at your new job is much more knowing when not to be there than when to be there.
So, as networking experts call it, being visible, not pompous, is one tip that can go a long way. When new at a company, the worst you can do is inspire loathing for yourself among your connections. Hence, treading swift but softly is the way to go.
Networking Tip #8: Reach Out To Different Departments
When it comes to building connections and networks, the more, the better, so getting reduced to your business department is the wrong attitude to have.
Yes, you can't leave your workplace and roam around in the other departments, but grab it whenever the opportunity presents itself.
This opportunity can be a chance to work at a cross-functional team or simply hanging around with them.
Try to show interest in their work and be genuine with the advice. This is how strong ties are built, and it is the stronger ties that help you landing huge rises in pay, or better, a promotion.
By interacting with folks from other departments, you will also equip yourself with sufficient knowledge about different business aspects. As sometimes, with great networking tips, you also get helpful know-how.
Networking Tip #9: Find A Genuine Mentor
Although it may sound a little out of place, it is true. One of the networking tips is to have a mentor.
He won't come to you just because you appear to be talented to him like in the Hollywood flicks. A mentor who sits in high places with the senior executives can be of great help.
Alongside him, you can meet people you couldn't have with your cubicle networking strategies.
This is why having a good mentor is the easiest and the most surefire way of becoming recognizable. He will take you places, make you meet people, and give you advice tested and tried over the years.
However, it would help if you were careful while choosing your mentor. If you're picking somebody other than your manager or managers, make sure you let them know. This action prevents them from getting salty about you having a mentorship with somebody outside your team.
Networking Tip #10: Go Slow And Informal
To hit the ground running at the earliest, some new employees tend to take networking tips and socialize before lunch on their very first day. This only leads people around you to guess, "He surely wants something from me."
So, going slow and making your approaches appear informal and unplanned is the best way to go about it. This might translate to slow progress, but it will be progressed in the right direction.
Avoid setting up multiple meetings and sounding too professional all the time. When it comes to networking tips, remember, you're talking to people who have emotions, dreams, and families. Talk about them and behave as if you're friends from college by avoiding getting too frank at the same time.
Networking Tip #11: Be A Good Listener
While you're conversing with a potential useful connection, apart from the primary body language techniques like maintaining eye-contact, listening carefully is essential.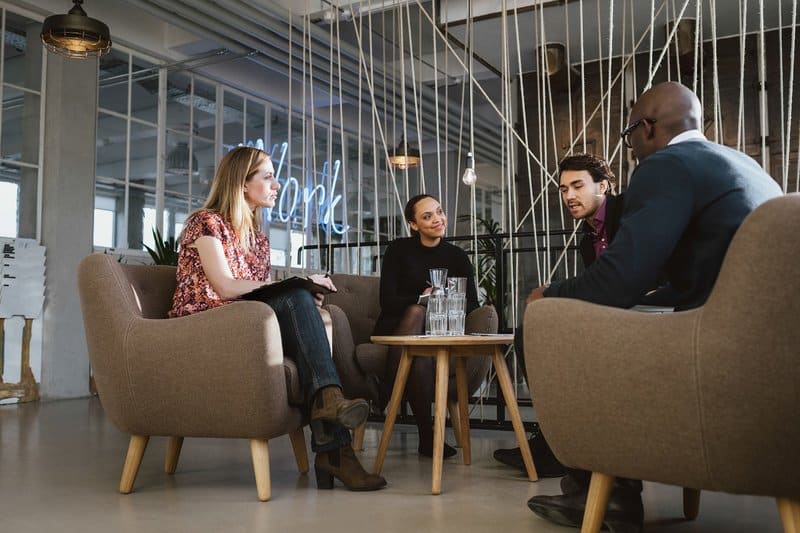 Most people wait for their turn to speak, and this is evident from the way they jump from one topic to another, which should be avoided by all means.
Be a good listener, don't make assumptions or hop from a topic to another, for whatever time the person speaks, maintain eye-contact, and listen to them. Be genuine with whatever suggestions you give after listening. Try to come off as a true friend instead of just another colleague trying to expand his network.
Networking Tip #12: Present Yourself As A Resource
Being a resource should be done repeatedly and without a pause. Whenever you get an opportunity, try to come in handy, try to help genuinely. Be resourceful when people ask for help. Refrain from hovering around people in distress when you've got nothing to offer as help.
If you present yourself as an unrelenting resource to your colleagues, chances are you will be remembered as a helpful person, besides building relationships that last forever.
It may sound cliché, but the more you give, the more you get things run perfectly at workplaces.
You must keep reminding yourself that building networks aren't just about extracting profits someday. However, it is about building healthy relationships with people who can eventually come to your aid.
Networking Tip #13: Go to College Reunions And Alumni Meetings
It might sound futile to many, but these reunions are a great way to make professional contacts and get good career advice. Remember, you're not just a bunch of college kids hanging out for a few beers.
All of you are professionals who have contacts of your own now. Moreover, due to your long-standing friendship, you don't need to start from scratch.
These reunions can be organized in the name of simple meet-ups, or you may give these meets a more social outlook, which can also raise awareness from others.
Networking Tip #14: Interact Face-To-Face
No matter how adrift we have gone in recent decades, no messenger or video chatting can replace the impact of a face-to-face conversation.
So, try to go about your networking in an old-fashioned way. Rather than sending them emojis to cheer them up, meet them, talk to them, become a part of their lives, howsoever small.
The people you meet personally are much more likely to remember you. The connections you make online are what they are, Virtual. It should preferably be done with real people instead of their virtual versions when it comes to networking.
Networking Tip #15: Ask For Testimonials
The whole idea of landing a good first impression has taken the back seat in recent years. What we say about ourselves doesn't matter as much. It is what our colleagues and the people around us say that matters.
After working on a project or even helping some of your colleagues, ask for a testimonial about your work. This can be either in the format of a LinkedIn recommendation or a letter of recommendation.
The purpose of building mutually beneficial relationships at workplaces is to make an excellent popular opinion about oneself, which in turn translates into positive career growth. This is a surefire way of crisis management in the face of difficult situations.
After all, having few people to stand up for you in case of difficulties can be extremely helpful.
In Conclusion
Every start in a new job is a challenge. You have to learn about a new industry, about the new company culture, and the new colleague's work styles. If that wasn't just enough, someone comes and tells you that you need to keep networking! What?
Yes, that's true. Being hired in a new job doesn't mean you will be there for the rest of your career. It only represents one more step up in your profession, so don't close yourself to the world.
Keeping your current network and building a most extensive one is critical to depend less on your current employer and more on you. It gives you peace of mind to keep working hard without fear of losing your job or losing opportunities that may come.
Remember that a new job opens new doors for you. You will meet new clients, new suppliers, new peers, and have new colleagues. Overall, it's an excellent opportunity to help others, learn from different professionals, and improve your career options. So, take advantage of it and keep up the good work.
Also, never stop working hard; your performance may be one of the most vital business cards you have.
Here we presented a list of 15 networking tips that will help you improve your market opportunities. What about you? Do you consider yourself a good networker? Feel free to add some more tips to help other readers.