The world runs on energy; this statement is quite true. Our homes, trains, buses, and public transportation depend on fuel. So, it would be fair to say that our lives would come to a grinding halt without energy. But what about the jobs in the energy sector? Are they lucrative enough for people to pursue a career? This article looks at the top 20 best-paying jobs in the energy sector. Also, we take a look at the companies that offer these jobs.
What Do Energy Jobs Pay?
Are you curious about what energy jobs pay? With the exciting prospects of career growth, innovation potential, and making a real difference in the world, energy jobs are attractive. Now, how much do they pay?
Energy jobs vary widely in salary range depending on skill level and experience. Entry-level positions can start as low as $30,000 – $50,000 annually, while more experienced workers can expect to make up to six figures or more. Here we list the best-paying energy jobs ranging from $ 51,000 to $ 112,500.
However, it's not just the money that makes these jobs appealing. Many positions offer excellent benefits, such as 401ks and health insurance plans with added vision and dental coverage. Plus, working in the energy sector allows you to work with cutting-edge technology and help create solutions to some of today's most pressing environmental issues.
What Are The Biggest Companies in the Energy Sector?
Before discussing the best-paying jobs in the energy sector, let us look at some of the largest energy companies in the world.
Saudi Aramco
This Saudi Arabian firm is into oil and gas exploration, refinery, and trading. It produces energy and chemicals. Also, it has both upstream and downstream operations regarding oil and gas.
Exxon Mobil Corporation
This is the world's largest publically traded oil and gas company. They are one of the world's largest refiners, marketers, petroleum products, and chemical makers. They use cutting-edge technology to meet the world's growing energy demands.
Chevron Corporation
This is a multi-billion dollar American energy corporation. Also, they aim to produce clean, safe, and sustainable energy for the planet.
Reliance Industries
Reliance Industries is a conglomerate with a significant focus on the petrochemicals area. However, they are also into retail and telecommunication. This company has its headquarters in India.
Shell
Headquartered in the United Kingdom, Shell is active in every major area of Oil and gas exploration area. They are into the exploration, refining, marketing, and distribution of oil and petroleum products.
What Are The Best Paying Jobs in Energy?
The top 20 best-paying jobs in energy are:
The Top Four Best-Paying Jobs in Energy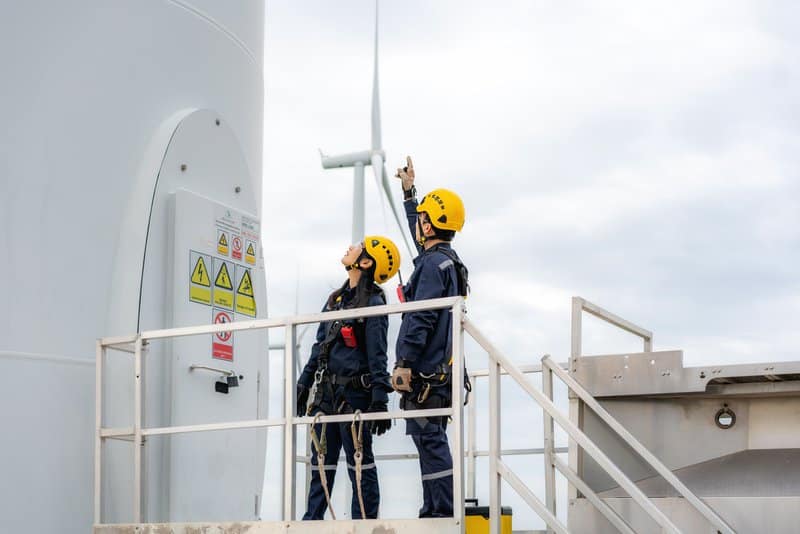 In this section, we look at the best of the best. Yes, you guessed it right—the top five best-paying jobs in the energy sector.
We will look at the roles and responsibilities of each of these jobs. Also, we will look at the average salaries of some of the biggest energy companies in the world.
Computer And Information Systems Manager
Computer science and information technology jobs take the "numero uno" spot in the energy sector. They handle all the work related to computers and technology work. Also, they are responsible for implementing systems that enable firms to achieve their business goals.
Computer and information systems managers must ensure that the systems installed in the organization meet the required specifications. Also, there must be regularly scheduled upgrades and security fixes. This will make the systems in a company less vulnerable to malware and other attacks.
Computer science and information technology professionals are also needed to digitize energy companies. The average annual pay of an information systems manager is between $112,500. (Other sources: Payscale, ZipRecruiter, Salary.com)
Petroleum Engineer
One of the most common jobs in energy is the petroleum engineer. They work on finding new techniques for finding oil and gas from under the earth's surface. Due to the high dependence on non-renewable energy sources, petroleum engineers are always in great demand.
Petroleum engineers work on blueprints for the recovery of oil and gas. They supervise the extraction and drilling of oil at various sites. Also, they design the equipment used in the extraction process at different offshore and onshore locations.
Furthermore, they are responsible for maximizing the amount of oil and gas extracted. To do this, they devise various ways to inject water into reservoirs.
Petroleum engineers also work on ensuring that the machinery that is used in this process functions smoothly. Lastly, they are responsible for testing and monitoring oil production. Also, they carry out various surveys to discover new sites for drilling. Petroleum engineers make around $105,000 a year on average. (Other sources: Payscale, ZipRecruiter, Salary.com)
Architectural Manager
Architectural managers in architectural and engineering firms plan, direct, and coordinate tasks. Most architectural managers work in offices. However, others work in research laboratories or industrial manufacturing units.
As architectural managers create precise plans for developing new goods and designs, they must also oversee budgets and hire and supervise personnel—they design and direct research and development programs. Furthermore, managers ensure accuracy and quality through the strategies they employ.
Architectural managers will oversee diverse renewable energy building and design projects as infrastructure requires more significant growth and repair.
Architectural managers earn $109,000 a year. (Other sources: Payscale, ZipRecruiter, Salary.com)
Atmospheric Scientist
Atmospheric scientists have a background in meteorology or another related area; they research the weather and climate. They are interested in discovering how weather impacts both humans and the environment.
These scientists hone their talents in weather forecasting and data collection, instrument development, and advising others on weather threats like climate change.
Atmospheric scientists assess the impacts of weather and utilize computer models to evaluate atmospheric data and make weather visualizations.
Scientists use predictions, computers, satellite data, and radar to report the weather. During extreme weather, they educate the people and offer warnings. Atmospheric scientists cooperate together with other scientists and organizations to tackle global warming.
Also, they work in the area of wind and solar power. These scientists earn around $100,000 a year on average. (Other sources: Payscale, ZipRecruiter, Salary.com)
Best Paying Jobs in Energy: Green Energy Jobs
Are you looking for a job that pays well, is meaningful, and positively impacts the environment? Then green energy jobs may be the perfect fit for you! According to an article by Forbes Magazine, jobs in renewable energy are some of the highest-paying positions in the industry.
These professionals are expected to have extensive knowledge about energy production from renewable sources such as hydroelectric power plants, wind farms, or solar photovoltaic systems. They develop strategies and plans to reduce their companies' carbon footprint while meeting or exceeding performance goals. Plus, they often earn salaries well above average.
Here is our top-five list of jobs in green energy.
Wind Farm Site Manager
A wind farm site manager has to work on mapologies. Simply put, he is responsible for the maintenance and management of wind turbines. These wind turbines generate energy.
He works with wind farm technicians and development managers to develop a better understanding of wind turbine design. Also, he has knowledge of system operations in the wind farm. He supervises the networks that generate and distribute power.
On average, a wind farm manager typically makes around $76,000 -$110,000 a year. (Other sources: Payscale, ZipRecruiter, Salary.com)
Environmental Engineer
These experts work in various fascinating fields, including energy extraction and utilization. They contribute to a safer, cleaner future for the globe by performing several responsibilities ranging from project design to supervising environmental progress.
Environmental engineers help reduce big firms' negative impact on the environment. To achieve this, they work on strategies for minimizing or removing ecological dangers such as land, water, and air pollution. They make $89,000 annually on average. (Other sources: ZipRecruiter, Salary.com)
Solar Engineer
They work with solar energy to generate electricity. Also, solar engineers team up with contractors, consultants, and engineers to ensure that projects are viable, practical, and energy-efficient.
Solar engineers are also in demand as renewable energy sources must be integrated with the electric grid.
Solar engineers make $100,000 every year on average. (Other sources: ZipRecruiter, Salary.com)
Renewable Energy Consultant
Here the focus is on finding and designing customized solutions for clients looking to move to renewable energy solutions. Renewable energy consultants advise clients on the most effective solutions.
They earn $79,000 a year on average. (Other sources: ZipRecruiter, Salary.com)
Solar Power Plant Operator
Solar power plants require a workforce to operate them. The operators of these plants supervise the equipment's maintenance, installation, and upgrades. These types of equipment include boilers, pumps, turbines, controllers, and gauges.
Solar power plant operators make $70,000 a year on average. (Other sources: ZipRecruiter, Salary.com)
Best Paying Jobs in Energy: Engineers
We have just covered the top four best-paying jobs in energy and the top-paying green jobs in energy. However, there are quite a few career choices at the disposal here. We will cover the engineers in this section.
Chemical Engineer
A chemical engineer works with chemicals to develop new fuels. They monitor environmental damage caused by chemical emissions and find methods to employ alternative chemicals that do not harm the environment. It's one of the most important jobs in energy.
Furthermore, chemical engineers handle various daily items, including gasoline. Chemical engineers are frequently at the forefront of energy progress, from large-scale production to testing new technologies. They earn anywhere between $87,000 a year on average. (Other sources: Payscale, ZipRecruiter, Salary.com)
Materials Engineer
Materials engineers design, manufacture, and test materials for various goods at the atomic or molecular level. In factories or research and development labs, they use computers to design equipment.
Materials engineers are responsible for researching material qualities, from metals to ceramics to polymers, to ensure they match certain specifications. They also choose materials for specific goods and develop novel methods to employ existing materials.
Furthermore, materials engineers consult on and monitor the quality of the materials. They are also responsible for finding faults and developing solutions for various issues.
Materials Engineers make around $90,000 a year on average. (Other sources: Payscale, ZipRecruiter, Salary.com)
Civil Engineer
Every electrical and energy company that wants to develop a new power plant needs civil engineers to help with the construction. They help perform the research to determine the power plant's project requirements. Also, they ensure that construction plans meet the norms and criteria of the building code and other restrictions.
Furthermore, civil engineers make sure that massive projects are feasible in the first place. Also, they supervise and track the project's progress to ensure it is moving per the schedule.
Civil engineers earn $95,000 per annum on average. (Other sources: ZipRecruiter, Salary.com)
Aerospace Engineer
Aerospace engineers are responsible for the design of airplanes, spacecraft, satellites, and weapons. They also play an essential role in the energy industry since they assist in creating wind energy installations, making them one of the highest-earning professionals in the energy sector.
Aerospace engineers are skilled in production, analysis, design, and research and development. Their tasks also include developing and testing prototypes and ensuring they work correctly.
Also, their grasp of resistance, force, efficiency, and other fundamentals is extremely valuable to this industry.
Furthermore, aerospace engineers evaluate ideas and guarantee that operations are safe. They also assess designs that fulfill both engineering and consumer specifications. While identifying flaws in damaged items, aerospace engineers must fulfill quality requirements and completion dates.
Aerospace engineers average between $100,000 a year. (Other sources: ZipRecruiter, Salary.com)
Agricultural Engineer
Agriculture engineers work with machinery, structures, power supplies, and environmental considerations for the best outcomes. Also, agriculture engineers work on design systems through computer software.
Moreover, they test different kinds of equipment to minimize environmental damage. Additionally, they look at the health of livestock and waste disposal.
Agricultural engineers earn between $71,000 and $97,500 a year on average. (Other sources: ZipRecruiter, Salary.com)
Nuclear Engineer
Nuclear engineers work on utilizing the benefits of nuclear energy. They also work with different tools to minimize the negative impacts of nuclear radiation. Furthermore, nuclear scientists must comply with the rules and regulations of nuclear waste disposal.
They must also know the procedure for shutting down a nuclear reactor in an emergency.
Nuclear engineers earn $95,000 on average every year. (Other sources: ZipRecruiter, Salary.com)
Industrial Engineer
Most industrial engineers in renewable energy have engineering degrees and have worked in the oil and gas industry. They can also operate in various sectors within and outside the energy industry. Industrial engineers are also required as many projects tend to reach an industrial scale.
They earn $88,000 on average annually. (Other sources: ZipRecruiter, Salary.com)
Best Paying Jobs in Energy: Other Options
So far, we have looked at a few of the best-paying jobs in energy. Well, the good news is that are more options to explore. We will be taking a closer look at them here.
Power Plant Operators
The tasks of a power plant operator are to service and maintain the systems that produce and distribute electricity. Again, this is a broad definition. There are several sorts of power plant operators, and their daily activities will vary depending on their work environment.
The ultimate purpose, though, is to keep the energy flowing. Your role as an operator, whether at a solar farm or a nuclear facility, is to maintain equipment, solve issues as they arise, and provide preventative care to eliminate problems entirely.
Power plant operators earn $86,000 on average every year. (Other sources: ZipRecruiter, Salary.com)
Construction Manager
Working as a construction manager is another exciting job path in the renewables industry.
Construction managers are responsible for executing projects on schedule and budget while following HSE rules. They collaborate with the project manager to guide teams and monitor building projects.
Additionally, they are responsible for bringing in energy-efficient upgrades using complex technology as time passes.
To work as a construction manager, you must have a bachelor's degree in civil engineering. They make around $98,000 every year on average. (Other sources: ZipRecruiter, Salary.com)
Sales Representative
Sales positions play a vital role in the energy sector. This is because they help firms get new projects. Also, they assist clients in finding the right solutions per their needs. For instance, they might sell solar energy systems to corporate businesses.
Sales representatives make around $58,000 per year on average. (Other sources: ZipRecruiter, Salary.com)
Financial Analyst
This is a role present in all industries. They work with data and models to understand a firm's financial position. Also, they analyze ROI and possible growth opportunities for the firm. Financial analysts also work on the costs saved due to additional energy efficiency.
Financial analysts earn around $74,000 on average. This can go up to $100,000 in some cases. (Other sources: ZipRecruiter, Salary.com)
In Conclusion
The wide variety of jobs available in the energy sector proves there is something for everyone. Also, all job profiles generally have high compression.
However, the landscape of this field is constantly changing. This is due to countries reducing their dependence on conventional energy sources, such as gasoline-powered vehicles, and moving to electric and renewable energy sources. Therefore, jobs in green energy have been growing as the renewable energy salary.
In conclusion, the energy sector demonstrates outstanding career opportunities with rewarding salaries. From electrical engineers to solar technicians, there are various job options for those looking for a successful and lucrative career in the energy world.
Furthermore, these jobs offer potential for growth and the opportunity to make a meaningful contribution to society. If you're interested in pursuing one of these top 20 best-paying jobs in the energy sector, now is the time to get started!