No matter what stage of our careers we are in, we all have a dream company. And this is not wrong at all. It is always good to have aspirations, as aspirations are the fuel that pushes us forward to excel in life. So, many people apply for multiple jobs when it comes to certain preferred companies. What's more, they do that in a very short span of time. In this article, we will answer the question – Is it bad to apply to multiple jobs at the same company?
Before starting, let's see the main topics of the article:
What Are The Possible Reasons to Apply to Multiple Positions at the Same Company?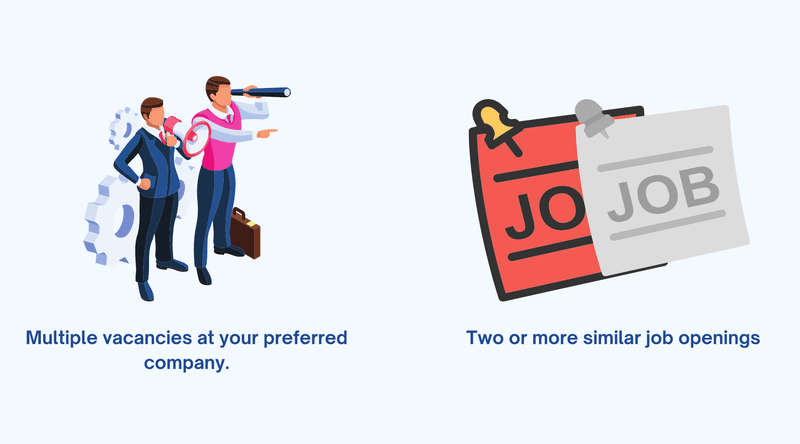 In this part of the article, we look at the reasons behind a person applying for multiple positions at the same company.
Multiple vacancies are available at your preferred company.
The seemingly impossible has happened. Your dream company has multiple open positions. Now, you are tempted to apply for everything to increase your chances. This strategy seems good on paper. However, it backfires in real life. There are quite a few reasons for this.
Sponsored Content - Posts And Ads You May Like:
Firstly, it signals desperation. And this can be a major hit for your credibility. Also, applying to multiple jobs in the same organization can make you appear fickle-minded. The recruiter might decide that you are unsure of what you want and reject your application.
There may be two or more similar job openings.
It is not always the candidates who are at fault when applying to multiple jobs at the same company.
Sometimes, there might be two very similar job listings. And the applicant, not wanting to miss out, will go ahead and apply to both jobs. This is considered acceptable as long as there is coherence between the roles.
For instance – a content marketer and an internal communications specialist are two related profiles.
Questions to Ask Before Applying
We have already seen some of the possible reasons for people to apply to multiple jobs in the same firm. Now let us look at some of the questions one needs to ask before going ahead and clicking that apply button.
Do you actually want these jobs?
Many people who look for jobs end up adopting the spray and pray approach. They are either frustrated due to bad managers, toxic culture, or poor appraisals. Maybe they are just tired of seeing their colleagues get better opportunities.
Nevertheless, you have to remind yourself that a career is a marathon and not a sprint. So, it is your call to decide whether you are looking to switch jobs for the right reasons.
Am I qualified for these roles?
You are sure about the roles you want to apply for. Great. Now it is time to check whether you have the necessary skills for those roles.
Compare the list of skills and qualifications on the job description to your own strengths and assess yourself. Don't worry. You do not have to meet 100% of the listed skills. If you meet around 80% of the requirements for a job, go ahead and apply, as you stand an excellent chance.
Is It Bad to Apply to Multiple Jobs at the Same Company – The Process
Now we come to the next stage of answering the question – Is it bad to apply to multiple jobs at the same company?
Applying to several different posts does increase a person's chances statistically. But, it remains a tactic that is not advisable. So, what must one do while applying to multiple jobs at the same company?
This section describes the ideal process in such a situation.
Decide what your goals are!
Sometimes, people looking for jobs might not know what they want. This is especially true of people early on in their careers.
So, some of these people apply for multiple jobs across the organization's hierarchy. However, one must clarify their expectations from a job role and their career. Once they know what they want, only then should they apply to a particular firm or position.
Identify your strengths.
Before you go ahead and apply for any job, you must work on your resume. Now, people may say that the resume is just a piece of paper. However, this piece of paper has the power to land you your dream job.
Figure out how to present your USPs and skillsets in the best way possible. One great way to do this is to check the profiles of similar roles on LinkedIn. Then start to work (or re-work) on your resume.
Choose the most suitable job.
Once your resume is ready, you must work on two lists:- jobs you are qualified for and the jobs you would like to have. It would be best to go through the various job postings across portals such as Monster, Indeed, or social media sites such as LinkedIn. Apply for the jobs that most closely match your credentials.
Customize your application.
This is perhaps the most crucial step of all. So, you have identified multiple roles that you would like to apply for. Good. However, do not go ahead and apply with the same resume and cover letter for each position.
Follow the horses for courses approach. Each of your applications should highlight why you are the most qualified person for that specific role. Also, make it clear that you have applied for multiple positions in the same firm.
Get in touch with the recruiter if possible.
Try to contact the human resources department of the firm. Explain the rationale behind applying for several jobs in the same company.
Firstly, this indicates honesty. And secondly, it shows initiative. It means that you believe in your capabilities to contribute to the firm's growth in more than one capacity.
Follow up!
Once you have submitted your applications, you wait for an interview. If you were not called to interview for any roles, you could always request an informal meeting with the recruiter.
This will help you understand the gaps in your application. Also, you can convey to them your desire to work for the firm. This way, you will be in their consideration if relevant job vacancies are present in the future.
Is It Bad to Apply to Multiple Jobs at the Same Company – The Alternatives
So, are you still wondering the answer to – Is it bad to apply to multiple jobs at the same company?
Well, there are a few other options available. Let us look at them in detail below:
Situation 1
You have scanned the multiple vacancies available at a firm. It so happens that you are suitably qualified for only one of them. Now, you should work on crafting the best possible application for that.
Meanwhile, contact the human resources department and let them know that you would like to be considered for other roles. Also, tell them that your interest in working for the firm stems from common values and a shared vision.
Situation 2
There are two jobs at the firm of your choice. And, you want to apply for both of them. But this is what you should do instead—study both the vacancies. Then apply for the one that is the most suitable for you.
Situation 3
Several positions have opened up in your favorite organization. However, you don't know which ones to apply for. So, you want to go ahead and send in your application for all of them. But wait. Before you go ahead and do that, reach out to all the people you've worked with— Old bosses, colleagues, juniors, college professors, and so on.
Get their input on your talents, abilities, and what sets you apart. Moreover, be sure to ask for candid and detailed feedback. You must also understand the daily responsibilities involved in each job profile. This way, you will be able to arrive at an informed decision.
Is it Bad To Apply To Multiple Jobs At The Same Company?
So, what is the answer to the query – Is it bad to apply to multiple jobs at the same company? No, it is not. However, this comes with a caveat.
We must conduct our due diligence on the types of roles and understand whether we are underqualified or overqualified for a particular position.
Secondly, we must carefully craft our application based on the roles we wish to apply for. Also, express an unambiguous interest in working at your 'dream company'.
Finally, follow up regarding the status of your application. Also, it is essential to remain calm and composed while receiving unfavorable feedback about your application.
There is, however, one case when multiple applications will count against you. This happens when you send in the same application for each of the job openings in an organization.
This represents a lack of research and indicates irresponsible and amateur behavior on the part of the candidate. The recruiters are likely to flag such applications as spam. So, it is best to avoid this habit!