So, you're a fourteen-year-old who isn't happy with the weekly allowance you get. The day out with your buddies isn't quite the same when you don't have enough cash in your pocket. But you're just fourteen, you can't go out and work a job, can you? Well, you definitely can look for the best jobs for 14-year-olds.
But what about employers shying away from hiring teenagers, especially those under sixteen? They won't be risking a lawsuit by hiring someone as young as you, would they? It is understandable if you too have grappled with these questions.
In this article, we will try and clear all these confusions for you. And what's more? We will also list some of the best job opportunities for fourteen-year-olds. But before that, let us clear the air and rummage through the laws and legislation for hiring teens.
Methodology: There was secondary source research to find what other listing websites are pointing out as a 14-old job. The average salaries mentioned in the blog have been sourced from Salary.com, Payscale.com, and Indeed.com.
Sponsored Content - Posts And Ads You May Like:
Table of Contents:
What Is the Minimum Age for Getting a Job?
We have some good news for you here. In the United States, you have to be at least 14 years old to get a job. But this is not a blanket age bracket for employment. There are certain jobs for which a fourteen-year-old cannot be hired.
According to the FLSA (Fair Labor Standards Act), fourteen-year-olds are prohibited from working in hazardous occupations like manufacturing, construction, and any jobs that involve handling dangerous machinery.
Apart from these prohibitions, there are limitations on the number of hours a fourteen-year-old can work in a week. For instance, you can work for a maximum of 18 hours in a school week. On the other hand, a fourteen-year-old can work for a maximum of 40 hours on a non-school week.
So, now that we're through the legal hurdles, let's list out some options for you to start earning a few bucks of your own!
Jobs in the Neighborhood
1. Babysitter
Babysitting is among the highest-paying job options for a 14-year-old. On average, babysitting jobs can earn you anywhere between $16 to $24 per hour. Your earnings here, though, will depend upon the number of babies you keep an eye on.
Apart from being a well-paid job, babysitting is also quite flexible. After all, you can get some of your studying done while the baby is asleep.
Furthermore, the benefits of babysitting go beyond the $30 an hour you can earn. Babysitting teaches you safety skills and organizational skills while also helping you stay in touch with the wonders of childhood.
2. Pet Sitter
Now, this one's a golden opportunity for animal lovers. Just like, babysitting, pet-sitting has also come to the fore as a great job option for young teens. A pet sitter's job is to ensure that the pet is well-fed, entertained, and kept safe from any hazards while the parents aren't home.
So, if you're looking for jobs for 14-year-olds in your area, it's worth looking for pet-sitting gigs. Again, the money you'll be paid for pet-sitting will depend on the number of pets you are overseeing. But you can expect to earn around $16 per hour as a pet sitter.
3. Delivering Newspapers
This is becoming a rare job, but newspaper delivery has long been the go-to for young teens to enter the workforce. The job here is simple, you have to deliver bundled-up newspapers to the subscriber's houses.
A fourteen-year-old can deliver newspapers on foot or ride a bicycle if the houses of all subscribers aren't in close proximity to one another. What's more? You can easily earn around $15 an hour with newspaper delivery.
Delivering newspapers can also settle you into the habit of waking up early in the morning. And as a developing fourteen-year-old, becoming an early riser will surely help your future self!
4. Car Washing
What do you see in a neighbor's dirty car? If you take our advice, you should see an opportunity for one of the best jobs for 14-year-olds. Car washing is another great way to earn some extra cash while you also strengthen your bond with your neighbors.
Washing Cars is more of a freelancing gig than a job. For starters, you won't be paid by the hour. But you can easily pick up anywhere around $11 to $13 per hour for thoroughly washing a car. Depending on the area, though, you can also charge up to $40 for every wash.
Also, freelancing from the age of fourteen will also help you learn so much about business and hone your people skills!
5. House Sitting
House Sitter is one of the simplest jobs a fourteen-year-old can find. As you would expect, a house-sitting job involves watching over someone's house while they're away on vacation.
And guess what? The average pay for a house-sitting job is somewhere around $14 per hour! It's like you're getting paid for simply sitting on the couch, isn't it?
6. Cleaning Houses
Now this job won't be the obvious choice if you're a young teen with a messy room. But if you like cleaning and getting your room together, cleaning neighborhood houses isn't a bad choice for a job.
Also, with housekeeping jobs, you have the choice to go either the freelancing way or look for opportunities at a company. Either way, house cleaning jobs can earn you $13 per hour or so. The pay will obviously depend on the area where you're getting the job.
7. Tutor
Homework is hard, right? Especially for really young kids. So, why not help some of your neighborhood kids complete their homework? Teaching younger kids will also help you brush up on some of the knowledge that might have slipped out of your mind.
Becoming a tutor, too, is more of a freelancing gig. Based on the area, you can put forth the amount you want to charge. And if you're someone who teaches younger siblings at home, tutoring has to be among the 30 best jobs for 14-year-olds for you with an average salary of $24 per hour.
8. Assisting on a Farm
Working as a farmhand is among the highest paying jobs for 14-year-olds. Admittedly, it might not be one of those appealing teen jobs but it has its fair share of benefits. Firstly, the position of a farmhand will keep you in good physical shape. Secondly, the tasks are not as complicated and mostly require minor physical effort.
Apart from these side benefits, working as a farmhand can earn fourteen-year-olds as much as $16 an hour. Looking at the fact that one requires little to no prior experience for the job, the pay is fine, right?
Finding work as a farmhand would be much easier if you live in a rural area. The job will not only help you earn some cash but also build you a solid rapport within the community.
9. Dog Walking
Here, we've got another pick for pet lovers. After all, not all pet owners have the time on their hands to take their furry friends on a stroll. And here's where the opportunity lies for a fourteen-year-old like you looking to earn some cash.
Reach out to pet owners in the neighborhood and find out if they need someone to walk their pets. If you're in luck, you can pocket $21 an hour on average. Not a bad deal, is it? Especially if you love dogs.
10. Snow Shoveling
If you live in an area where it snows heavily, shoveling snow can be another good opportunity for a fourteen-year-old. Again, this is a job for which you will have to look for gigs in the neighborhood.
On average, a snow shoveling job will earn you anywhere around $15 an hour.
11. Lawn Maintenance
Mowing lawns, removing weeds, and watering plants. These are some easy tasks that a lawn maintenance job entails. Fourteen-year-olds who don't shy away from some physical activity will find lawn maintenance a good way to earn some cash.
Being a young teenager, landscaping companies will not hire you. As a result, you will have to look for a lawn maintenance gig nearby. You will obviously charge based on the job but your earnings will lie somewhere between $18 to $24.
Jobs for 14-Year-Olds in the Food Industry
12. Working at Fast Food Joint
Fast food restaurants are fun places to work. Being a fourteen-year-old, there are some jobs you can't work at restaurants like deep frying. But the good news is that there's a wide spectrum of opportunities available.
You can earn anywhere between $10 to $12 per hour working at a fast-food joint. We know what you're thinking about! Perks of working at a fast-food restaurant, right? Well, isn't it obvious? You have access to some delicious discounted meals!
13. Restaurant Host
Greet patrons, lead them to their table, and have a chat with them while telling them about the day's specials. Yes! That's how simple the job of a restaurant host/hostess is. And guess what? Depending on the restaurant, you can pocket an average of $14 an hour while developing your people skills.
Again, do you know what working at a restaurant means? Yes, the occasional discounted meal!
14. Coffee Shop Barista
Working at a coffee shop has its own charm if you're a cinephile. But the job of a Coffee Shop Barista can also earn you good money, averaging $12 per hour. The job is relatively simple, too, involving presenting the menu to patrons, using the cash register, cleaning, etc.
Also, you won't have to worry about getting your hands on some energizing coffee. Perks, yeah?
15. Ice Cream Scooper
By now, you must be thinking we're here to ruin your diet. But scooping Ice Cream is another one of the best summer jobs for 14-year-olds. Also, working at an Ice Cream shop will definitely prepare you for working in the service industry.
As an Ice Scream Scooper, you can earn an average of $11 per hour. But it would probably be a summer job, so you would definitely earn a good hourly wage to help you have a great time with your buddies!
Other Jobs for 14-Year-Olds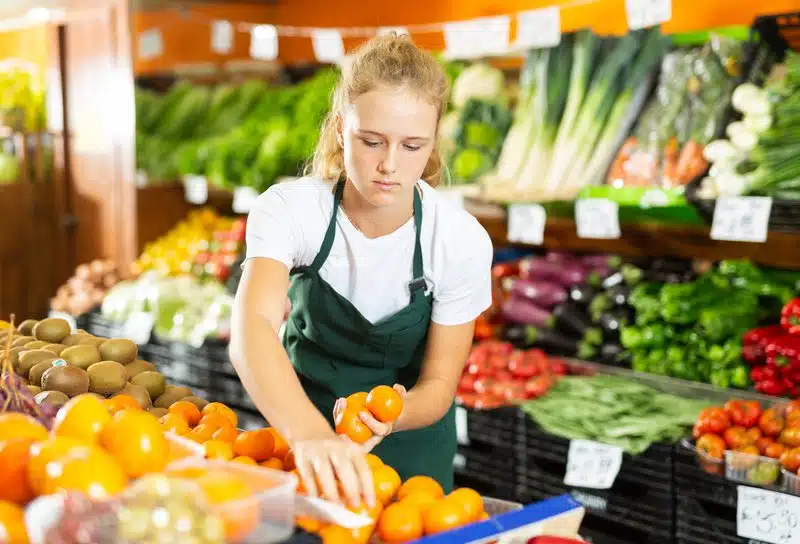 16. Library Assistant
This one's perfect for young bibliophiles. The job of a library assistant might not be as easy to find as that of a pet sitting. But if you do land the job, it will surely help you develop your organizational skills and you'll earn an average of $23 every hour.
What's more? There will be lots of books to keep you company as you can get some reading done while working.
17. Working at an Animal Shelter
If you love being around animals, working at an animal shelter is a great way to earn some cash. The job will mostly involve cleaning cages and feeding animals. A job at a nearby animal shelter can easily earn you around $18 per hour.
18. Bagging Groceries
Most grocery stores won't hire fourteen-year-olds for cashier jobs. But there is the position of the grocery bagger for which young teens are eligible. The job, as the name suggests, will involve bagging customers' purchases and occasionally carrying it to their vehicle.
On average, a grocery bagging job will earn you somewhere around $12 per hour. Looking at the fact that you need no special skill or prior experience for this job, the pay is more than reasonable, won't you say?
19. Theatre Ticket Taker
The job description is in the name itself with this one. You can look for this gig in the neighborhood movie theatre or the live theatre. As a theatre ticket taker, you will be tasked with overseeing individuals coming in and going out.
On average, this job will earn you a wage of around $10 an hour. Apart from the pay, the job will also teach you customer service skills, confidence, and the ability to pay attention to detail.
20. Camp Counsellor
This job will require you to have prior experience with camping. But there are all sorts of camps where a fourteen-year-old can apply for a job. These can be either academic camps, sports camps, wilderness camps, etc.
The median pay for the camp counselor is around $25 per hour, which is way above other jobs on the list. So, this one's surely going to be among the best jobs for 14-year-olds. Furthermore, a job as a camp counselor will also hone your leadership skills.
21. Personal Assistant
The most common job opportunities as a personal assistant are with elderly people. A personal assistant acts as a helper for them and does tasks such as running errands and some yard work as well.
On average, working as a Personal Assistant can earn a fourteen-year-old anywhere in the vicinity of $30 an hour.
22. Shopping Cart Attendee
Busy supermarkets need someone to attend to shopping carts and it can be a relatively simple job for a fourteen-year-old, wouldn't it? Especially if you're someone who doesn't mind staying and working outdoors, a shopping cart attendee can be a nice job opportunity that will also pay you an average of $14 per hour.
23. Assistant at a Daycare
Apart from babysitting, this is another way you can earn some cash while taking care of kids. A Day Care Assistant's job includes feeding children, changing diapers, and so on.
So, if you're a teenager who likes spending time around kids, this one's a perfect job for you. What's more? The average pay for a daycare assistant is around $13 an hour.
24. Personal Shopper
Shopping for other people doesn't need any special skill and this makes it a great way for fourteen-year-olds to make some cash. The job of a personal shopper can earn you an average of $21 an hour.
25. Referee
Of course, becoming a referee will require you to know the rules and stuff. You can find jobs officiating baseball or soccer games in your area. You will also have to be in good shape if you are to keep up with the players in a soccer game.
On the salary front, officiating a game can earn you around $20 to $25 per hour.
26. Dishwashing
Not all restaurants are comfortable with letting a fourteen-year-old anywhere near their kitchen. But dishwashing is something that doesn't come under hazardous jobs for young teens.
Furthermore, dishwashing also doesn't require a lot of skills or experience. So, if you're a fourteen-year-old looking to make a few quick bucks, it would be a nice idea to look for dishwashing gigs in the neighborhood.
On average, dishwashing will pay you somewhere around $14 per hour, which is reasonable enough to pay for a young teen's first job, isn't it? Will be more than enough to spend like a boss on a friend's day out, wouldn't it?
And did you know? Washing dishes is also great for your mental health and has been found to relieve stress.
27. Retail Sales Associate
Landing a job as a Retail Sales Associate will require you to approach your favorite store and ask if they're looking for a sales associate.
Not all stores will be open to hiring a fourteen-year-old, but you can look for the ones in your vicinity. When it comes to the pay, a retail sales associate job can earn you around $14 to $15 an hour.
28. Golf Caddy
This one's a great summer job option. If you live near a golf course, the job of a golf caddy is quite a different yet simple way to earn some cash. The job of a caddy involves carrying clubs and other equipment with golfers from one place to another.
Even though the job can be a bit physical at times, it will surely earn you something in the vicinity of $8-$10 per hour.
29. Concession Worker Jobs
Even though the pay range is not as high, concession worker jobs are relatively simple. A concession worker's job involves working on counters at sports arenas, movie theatres, amusement parks, etc.
These jobs are simpler to find and will earn you around $14 an hour.
30. Freelance Writing
If you're someone who likes to write and has his/her way with words, freelance writing is also a great option. Platforms like Freelancer.com, Fiverr, and Medium are great for young teens to look for writing gigs online.
What's more? Freelance Writing from an early age will also help you gain the skill of being able to express yourselves with eloquence on paper. Something that is sure to help you in your career once you grow up.
The Final Verdict
It's important to mention, this is not a recommendation and it's extremely necessary to keep your school as a priority. As a fourteen-year-old, there are certain jobs you won't be able to secure. But that doesn't mean there aren't enough well-paying jobs for you out there!
You can develop your personal skills and your responsibilities. Also, you will learn how to manage your money.
All you need to do is go out and about looking for the opportunities we listed above in your area. So, are you still here reading this? C'mon, you've got 30 options on your hands now! Get up, make some calls and look for opportunities to make up for the lacking weekly allowance.