Is consumer services a good career path? In today's fast-paced world, things keep breaking down all the time. This means that housekeeping and home appliance repair services have a very high demand.
Also, there are several areas in which a large number of people require assistance. These include filing taxes, insurance coverage, booking hotels, airline tickets, etc.
So, we decided to discuss the answer to the question – Is consumer services a good career path? This is a part of our trendy career choice articles.
If you are looking for a quick answer, let's do this immediately.
Is Consumer Services A Good Career Path?
Yes, consumer services is a good career path. It is a career that will always be in demand as long as people live on this planet. Irrespective of our technological advancements, people like to interact with other people to get their queries resolved.
Table of Contents
Now that you have our point of view let's explain why and see what the main topics discussed in this article are:
To start, let's understand what consumer services are.
What Are Consumer Services?
The consumer services field provides several services to end consumers. These businesses are located in many diverse industries, such as banking, retail, healthcare, food and beverages, and transportation.
People sometimes confuse consumer services and consumer-oriented services. However, the two are pretty different. Consumer services are businesses that provide services to end customers. On the other hand, consumer-oriented services sell products and services to end customers.
Consumer services is a fast-growing sector that serves the needs and desires of people. As mentioned earlier, these are generally in the service sector.
What Are The Types of Consumer Services?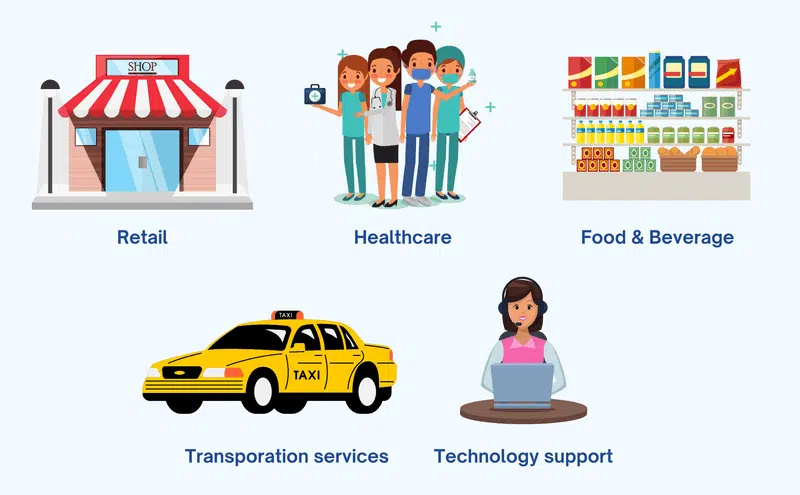 There are several different types of consumer services. This section will look at the categories that fall under the consumer services umbrella.
Retail businesses
These are businesses that sell products or services to end customers. Grocery stores, departmental stores, and other specialty stores are the most common retail businesses.
Healthcare businesses
Healthcare services aim to treat people's illnesses and ensure their general well-being. It can include hospitals, clinics, and private practice of medical professionals.
Food and beverage businesses
As the name suggests, food and beverage businesses provide food and drinks for the masses. Restaurants, cafes, and bars are popular food and beverage businesses.
Transportation businesses
These businesses are focused on getting people from one place to another. There are various modes of this business. These can include air, land, and water transport. Cab services, bus services, trains, and airline services are a part of the transportation business.
Technology support businesses
The technology support business is another form of consumer service. These could be enterprises that fix hardware or software issues with phones, laptops, or other gadgets.
Some consumer services are essential. The absence of these services will disrupt the daily lives of people. Transport services are an example of critical consumer services. However, this is not the case with all consumer services. Some of these services are nice and provide extra convenience and comfort.
But, the absence or non-existence of these services will not hamper the daily lives of the general population. Luxury goods are an example of a non-essential type of consumer service.
Essential services are those consumer services that are vital for the survival and well-being of the people. Healthcare, food and transportation services are examples of essential consumer services. This is because they provide basic services such as food, medical consultations, and surgeries.
On the other hand, non-essential services such as movie theatres, amusement parks, gaming arcades, and more are purely discretionary. They are meant for leisure and entertainment. Although they are not crucial for our daily survival, they make our lives more enjoyable.
How Many Jobs Are Available In Consumer Services?
There is not a precise statistic available on this topic. In a research run on the top job websites, we decided to use LinkedIn figures, which divide the consumer services industry from other industries. Currently, the website has 6.7 million jobs available, and 1.2% are part of the consumer service industry, about 83.2 thousand jobs.
The challenge is separate financial services with 220K jobs, restaurants with 260K jobs, and hospitality with 114K jobs from the consumer services industry. Considering all of them as consumer services, the percentage of employment in this industry goes up to 10% in the USA available jobs on this digital job board.
What Are The Job Opportunities in the Consumer Services Industry?
The first step for someone looking to explore a career in consumer services is to research the different types of industries that make up the consumer services sector. Next, the companies available in the sector. But, one must not stop here. Subsequently, one should also pick an industry and understand the various types of roles available. Here are some of them:
Accountant
Bank Professionals
Bartender
Customer Support
Financial Professionals
Housekeeps
Human Resource Professionals
Insurance Agents
Insurance Professional
Janitor / Custodian
Marketing Professionals
Personal Concierge
Private Equity Associate
Receptionist
Retails Associates
Sales Professionals
Service Designer
Service Manager
Service Provider
Software Developer
Technical Support
Waiter
Also, taking up customer service roles is another way to enter the consumer service industry. After gaining a few years of experience in customer service stints, a person can move to a managerial position in the consumer service sector.
Now that one has done his research, comes the most critical part of answering the question – is consumer service a good career path? Yes, we are talking about job opportunities. Although this industry incorporates most of the jobs any other industry has, we will look at some examples of the jobs available primarily or exclusively in this sector here.
Customer services representative
He is the one who directly interacts with customers. In this sense, he is the frontline employee on the customer service team.
A customer service representative ensures that the customers are happy with the products and services. Also, they answer queries and resolve issues that the customer may have.
Customer service representatives usually work in call centers. They answer queries through various media such as phone calls, emails, social media, and websites. Once they gain expertise, customer representatives move to customer success or account manager roles over time. They make around $34,000 every year on average.
Market Researcher
Any firm needs to have a deep understanding of its markets and its consumers. This is what makes the role of a market researcher extremely vital. Market researchers must know about their target market's habits and consumption patterns.
Products and services are designed as per the results of market research. Consequently, the sales and revenues of the firm shoot up. Market researchers make around $68,000 a year on average.
Service Designer
This also comes under consumer services. Service designers work on creating new service processes. To do this, they must place themselves in a consumer's shoes.
Reverse engineering a customer journey is key to understanding the service from a customer's point of view. Service designers optimize every step of a service delivery process. This results in the enhancement of the user experience. The mean salary of service designers typically makes more than $77,000 a year.
Bank Teller
This is an entry-level job that most high school graduates are eligible for. A bank teller is a job that opens the gates to the banking industry.
Bank tellers are primarily responsible for customer service. Their primary duties include:
Completing account transactions for customers
Opening new accounts and assisting with loan applications
Selling cashier checks, traveler's checks, and series-e bonds
Cross-selling and upselling the bank's products and services. To do this, they inform customers of any promotions and special offers.
A bank teller makes $30,000 a year on average.
Service Manager
This is usually a middle management position. His main task is to manage service delivery. Also, he is involved in training, coordinating, and supporting the service delivery workers. Consequently, he ensures the end-users of the service have a smooth and positive experience.
Moreover, he defines and implements best practices to stay ahead of the competition. A service manager typically makes around $54,000 on average annually.
Service Provider
Customer service is essential to any business that deals directly with people. If one picks up a skill and then uses it professionally to deliver assistance, it is necessary to ensure the best possible service methods are in place. Service providers earn around $48,000 a year on average.
Personal concierge
A personal concierge generally works for celebrities or extremely wealthy people. These people are usually too busy to manage their daily tasks. Someone who wants to start in this role can study the hospitality industry.
So, a personal concierge helps them out with errands, meetings, managing their schedules, repairing and maintenance of their vehicles, and so on. A personal concierge makes close to $37,000 a month.
What Do Consumer Services Jobs Pay?
Below you can find the summary of some of the consumer services position salaries on LinkedIn, based on a total of 83,272 open positions:
N/A: 27,431
40K+: 55,841
60K+: 12,307
80k+: 5,521
100K+: 2,852
120K+: 1,831
140K+: 1,135
160K+: 503
180K+: 253
200K+: 68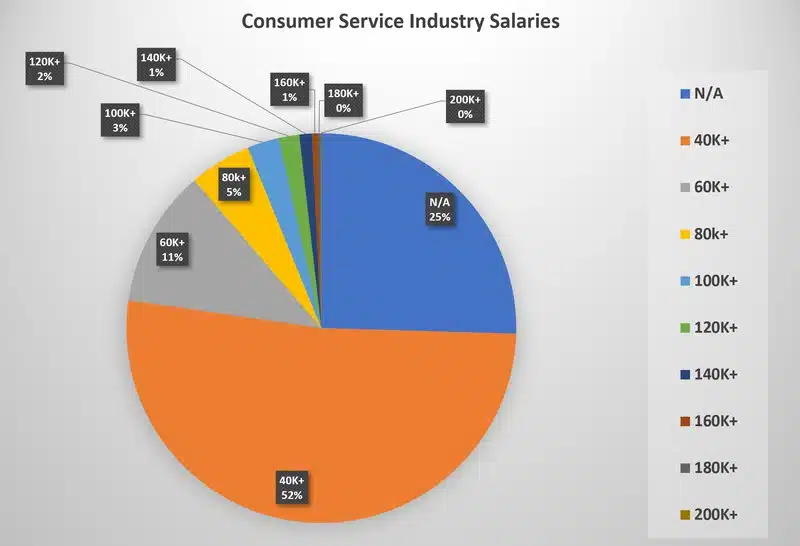 We also wrote an article about the best-paying jobs in consumer services. Check it out!
Advantages of a Career in the Consumer Services Sector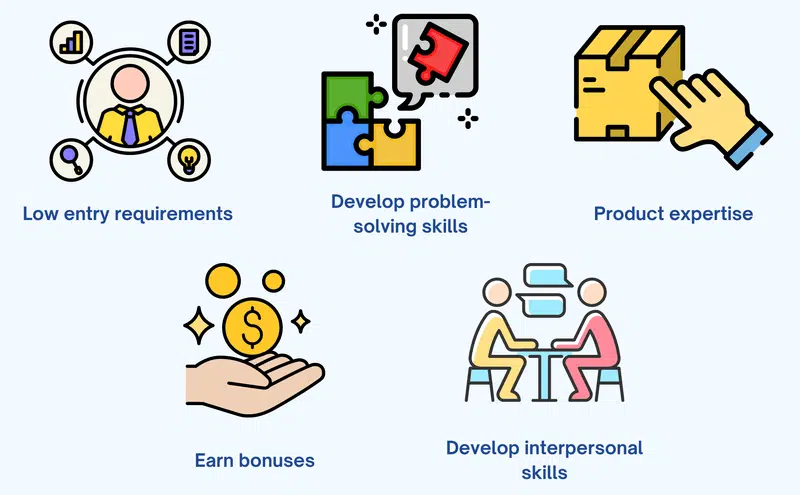 Now that we have looked at the job opportunities in consumer services let us dive deep into the plus points of working in this sector. Also, this will help us answer the query – is consumer services a good career path?
Entry requirements are low.
Several consumer service jobs welcome people with little or no experience. This makes these jobs ideal for those looking for their first opportunity to be a part of the workforce.
Also, entry-level roles in the service sectors help a person transition efficiently to different functions or industries. This is because the most crucial trait at this level is adaptability and willingness to learn.
Develop problem-solving skills
An essential part of working in consumer services is solving various customer problems. Also, customer service must provide a solution and satisfy the customer.
So, whether or not your solution aligns with the customer requirements and company policies helps you determine your problem-solving skills. Furthermore, this skill will come in handy in other situations and professions.
Gain expertise about a product or service
To answer customer queries, one must know about a firm's products or services. Learning about a product or service in detail will help one build knowledge and become a subject matter expert. Also, picking up things quickly is a great skill and increases employability across different industries.
Earn bonuses and commissions.
Some firms provide their consumer service representatives a chance to get several bonuses and commissions. This is over and above their regular wages. These rewards are usually given when customer service representatives successfully upsell products or services to customers.
Also, these could include getting customers to sign up for credit cards, lifetime memberships, or other loyalty programs.
Develop interpersonal skills
Working in customer service gives one a chance to meet many people daily. Some of them may be nice. However, quite a few are downright rude. So, one builds the ability to deal with difficult people. Also, meeting new people helps customer service realize the pain points of various customers and any new features they may need.
Disadvantages of a Career in the Consumer Services Sector
Despite the upsides, a career in consumer services has specific cons.
Burnout and stress
Being a customer representative requires an individual to maintain a friendly appearance. This can get difficult at times, especially when dealing with rude customers. Also, there could be situations where they may be going through tough times in their personal lives.
Nevertheless, they are expected to be cheerful. However, friendly co-workers and polite customers can help ease the stress.
Work an irregular schedule.
The customer service sector requires commitment outside of regular business hours. This may mean that the people involved work on weekends, holidays, festivals, late-night shifts, etc.
Also, the schedule differs from week to week. However, this very fact may provide these employees with greater flexibility. For instance, they can run errands in the morning if they have to work the evening shift.
Handle frequent changes
There may be changes in company policies, product portfolios, processes, etc. Initially, this can be very frustrating as it may take time to come to terms with. However, continuous learning on the job helps keeps things interesting.
In Conclusion: Is Consumer Services A Good Career Path?
By now, the answer to the question "is consumer services a good career path". It must be clear to the reader. Consumer services can start a flourishing career in other fields, such as marketing or product management.
Additionally, one can rise to positions such as VP of customer success or Director of the user experience after beginning a career in consumer service.
Another exciting aspect of customer service is that it is a career that will always be in demand as long as people live on this planet. Irrespective of our technological advancements, people like to interact with other people to get their queries resolved. This is even more so in the services classified as essential.
Consumer services also have several large and reputed firms in each sector. In this way, the consumer services sector provides job seekers with many options in different stages of their careers.
Want To Learn About Other Career Paths? Check out all our articles related to it on our career path page, or find out more on our career trajectory article.
Christian has over ten years of experience in marketing agencies.​ ​Currently, he has been dedicating his time to a tech startup and also writing for major publications. He loves podcasts and reading to keep up with the latest trends in marketing.