The environment is an essential part of our lives on this planet. For society to thrive and progress, we humans must live in harmony with our surroundings. So, it is for this very reason. We must keep the environment in mind while making any decisions. In this article, we will look at the various facets of an environmental consultant, also known as an eco consultant. This includes answers to questions like what is an environmental consultant, what his work involves, and how to hire or become one.
Here are the main questions we expect to answer in this article:
What Is an Environmental Consultant?
In this section, we will decode who an environmental consultant is and what he does. This profession calls for a vast and diverse array of skills and abilities. Also, it needs persons who are well versed in the workings of government organizations. An understanding of different regulations that are in place also helps.
The work of an environmental consultant brings together thorough scientific knowledge and technical expertise to conduct comprehensive environmental assessments. These assessments aim to spot and reduce any risks that would result in legal action.
Sponsored Content - Posts And Ads You May Like:
Moreover, these consultants also aim to ensure compliance and preserve health and safety.
What Does An Environmental Consultant Do?
An environmental consultant addresses a range of issues, including but not limited to:
Air, water, and soil assessment
Waste management policies
Environmental management systems
Environmental audits
Remediation of environmental issues
Sustainability and energy solutions
Working on conceptual models to identify sources of contamination
Health and safety guidelines
Firstly, an environmental consultant must meet with clients and understand their needs. He starts by taking a tour of their premises. These premises are typically construction sites, energy plants, manufacturing facilities, etc.
Furthermore, he studies the various projects in different planning stages and makes the necessary recommendations. His review of environmental impact reports aids in decision-making. Also, an environmental consultant assists his clients in obtaining environmental permits.
Communication is key. A seasoned environmental consultant will frequently communicate with his clients about work progress and other significant updates.
Another major part of his job is to help clients respond to situations such as oil spills. Additionally, he is responsible for overseeing the health, safety, and environmental regulations that are in place at the client site.
He also works with previous clients on a need basis. Apart from everything described above, he keeps himself updated with the latest scientific reports, environmental studies, and local ecosystems.
How To Become An Environmental Consultant?
You have set your sights on becoming an environmental consultant. Good. Now, here are some of the ways you could go about it.
Firstly, earn a bachelor's degree in environmental science. Also, you could opt for a bachelor's degree in fields such as environmental engineering, environmental studies, or geology.
Other related fields that will get an entry into environmental consulting are geoscience, hydrology, hydrogeology, ecology, anthropology, and civil engineering. These qualifications should be sufficient for entry-level jobs.
Although employers prefer people with master's degrees for senior positions, excellent communication and business acumen can also take you places.
Training and certification opportunities for an environmental consultant.
There are several chances for a professional in environmental consulting to upskill. Most certifications require a minimum of two years of work experience and must be renewed regularly. Some prominent certificates for environmental consultants are:
OSHA Hazardous Waste Operations and Emergency Response (HAZWOPER)
Certified Environmental Professional (CEP)
Certified Hazardous Materials Manager (CHMM)
Environmental Compliance Certification (EC)
Certified Environmental Systems Manager (CESM)
Career Growth
As one gains experience in this area, he can choose from many diverse fields within environmental consulting to specialize in.
But, when starting, one usually gets small projects to work on. By the time a person reaches the position of a senior consultant, he would have carried out numerous tasks, including:
Extensive ground investigations
Ecological surveys
Data assessment
Secondary research
Dealing with sub-contractors, regulators, and clients
Report preparation
Skills Needed to Become an Environmental Consultant
A healthy mix of technical and interpersonal skills is required to succeed as an environmental consultant. In this section, these skills are discussed in detail:
Project Management
This involves the supervision of an entire project from inception to completion. This is all the more important in constructing green buildings or environmental assessments that will have significant implications at the workplace.
Attention to detail
This is a handy skill to have as an environmental consultant. You will have to notice the tiniest details as you learn about the environmental factors affecting a particular project. This works both ways, as you will have to understand the impact of a specific task on the environment.
This trait will also help people discover unsafe practices at construction sites, plants or buildings.
Verbal and written communication
The ability to write clear and concise messages that convey the intended meaning without any room for ambiguity is priceless.
An environmental consultant involves meeting with business owners who may not know about environmental terminology. Additionally, an environmental consultant also works on several documents, emails, and PowerPoint presentations.
Problem-solving
There are many instances when an environmental consultant is contacted right after an unforeseen incident has occurred. So, he must maintain a calm, professional and positive outlook while focussing on the task at hand.
Negotiation tactics
These will help consultants pitch their clients' needs and persuade the other party to view their demands favorably. Also, environmental consultants assist clients in finalizing license terms with local agencies so they can perform business on a specific piece of land.
Time Management
One should know how much time to allocate to the different projects at hand. Also, this calls for the identification of high-priority tasks.
Typically, environmental consultants handle multiple clients at a time. And this makes time management all the more crucial. Even if they are starting in their career and are working with a single client, they need to devote a significant amount of their time to keep their knowledge updated and relevant to their field.
What Are The Environmental Consultant Career Paths?
Environmental consultants have many options across entry, mid and senior positions. Here, we will look at an environmental consultant's possible career paths.
Environmental planner
Working as an environmental planner would require a person to work with state or central government agencies.
Furthermore, an environmental planner keeps a tab on the usage of hazardous substances in industries, air quality, noise pollution, and much more. Also, they work on environmental contracts and agreements.
Disaster recovery consultant
As the name suggests, he helps communities recover after a disaster, emergency, or crisis. They help support local and government bodies in organizing a response to any calamity.
Also, they provide advice on the dynamic nature of emergency guidelines. This is important as this directly affects many industries and firms.
Environmental compliance consultant
They evaluate the processes and systems of firms. Examples of such processes include the waste disposal mechanism that is present. They conduct audits of industries or organizations for environmental compliance.
The job of an environmental compliance consultant involves a fair amount of fieldwork. This is because they have to gather water or soil samples for analysis. Also, they ensure environmental compliance is included in any project a company undertakes.
Environmental engineer
A bachelor's degree in civil engineering, geology, or environmental science is essential to getting an entry-level role as an environmental engineer. Entry-level engineers may need some additional training and supervision. The work of an environmental engineer requires him to work outside in varying weather conditions.
Also, some experienced environmental engineers may head or oversee field crews. Additionally, they may also perform hydrogeologic investigations.
Crop management specialist
They work on providing information about scientific methods to farmers for maximizing yields and reducing crop loss.
To achieve this, they study the soil and water quality. Moreover, under environmental norms, they ensure that pesticides and herbicides are within acceptable limits. Finally, they also carry out research projects to understand current production issues.
Sustainability Consultant
A sustainability consultant works on building sustainable solutions that do not hamper the growth of the business.
So, he works on calculating the carbon footprint of the business. Along with that, they also analyze energy use, water use, air quality, and waste production. Also, he develops customized sustainability plans suited to the business or organization.
Environmental Consultant Jobs
On LinkedIn, there are more than six hundred and fifth environmental consultant jobs in the USA. These jobs are spread in different industries, and the majority are in Civil Engineering, Services, and Construction, summing up 68% of the employment.
Below you can see the distribution of environmental consultant jobs by industry.
Civil Engineering: 264 (30% of the jobs)
Environmental Services: 231 (26%)
Construction: 110 (12%)
Oil And Gas: 126 (14%)
Business Consultant and Services: 26 (3%)
Architecture and Planning: 38 (4%)
Others 98 (11%)
Note that some industries overlap each other and that's the reason the sum is higher than the 650 mentioned before.
Environmental Consultant Salary
Based on an average of seven job search/salary research websites, the starting salary of an environmental consultant is $45,467/year in the USA, while the average salary is $71,711, and the higher paid ones make $101,362.
How To Get A Job As An Environmental Consultant?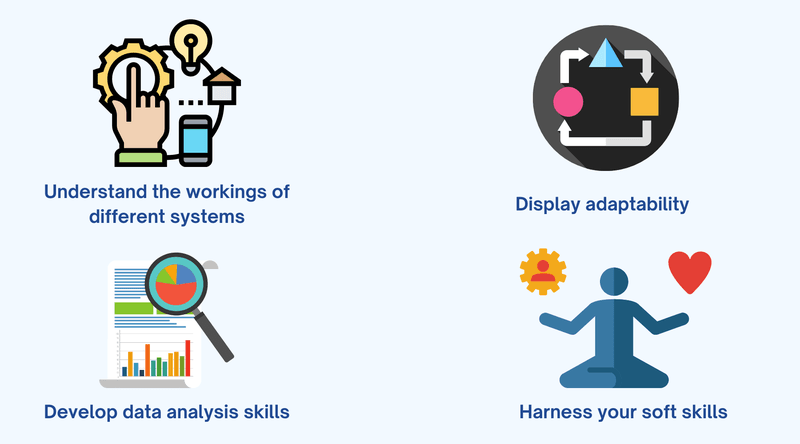 You have specialized in environmental science but can't seem to get a job. This section will guide you in making your mark as an environmental consultant.
Understand the workings of different systems
Knowledge of CAD and Geographical Information Systems (GIS) is extremely useful for an environmental consultant. These tools help him to study historical data and measure pollution. So eventually, he will use this data to suggest remedial measures.
Also, he can look to pick up coding skills to implement real-time solutions. However, the technical skills required differ from one job to another. So, the best approach is to acquire those skills that are in high demand.
Display adaptability
The work of an environmental consultant requires a person to handle fieldwork and paperwork with equal ease. One may have to travel on odd hours and public holidays in this line of work. Also, he needs to keep in mind the ever-changing nature of regulations and the endless demands of clients.
Develop data analysis skills
An environmental consultant usually works with vast volumes of data. So, the ability to perform number crunching is considered essential. He is expected to gather data points and conduct surveys. Therefore, knowledge of statistics and statistical analysis is always helpful.
Harness your soft skills
Being a successful environmental consultant is not just about drafting reports and giving recommendations. It is also about learning to work with cross-functional teams.
Additionally, one understands how to observe and pick out things that may not be obvious at first glance. This trait, coupled with critical thinking, will take one towards success in this field.
Why Hire A Environmental Consultant?
Various organizations must be mindful of all the environmental laws and guidelines in the country they operate in. This section will try to decipher why businesses require an environmental consultant.
They are unsure of the environmental regulations that apply to them.
Several environmental regulations apply only to specific industries. Or they may be in force in particular states. An environmental consultant can help figure out the laws that apply to your firm, whatever the case may be. Also, he can help you understand the specific requirements for each of those laws.
The environmental regulations are confusing.
You know the rules that apply to you. That's good. But, you have no idea how to implement them since they all seem too confusing. All this is because they are lengthy and too technical. So, now you need an environmental consultant to simplify them for you.
You want to avoid trouble because of non-compliance.
Non-compliance with environmental laws can lead to punishments ranging from fines to closure of the business and even jail time.
Although initial issues might lead to fines, repeated violations can lead to severe consequences such as revoking the licenses to do business. A thorough inspection by an environmental consultant can save you a lot of trouble and money later.
If you want to find more consultant roles, check our list of guides to becoming or hiring consultants:
In Conclusion
Environmental consulting calls for an individual to have an inherent fondness for nature. Also, environmental consulting is an ideal field for people who have an introspective bent of mind.
However, the career has a risky side, such as dealing with hazardous waste. Also, you may face issues of red tape while working on government projects.
However, environmental consultancy is this century's buzzword and has several challenging and fulfilling opportunities.