Even little changes can make a difference.
So what changes are you making for the environment?
For years, there has been an argument on the issue of sustainability. Especially when it comes to business and marketing, sustainability has become a thing.
What to sell, how to sell it, and to whom you sell your products has become a problem for many marketers nowadays. Of late, sustainable business practices have come to the van of consumer attention.
Consumers have become savvy.
Sponsored Content - Posts And Ads You May Like:
A good product is no longer enough to win consumers' favor. Not only have the shoppers wanted quality, but the products that align with their ethos. 62% of consumers want marketers to take a stand on environmental values that they care about.
Purchasing products and services from a company that stands for a purpose has become a thing. In today's business world, consumers look for companies that stand for sustainability.
Sustainability
In recent years, "sustainability" has become more than just a buzzword. Be it in any of the settings such as environmental, economic, or social development.
Sustainability is the knowledge to exist continually.
As far as marketers are concerned, sustainability is the understanding of their business to proceed endlessly. It is using the resources wisely to be able to endure and support your business for long-term growth.
Between fast and short-lived success and long-term value, which would you opt for as a marketer?
Unless we're speaking of the big-time one success, there's little choice for businesses to pursue "Sustainable Marketing."
What Is Sustainable Marketing?
The concept of sustainable marketing holds that an organization should meet the needs of its present consumers without compromising the ability of future generations to fulfill their own needs. – Philip Kotler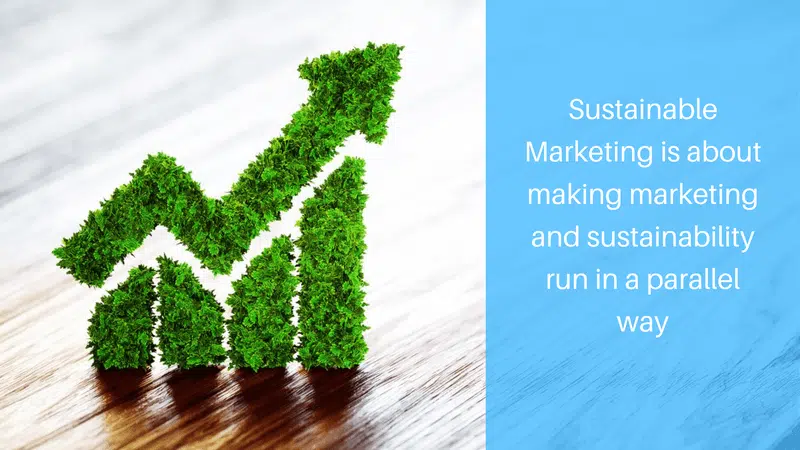 Sustainable marketing is the type of marketing that uses products and services that respect the environment and social aspects around. It aims to improve life quality by promoting products, services, and ideas that don't harm the environment.
With the increase of environmental issues, society is becoming more conscious and facing these issues. When businesses take part in such initiatives, they encourage their users to do the same. In return, companies get better brand visibility and more customers who stand by the message.
Following the sustainable marketing concept, businesses should promote the best long-run performance of the marketing system. Sustainable marketing principles should oversee the marketing system.
What are the five sustainable marketing principles?
Consumer-oriented Marketing: The company should view and organize its marketing activities from the consumer's perspective. Only by understanding the world through its customers' eyes can the company create permanent and sustaining customer relationships.
Customer-value marketing: According to the principle of customer-value marketing, the company should set most of its resources into customer value, creating marketing investments. By creating value for consumers, the company can capture profit from them in return.
Innovative marketing: According to this principle, the firm should continuously seek improvements.
Sense of mission marketing: The firm should define the mission in broad social terms rather than narrow product terms. This can better serve employees, brands, and consumers. It also says that firms must be socially responsible but profitable as well.
Societal marketing: This principle focuses on considering consumer, company, and social interests.
Why is sustainable marketing important? Key Drivers of Sustainable Marketing
Sustainable marketing has become paramount, not because of a few factors, but there are many drivers.
The social responsibility market has been increasing rapidly. Consumers are more concerned about what products are made with, where they come from, and how companies perform the service.
The increasing need to improve competitiveness and consumer loyalty has changed because of the growing consumption of sustainable goods and services.
Big Companies have been requesting their suppliers to become socially and environmentally responsible.
Public policies and regulations are demanding more sustainable practices and processes.
The scarcity and increasing prices of natural resources are mandating companies to search for alternative solutions.
Sustainable marketing campaigns put an additional focus on the social and environmental indications of the market.
It is attaining a balance between doing business and responsible marketing practices by favoring a more eco-friendly and better consumption system.
Importance of Integrating Sustainable Marketing in Business Strategy
First and foremost, it's about our survival if you see the big picture. And second, because it is business.
Speaking of the first, the economic activities on which life depends significantly impact the planet and its resources. Keeping the business as it is may result in extensive environmental and socioeconomic consequences.
There are many growing constraints that any ambitious company will confront, like systems of laws and norms and pressure from customers and investors, all at once.
In a business ecosystem that's developing and changing at breakneck speed, one should take a proactive approach based on adaptation and anticipation, like adapting Sustainable Marketing.
Unless you want to see your rivals take several moves ahead, you should submit to constraints and assume both risks and opportunities.
How can marketing be sustainable?
Practicing Sustainability is about fitting various communities' distinct needs to form a better quality of life and future.
Companies have been incorporating sustainable solutions into their products and promotions. Packaging using sustainable material, requesting sustainable practices from suppliers, providing clean water to communities, and reducing carbon emissions are great examples of how companies can protect the environment by practicing and communicating sustainability.
In the next section, you will see some examples of companies practicing sustainable marketing.
Examples of Sustainable Practices
Here are some sustainable brands that are delivering on this evolving consumer trend and reaping the rewards.
Amazon
One of the most influential brands in the world, Amazon is taking its responsibility seriously.
Amazon has created an entire hub to address environmental issues by relentlessly pursuing a sustainable approach towards promotions of funds and future ideas.
With Shipment Zero Amazon is striving to make Amazon shipments net-zero carbon by the year 2030, reaching 50% already by 2030.
The Amazon Sustainability Data Initiative is an initiative by Amazon to leverage sustainability via innovations. The initiative assists researchers by analyzing the right data points and turning them into actionable insights.
Amazon created powerful messages by collaborating with recognized brands such as Procter and Gamble.
As an example, they work with the company to create sustainable packaging solutions.
PepsiCo
PepsiCo has faced scathing criticism in the past about the ways they go about their business. This, though, spelled positive change in the company's sustainability standards, and it has shown.
For instance, PepsiCo is 88% through its goal of using 100% recyclable, biodegradable, and compostable packaging.
On the distribution front, after adapting the Alliance for Water Stewardship (AWS), PepsiCo has far surpassed its goal of providing safe water to 25 million people since 2006.
Steelcase
Steelcase is among the oldest and largest furniture manufacturers in the world. This also means that more is expected from them to take responsibility for the impending environmental crisis.
Following suit, in the August of this year, Steelcase has announced that it had achieved carbon neutrality in its operations.
Furthermore, they have taken on the ambitious project of turning carbon negative by 2030, i.e., twenty years earlier than the goal assigned by the Paris Climate Accord.
Unilever
Unilever is a giant on consumer goods. Currently, they state that 2.5 billion people use their products every day. They have more than 400 brands in 190 countries.
As imagined, it would be impossible to have such consumption going on without thinking about the environment.
Unilever has three big goals:
Help more than one billion people improve wellbeing.
Reduce to half their product's environmental footprint.
Souce all agricultural materials sourced with sustainability.
New Belgium Brewery Company
It is inspiring to see a beer brewing company doing so much towards attaining sustainable growth despite the business's challenges.
New Belgium is among the top three beer brewing companies in the United States. And there are several innovative ways in which they've worked towards sustainability that include:
Bicycles for employees to move around the brewery site. They ranked #1 in the list of 25 best companies for cyclists.
Powering their bottling plants with solar panels.
Using wastewater to power their plant with the help of an anaerobic digester.
The Environmental crisis is not a debatable issue anymore. The world is waking up to the fact, even though a little late. In recent years, several brands have not only stated their support for sustainability but have also walked the walk by changing the way they do business.
These brands demonstrate that it is possible to spread a legitimate message that consumers understand. The key lies in understanding what they want and what they expect, using keen consumer insight.
So, as an individual, I took it to myself to look into it and find ways to promote sustainability and become environmentally aware as a marketer.
Loreal
Pressure from consumers could be one reason most companies adopt sustainable marketing, but for L'Oreal, the approach has come naturally. It is something that the brand is taking full ownership of and making a part of its values.
From sustainable sourcing materials f0r their products and recycling at the end of the production process, Loreal has achieved significant results, as seen in their expressive numbers.
Read on to See 7 Tips for Sustainable Marketing
Turn off the printer.
Re-think your Promo items
Leafleting = evil
Ramp up your E-commerce
Embrace your CSR
Reduce, Reuse, Recycle
Shop local
Key Takeaways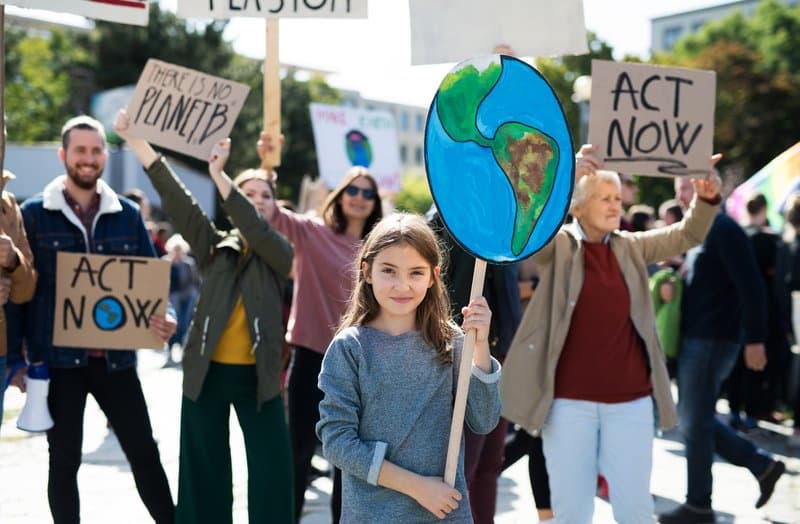 The sustainable marketing goal is to improve the quality of life by promoting products, services, and ideas to protect the environment.
Consumers are more aware and better informed of environmental issues. Thus, green marketing is the way to go for businesses for a better brand image.
Sustainable Marketing draws on traditional marketing methods and applies new approaches to serve consumers and environmental and social initiatives.
It's time for marketers and businesses to measure up by explaining to consumers authentically and transparently about their dedication to the planet and the people they serve.
Sustainability is an essential topic in every sector at the moment, hoping for a longer time!