Most people think about their CVs (or resumes) only when they are in the process of switching companies. It is essential to realize that the CV is a document that reflects your professional journey, and therefore it needs to be as dynamic as you are and not just something that needs updating when job hunting. In this piece, we shall look at the benefits of a CV, job hunting or not.
The Benefits of a CV – Index
Before moving ahead, check an index that can take you to the same benefit of a CV if you are questioning yourself if you should spend your time creating or updating your even when you are not job hunting.
Before Talking About Benefits Of a CV, Let's Check The Steps to Build One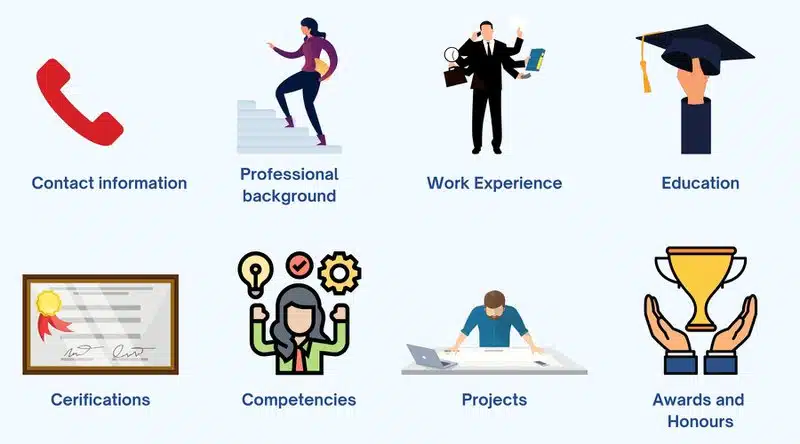 Before getting to work on your CV, it is essential to understand its components. Here, we shall look at the parts that constitute a CV.
A candidate faces several dilemmas while working on his CV. This is because there are many aspects to consider, such as the length, structure, and details to include.
Creating a professional resume is not as simple as it sounds. However, there are a few steps that can help.
Order is important
The CV should start with your contact information, followed by your professional background. The rest of the CV should prominently display your strengths.
Maintaining a structured order makes your CV sells your qualities and experiences much better than just a conversation with a recruiter. Having a well-structured CV entices the hiring manager's curiosity and can end up getting you the interview.
#1 Start with a Professional Structure
Each individual has a unique journey and background. The nature of the job also brings in variation to the CV. Hence there is no right or wrong way to draft a CV. But, as discussed above, certain sections are common to all applicants. A structured approach is one of the best ways to obtain the benefits of a CV.
For instance, the professional background section should begin with the position title that you are seeking. Next should be your three essential skills. Your skills should be able to resolve some of the pain points the firm is facing. The professional background should contain career highlights that excite your potential employer. That way, you can get recruiters' attention right away, in the first 5 seconds of seeing your CV.
#2 Contact Information
The first thing to keep in mind while preparing a draft of your CV is that interested recruiters or headhunters should be able to contact you quickly.
This section should include your full name, address, phone number, and email id. You can also add social media links such as LinkedIn or other websites with a portfolio of their work, such as Github.
#3 Professional Background
This section should immediately follow the contact information section. Professional background is a summary of your career journey so far.
People who have minimal experience might have a career objective instead. This section should highlight the milestones and achievements of your career.
#4 Work Experience
This part takes up the majority of your CV and is usually the most detailed. The work experience portion should focus on your functions in different organizations and the positions held.
One of the benefits of a CV is that the work experience section, in most cases, may be sufficient to showcase the depth or versatility of an individual at a glance, and it occurs when an individual has worked in diverse fields.
Work experience should contain a mix of daily responsibilities and new initiatives. Examples of Work Experience could be:
ABC Associates (2018-2020)
Responsible for preparing the weekly content calendar
Executed a six-month-long campaign on the organization's CSR activities
#5 Education
Education is a critical component of a CV. It should contain your qualifications, the institutes you studied in, and your GPA. You should also mention majors, courses, and graduation dates.
#6 Certifications
It is always advised to add any standard industry certifications to your CV as they are a testament to a person's skill, competence, and knowledge. They also help you in differentiating yourself. There are a few standard certifications such as the PMP, CCNA (Cisco Certified Network Associate).
#7 Skills and Competencies
You should include their competencies in their CV. These are a combination of technical skills such as programming languages known, software specialized in, and soft skills such as language fluency.
Technical skills are a necessity to survive and thrive in the workplace of today. Most people immediately think of programming when they hear the term technical skills. But this term encompasses being familiar with video conferencing software, spreadsheets, word processors, and more, and it is comforting to many employers.
#8 Projects
It helps if you have completed projects, especially in your area of expertise. Furthermore, this section should contain the title of the project and a short description too.
#9 Quantifiable Result-Driven Statements.
You have the skills. Now you must show that the skills translate into tangible benefits for the organization. There is no better way of doing this than quantifiable result-driven statements.
These statements begin with an action verb. They emphasize the action you took to resolve an issue and its results.
For instance, take this statement:
Augmented production by 35% by removing systemic inefficiencies
#10 Awards and Honours
Here you have to add the awards that you have received from various organizations. The details that must be present here are:
Name of the Award
The date on which they received awards
Reason for winning the award
What Are The Benefits Of A CV? And How To Reap Them?
You could be in a good place in your career and have a cushy job with attractive perks. However, it would help if you never ignored your CV completely. Here are a few reasons to revisit your CV.
1) You are faster in case an unexpected thing happens
Having an updated CV ready is an excellent benefit in case something happens to your current employment. Then you need to customize it for the diverse fields or roles you intend to apply to. Even if you cannot modify your CV significantly, changing the top skills under the professional background section and its heading will help.
Remember that adaptability is the name of the game while drafting an excellent CV. There are enough opportunities to demonstrate talent, provided one is creative.
2) You become better at your one-minute presentation
Recruiters prefer short and straight-to-the-point presentations on their first contact with you. That way, they will know if their time is worth it to proceed further.
For that reason, you have to have a verbal presentation that can't take longer than one minute, which impresses the recruiter. This one-minute introduction summarizes your career that will get the interviewer's attention to the rest of the conversation.
One of the benefits of a CV, especially of creating a CV, is that you will be practicing your one-minute presentation while writing down or updating your CV. Checking it from time to time is a great experience to be ready when you need it.
3) Remind yourself of your potential
A CV is not merely a record of the jobs you have done over the years. And it is a living, breathing document that reflects your professional growth over time. Moreover, it helps you understand the skills that you have mastered and assess your career plans accordingly.
4) It helps in overcoming stagnation
It is easy to be critical when you are caught up in mundane daily tasks at the workplace.
Revising your CV periodically will assist you in measuring your professional progress. You can also test whether you remember everything that's listed there. It's not enough to list skills on your CV, and you have to be proficient at what you have listed.
In this way, you will brush up on some of the skillsets that you have picked up. This is one of the great benefits of a CV.
5) Understand who you are
You have to realize your strengths and identify opportunities that are suited to them. Your CV is not merely a collection of bullet points but a reflection of your choices, passions, and values. Every single sentence on the CV has helped you improve as an individual.
Revisiting your CV will help you recognize the roles and environments that you thrived in. Once you have done that, you can seek more fulfilling jobs. A feeling of happiness will make you feel great about yourself.
6) Identify areas of improvement
Drafting a revised version of your CV will help you identify your shortcomings. You can realize the events that set you back in your career. Did you learn from them? If yes, they can be a launching pad to bigger and better things. You can be set for an exciting new phase of growth.
7) Helps in recognizing patterns
As the legendary Steve Jobs quoted –
You can't connect the dots looking forward; you can only connect them looking backwards. So you have to trust that the dots will somehow connect in your future.
Watch the video here:
Putting your resume together or revising it helps you understand your journey. Everything that seemed a sequence of random events makes sense now. It helps in preparing yourself for the future. You also get a hint of when to time your next move.
8) Start your freelancing career
In this day and age, it is prudent to have more than more one source of income. Freelancing is one of the best ways to earn some extra money. When looking for freelancing opportunities, it helps to have an updated CV handy as most clients are looking for people who can start working on their projects immediately.
9) It Makes you better at improving the presentation
A flashy CV is not equal to an impressive CV. These are, in most cases, two vastly different things. A CV must be accessible in the recruiter's eyes, and it has also to make it past the ATS as mentioned above. To achieve these goals, one must not use tables, colors, or fancy borders. Stick to headings and bullet points. Typos and spelling errors must be avoided at all costs.
10) Remain relevant to the recruiters
There is always a better job opportunity, and you need to be on your toes to grab it. An updated CV is a signal to the recruiter that you are an alert individual. Furthermore, you have to ensure that your LinkedIn profile is updated as well. After all, that is an online version of your CV.
Additionally, updating your CV regularly keeps you aware of the skills that are most in-demand right now.
Prepare for Changes
Disruption in business models and the evolving nature of work has become the norm now. Therefore, you cannot afford to get into your comfort zone. An updated CV makes the job hunting process less painful in case of unexpected circumstances such as lay-offs.
Remember, your CV is usually not read by a recruiter but by an AI system. Therefore, even if you have your CV ready to go, you must consider adding keywords related to the job description, which is essential to make it past the Applicant Tracking System or the ATS. All the skills listed in the CV must directly relate to the position you are applying to.
Having shown in detail all the benefits of a CV, have you decided already to start updating yours?
Christian has over ten years of experience in marketing agencies.​ ​Currently, he has been dedicating his time to a tech startup and also writing for major publications. He loves podcasts and reading to keep up with the latest trends in marketing.