Social media marketing has gone from a job that others might scoff at to a full-time and highly-demanded career. Knowing the best social media management apps and tools out there to keep content flowing is vital for those in that position.
Managing your social media campaigns is overwhelming sometimes. It is especially true when you're managing various social media accounts. As a social media manager, your role is not limited to one.
Engaging followers, creating content, sharing others' content articles, scheduling shares, repurposing content, managing social communities, and the list goes on, forever.
However, you can be more productive by using the best social media management apps out there, which can significantly improve your efficiency, which will make you achieve better results over time.
How can you choose the best social media management apps?
In this article, you'll discover our choices for the best social media management apps. Most of them have similar features, but they're different in terms of usage.
Choose the ones that you think can help you and give you better results. Some are household names for a social media manager.
1) Hootsuite
At least 10 million professionals worldwide are using this social media management tool. It's arguably the most popular amongst the best social media management apps.
It comes with many options for scheduling and allows for posts to be posted and monitored effortlessly. Schedule using your cell phone.
With Hootsuite, you can keep track of and manage your social media channels. You can post updates and connect with your client base. This useful tool can help you review responses across your social networks.
You can connect Hootsuite to your core social networks: Facebook, Twitter, Instagram, and LinkedIn. This tool is fantastic because it allows you to analyze your social media marketing campaigns.
A Clear Advantage: Hootsuite Integrations
The most amazing advantage is the number of integrations that Hootsuite provides. It's an entire app directory that gives you access to over 150+ other apps. It's by far the most integrated platform among the best social media management apps.
Take a look at the image below to see how they classify their app categories.
Great advantage on free account…
Hootsuite keeps improving itself at a breakneck pace. Currently, they have an amazing free plan that includes three social profiles, 2RSS feed integrations, and $100 of Boost ad spend.
The all-in-one interface for easier management and posting interface is also nicely tucked away when not in use.
Although it's a fantastic tool, costs can add up quickly from the various plans and features that increase the price.
HootSuite is a powerhouse, but it can be complicated, costly, and confusing. Although the free plan is one of the most attractive in the social media management world, they offer a 30-day free trial for superior plans.

For those who are comfortable with the software and need a big engine behind their social media managing, HootSuite is an excellent option to look into. For those who are wanting to start smaller and cheaper, other options might be a bit better.
2) SocialOomph
Speaking of other options, another that might better suit a social media manager's needs is SocialOomph. Like HootSuite, it comes with a pretty impressive list of features that manage to differentiate it from other social media apps out there.
The clear advantages of this tool are the outstanding amount of integrations with niche social media platforms (such as Discord, Mastodon, StockTwits), besides the most famous ones (Pinterest, Reddit, Facebook, LinkedIn, and Twitter), and also Blog Posts (Shopify blog, WordPress and Tumblr).
It has a 30-day free trial and starts at a cheap rate – 15 dollars per month.
Scheduling of posts on multiple accounts and platforms is effortless and well-integrated. Moreover, it's available in the free version!
Of course, it also comes with its downsides, as any app does. It does not support a smartphone app, unfortunately.
The most useful features are only available on paid plans (d' oh!), and the auto-follow feature can lead to spamming and consequent account blocking due to an excess of followers.
To summarize, SocialOomph is great at scheduling posts on multiple accounts and does start cheaper. It may be a great place to start for beginners who want to reach global or niche platforms.
3) IFTTT
Now, for folks who idolize having control over every aspect of their social media management routine, there comes IFTTT. The anagram stands for If This Then That, a reference to programming jargon that automates a process.
Again, IFTTT comes as a great form of automation of many apps, not only social media. However, it also has its limitations, much like each programming language. It's a different tool from all others in this article since it has several unique automation, such as changing photos in social networks, connecting posts with buffer, etc.
It allows the user to create their own "recipes" or automated actions to minimize social media posting time and works with almost every popular social website, although Pinterest is not included.
It appears to be no limit to the amount of "recipes" a user can build or the actions they can automate.
Although it's a great tool, automation can occur at different speeds, bogging down the workflow rate.
If you consider yourself a control freak, IFTTT is fantastic. It can minimize time and make the workflow a lot faster.
4) Buffer
For those looking for an easy way to spread out their posts, Buffer is a great tool – not for those who like to mingle with their followers, in any case.
That is really what it comes down to when you think of social media management apps – all of them have their pros and cons, limitations, and value.
You can use Buffer to schedule social media posts from links you share across the web. You can spread your content out throughout the day or week — no need to worry about micro-managing your delivery times.
Sharing your posts on Facebook, Instagram, Twitter, LinkedIn, and Pinterest becomes easier. After that, you can create your post and choose which social network you're going to schedule.
Buffer can give you information about your post engagement, reach, or clicks. It also has well-designed analytics with easy charts to understand all types of metrics in your social pages.
Buffer looks simple. It is easy to navigate, and it can make your team works more efficiently. You can assign team members and select their level of approval.
One clear advantage is if you are planning to share others' content in the future, Buffer is the way to go. Think of it as a virtual queue, which can schedule your curated content.
You can also find a module for conversations to engage in real-time with anyone who makes comments, mentions, or send messages.
With the qualities so far, Buffer is also restricted in some areas. You don't see the YouTube integration, for example. Price can increase rapidly (more than 4x) as soon as you incorporate essential features such as the report exports.
5) SocialPilot
Social Pilot is another complete tool having features such as Analytics, Calendar, Content Curation, RSS Feed, and Browse Extensions.
In the calendar, you can schedule your post in advance to appear on your social networks at different times. It also lets you schedule your posts in different time zones.
SocialPilot allows you to connect your social media profiles. It includes Twitter, Facebook, Pinterest, Instagram, and LinkedIn. You can create your post and post it across your social networks.
You don't need to post your updates individually on all your social networks. Highlight your brand rather than the tool you're using when you are posting on Facebook.
Aside from this, you can upload hundreds of posts at once using the bulk scheduling option.
If you ever run out of content to share, SocialPilot can save your day. The tool has RSS, where you can program to share posts whenever your favorite blogger posts content.
Analytics is easy to understand and have a modern design:
It also suggests relevant and fresh content that your audience will love to read and share.
You can find the most recent curated content suggestions by filtering your search based on keywords for content published in the past 24 hours.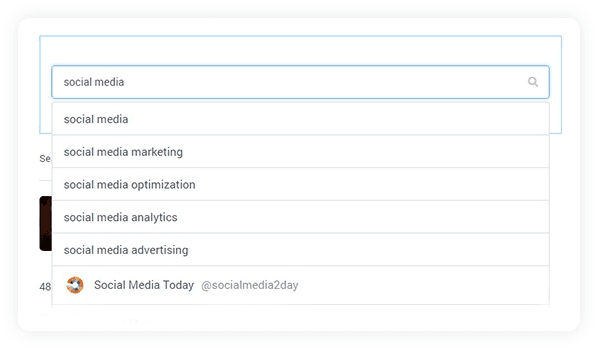 Another important thing you see in most of the tools is that you can invite team members to collaborate at SocialPilot.
Last but not least, it provides a browser extension that allows you to choose and post while navigating your favorite websites.
6) MeetEdgar
Just like the other tools mentioned earlier, Edgar allows you to schedule your posts on social media.
Currently, it supports Twitter, Facebook (pages and groups), and LinkedIn (profiles and company pages). The slight difference is that it provides auto-generated content.
When you post a link, for example, and click the auto-generated content button, it scans the article and provides you a different variation of text for your post.
MeetEdgar also allows you to recycle your posts to reach a more significant traffic percentage from the same content posted later. You can store all your updates online in a category-based library.
This library remains even after you posted your updates once. With MeetEdgar, you can create as many update categories as you'd like.
You can customize your schedule based on when you'd like to share different types of content. You are not limited to the number of updates you can save in your online library.
You can upload and store updates as many as you want. You can also upload your updates into a queue in Edgar. Aside from that, you have complete control over your schedule on each social network you connect.
In Conclusion
When it comes to scheduling content, all of the best social media management apps provide their manner to schedule posts, analyze data, and run campaigns.
The important thing is to find what works for you – and never be afraid to experiment! There are tools out there that offer some fantastic services, and they are growing by the day.
Try to use the free trial of the ones you like more. Do your test, one by one. Focus on which tools can improve what you are already doing on social media. While most of these tools are cool, you might not need all their features to succeed.
After knowing the best social media management tools a bit better, which of these will you choose?
Each of them has unique features and advantages. However, it all boils down to your personal preference. So which is going to give your social media campaigns a success?