Searching for answers about what a marketing consultant does? Or how to become one? You're in the right place. Here we will clarify if you need a marketing consultant or what you need to become one.
If you're searching for a straight marketing consultant definition, let's help you by pulling it from our text right away:
A marketing consultant works as an external advisor to the business for planning and executing marketing strategies. They understand the customer's needs and analyze insights, processes, and issues using their experience to suggest and apply solutions.
This article will help you understand a marketing consultant. If you are hiring or searching for a marketing consultant, we also analyze the best marketing consulting firms in this other article.
But without further ado, let's dive deeper into the marketing consultant specialty.
Table of Contents:
The Marketing Consultancy
Why is a marketing consultant so important nowadays to every company, large or small? Every person has a fixed routine that he knows how to organize in his head. First, you wake up. Then you brush your teeth, dress up, and so on. As long as you have a drafted plan for the day, you feel more orderly and active.
Likewise, businesses also need a plan. This is the same as building a blueprint or a draft plan before we act upon an idea. Companies are also built upon ideas. And to act upon those ideas, it is imperative to have a blueprint—Marketing Strategy in the business arena.
Developing a marketing strategy involves putting enough effort and time into building an action plan. So, where are the businesses going wrong?
Nowadays, with tough competition and new entrants from different countries lowing costs and competing for revenues, businesses focus more on cutting costs and encouraging the core business. That's when an action plan to become more efficient comes into play.
Making sure to have the proper time management and evaluating outsourcing is an option. When a firm needs to outsource marketing efforts, it is usually time to search for a marketing consultant.
What Is a Marketing Consultant?
A marketing consultant works as an external advisor to businesses for planning and executing marketing strategies. They understand what the customer needs and analyze everything with great expertise.
They bridge the gap between the current marketing failure and what is needed for a successful marketing strategy.
Marketing Consultants can either be self-employed or employed at a company. As a result, the role of consultants varies from company to company and from project to project. And this is because each business has its own unique goals and challenges.
Marketing consultants work for the client, and their goal is to help the client achieve their business goals.
They offer various services, like search engine optimization (SEO), content creation, social media marketing, and more.
Some marketing consultants focus on digital marketing, while others provide consulting services for traditional marketing methods and planning.
The key is finding a consultant who understands your business and target market.
What Does a Marketing Consultant Do?
A marketing consultant helps build a thorough marketing plan, fix your business's message, and identify the appropriate marketing mix to get the word out to the target audience.
Most marketing consultants are in charge of planning and supporting the execution of the marketing strategy. They monitor the current plan and tweak operatiLet'so get the best results from the marketing efforts.
Let's dive deeper and understand the functions of this professional in detail.
Key Functions
Consultants offer guidance and expertise to businesses to help them enhance their business performance in terms of the following:
#1: Operations
Marketing consultants are well-versed in ways to grow business operations that could work for your company. They help the business in fine-tuning its processes that support your business to run smoothly and increase productivity.
#2: Profitability
Four key areas can help a business hit profitability. They deliver growth for your bottom line and guide how to plan and manage changes. A consultant explains assessing a business's profitability by reducing costs, increasing revenues, improving productivity, and enhancing efficiency.
#3: Management
A marketing consultant knows that real insights come from identifying the unique behaviors that follow your organization's mission, culture, customer needs, and strategic goals. Likewise, they work with your team to co-create plans and formulate new ideas.
#4: Structure
A significant function of a marketing consultant is to help enhance the structure of your organization. They are thoughtful enough to create a plan that prepares you for future growth. Planning is the choicest way to build an organizational structure that boosts your business growth.
#5: Strategy
Strategy is the same and acts as a roadmap for the success of any organization. We all used a map before we set off across a new location. And we did it to avoid getting lost.
A marketing consultant works with businesses to examine their current marketing strategy, formulate a plan to fill the gaps, execute the established program, measure the KPIs (Key Performance Indicators), and adjust results-based goals.
Marketing Consultant Job Description
Roles and Responsibilities
Depending on the action areas, marketing consultants would play different roles, but in general, you could split roles as you see below:
1) Companywide Activities, Plan, and Strategy
Conduct research with primary and secondary sources, interview employees, survey consumers, and take those results to understand the business.
Detect issues and find solutions to fix them.
Understand your competitors and the perils in your marketplace.
Gather, analyze, and present the data to the top management.
Reinforce an organization's culture by working on its vision, values, or internal communications.
Work with the HR department to align their recruitment branding and marketing efforts with potential employees.
Manage events or internal communications projects.
Develop and implement new action plans.
2) Products and Services
Make suggestions for product or service developments.
Use research methodology (focus groups, in-depth interviews, quantitative research, etc.), models, and statistical methods to test innovations and present findings to customers for feedback.
Manage the results of a company's or product's brand or re-brand.
3) Marketing Campaigns and Lead Generation
Evaluate current marketing campaigns.
Find the best digital marketing campaigns (Email Marketing, Social Media, PPC, SEO, SEM, etc.) and optimize them to bring faster ROI.
Suggest applications and platforms that facilitate companies' marketing process, monitoring, and campaigns.
Marketing Consultant Required Skills
To become a marketing consultant, you must have experience with marketing and digital marketing.
You should have a bachelor's degree in business management or marketing, which can also be obtained online.
In addition to the essential nuts and bolts like obtaining an academic degree and having adequate work experience in the critical area of expertise, there is an impressive number of different prerequisites:
Excellent copywriting skills.
Strong communication skills.
Marketing expertise in a unique range of functional capacities: lead generation, social media, content management, SEO, affiliate marketing, email marketing, product marketing, marketing research, marketing strategy, marketing plan, branding, and go-to-market strategy, among others.
Critical skills- creative thinking, copywriting and communications, problem-solving, analytical ability, attention to detail, and leadership skills.
The Marketing Consultant Job Description Infographic
What Makes A Good Marketing Consultant?
With the constantly evolving marketplace and increasing competition, businesses need effective marketing strategies to get ahead. This has led to a surge in demand for marketing consultants who can assist organizations in achieving their goals by devising innovative marketing plans that align with their objectives.
However, not all marketing consultants have the same expertise or success rates. To ensure that you hire the right person for the job or become a desired marketing consultant, it's important to understand what makes a good marketing consultant.
1) Understanding the Client's Business and Objectives
Understanding the client's business and objectives is crucial to being a good marketing consultant. This means taking the time to thoroughly research and analyze the client's industry, target audience, competition, and overall business goals. Without this foundational knowledge, developing effective marketing strategies that resonate with the client's desired customers can be difficult.
In addition to conducting research, a good marketing consultant should actively listen to the client's needs and concerns. This involves understanding their immediate objectives and developing an understanding of their long-term goals.
By taking a strategic approach tailored specifically for each individual client, a marketing consultant can help achieve sustainable growth within their market space while ensuring they stay ahead of competitors in increasingly pivotal times for businesses today.
2) Ability to Analyze Data and Trends
A good marketing consultant should be able to analyze data and trends to identify patterns and insights that inform their strategies. This involves utilizing various tools and techniques such as market research, customer surveys, social media analytics, website traffic analysis, and competitor analysis.
A marketing consultant can develop effective campaigns that resonate with target audiences by understanding consumer behavior and preferences, industry trends, and competitors' strengths and weaknesses.
Effective data analysis helps develop marketing plans and allows for ongoing optimization by continuously monitoring key performance indicators (KPIs) such as conversion rates, engagement levels, brand visibility, etc.
The ability to interpret this information in real-time enables rapid adjustments based on changing market conditions or emerging opportunities. A skilled marketing consultant will ultimately leverage data to make informed decisions that drive revenue growth while maximizing return on investment (ROI).
3) Creativity and Innovative Thinking
Creativity and innovative thinking are essential skills for a marketing consultant who wants to help businesses succeed. These two abilities enable consultants to develop unique ideas that set their clients apart from the competition, helping them achieve their objectives in a dynamic marketplace.
The most successful marketing consultants understand creativity is about generating new ideas and finding fresh ways to approach existing problems. They have an inherent ability to think outside conventional boundaries, encouraging customers to explore new avenues for growth and success.
Innovative thinking allows marketing consultants to transform complex information into actionable strategies quickly. It teaches them how best to frame messages so that they can be understood easily by different types of audiences. By leveraging these qualities, great marketers can create campaigns tailored perfectly to their customers' requirements which resonate with more significant segments of the population than traditional methods ever could.
4) Effective Communication and Collaboration Skills
Effective communication and collaboration skills are essential for a good marketing consultant. A successful marketing plan requires input from multiple sources, including team members, clients, and other stakeholders.
Effective communication ensures everyone is on the same page and understands their responsibilities. This includes articulating ideas clearly, listening actively to feedback, and adapting plans accordingly.
Collaboration is also critical in achieving goals as a marketing consultant. This involves working with others in a respectful manner while leveraging each person's strengths to achieve collective success.
Collaboration may entail brainstorming sessions, frequent check-ins with team members or clients, or seeking advice from experts in different areas of expertise. Effective communication and collaboration ultimately lead to better results by fostering trust among team members while aligning strategies with business objectives.
Are You Able To Be A Marketing Consultant?
Before you can become a marketing consultant, you need to consider the following:
Are you confident in your skills and knowledge of digital marketing?
Can you work well with others?
Do you understand the digital trends that are currently changing today's market?
Can you manage client expectations while still staying true to your vision?
If you answered yes to these questions, becoming a marketing consultant is for you!
How to Become a Marketing Consultant?
From there, finding clients looking for your services is a matter of finding clients. If you decide to become a consultant and build your own business, here are essential steps you should consider:
Steps to Become A Marketing Consultant
1) Find a Niche
The first step is to find an industry niche. This will help clarify what type of company or service you want to specialize in.
An industry niche is a specialized segment of a larger industry that focuses on meeting the needs of a particular group or demographic. It is generally characterized by its unique elements, such as its target market, customer base, and production techniques. A marketing consultant can gain a competitive advantage by choosing an industry niche since it can focus on its niche expertise.
2) Create a Portfolio
After deciding your niche, you should create your portfolio. For that, set up your website. People often overlook this. If you don't have anything up on the Internet, you won't have customers coming through your door!
Your portfolio should include examples of how you executed campaigns successfully before and after consulting with companies.
3) Create Content
So the following step is to create content. People who want to learn about what you offer as a marketing consultant need content related to your niche. This could include blog posts, white papers, case studies, etc.
4) Build a Reputation
Branding yourself is one of the most important things you must do when starting your consulting career. You want to establish a name for yourself so potential clients can find you. A marketing consultant brand is its reputation.
Building a reputation as a marketing consultant is critical to success in the industry. With the right strategies, any new consultant can be on their way to becoming established and respected for their work.
To get started on building your reputation as a marketing consultant, here are some tips and tricks to get you noticed:
Establish yourself as an expert in your field by staying up-to-date with industry trends. Ensure your knowledge is reflected in your website content, blog posts, and other materials you use to promote yourself online. This is the importance of choosing a niche in the first step.
Build relationships with potential clients by attending networking events and participating in industry forums or organizations. This can help you gain the trust of potential clients who may eventually become your long-term partners.
Take advantage of social media platforms like LinkedIn or Twitter, where people can see your work and give feedback.
Participate in industry events, like social media conferences or webinars.
Connect with other consultants already established in the industry so you can learn from them and use that knowledge to help grow your brand and business.
5) Build Relationships
The next step is to build relationships with clients- Once your website is set up correctly and your content is created by these potential clients (i.e., meets their needs), it's time to focus on developing relationships with them.
The more they know about you and like what they see online (or at least perceive value in what they see), the more likely they will hire you for future projects.
Finally, get out there and start pitching! Pitch for yourself before pitching to clients. Pitch online through social media platforms like LinkedIn if possible. Try to use sales techniques such as the foot in the door. If not, try pitching offline through events like Startup Weekend or at local conferences in your area.
Strategies To Get Your First Clients
As a marketing consultant, you can work for big consultancy companies. However, if you are trying to open your own business, you must have a strategy to get new clients.
A common strategy is finding a company willing to hire a marketer as an employee. Once you have the connection and sell your skills and experience the right way, you will need to negotiate the role of an independent contractor.
A second strategy would be using the foot-in-the-dor technique. Become closer to the marketers at the target company. Then after a conversation has been established, start slowly offering your services on the following communications.
A third strategy would offer a specific solution to a problem. Let's say you are skilled in a particular SaaS platform and become a representative for them. As an example, let's use Hubspot. You can become a certified sales representative of the tool to be able to implement their marketing software for businesses, becoming a consultant who will be able to execute it.
Once the agreement is signed, it's time for business!
Marketing Consultant Salary
According to salaries submitted to Glassdoor, the yearly marketing consultant salaries based on years of experience, last updated as of September 2020, are as follows in the United States.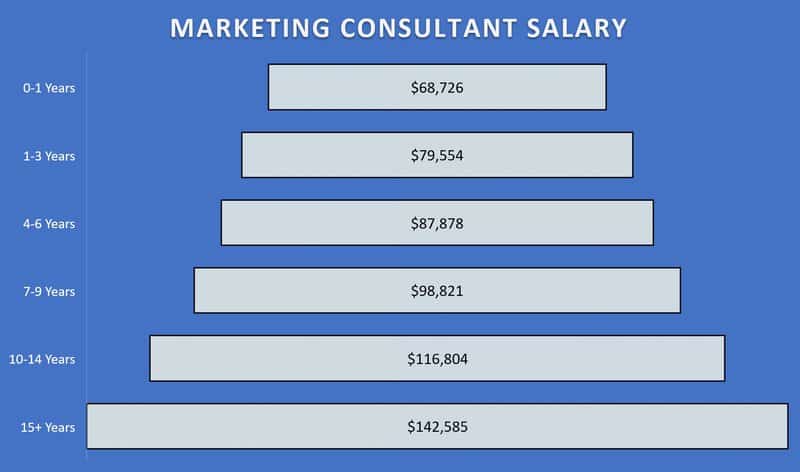 Why Would Companies Hire a Marketing Consultant?
Sometimes companies need assistance with their marketing as their current strategy looks flawed. Usually, they have a wide range of services to offer besides the versatility and know-how to grow businesses, helping them reach their full marketing potential. That's where a marketing consultant comes into play.
A skilled consultant can bring a holistic approach to large and small companies, helping them identify roadblocks and workarounds. Here are three significant reasons why it makes the most sense for companies to hire a marketing consultant.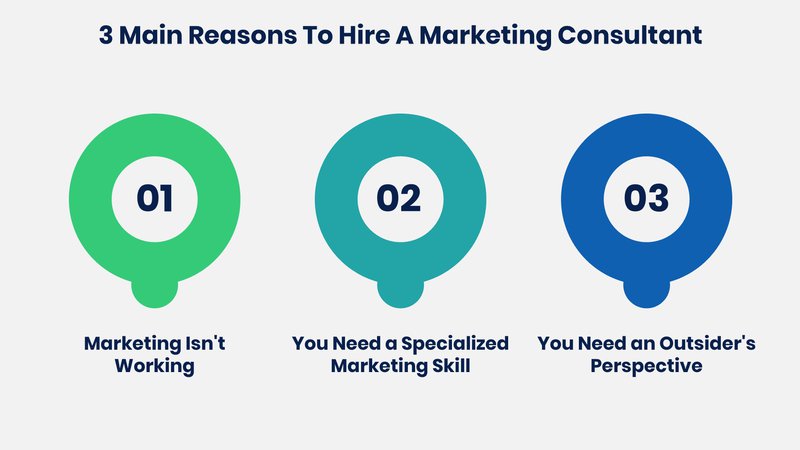 1) Marketing Isn't Working
Maybe companies are not generating enough leads or qualified leads. Or perhaps you are generating free subscriptions but can't close a sale? The writing is on the wall.
An experienced marketing consultant identifies breakdowns in the company's marketing systems and creates workarounds and solutions. Marketing consultants will even take the lead in determining the value and mission of a business.
2) You Need a Specialized Marketing Skill
The company may already have a marketing department and perform great in certain areas while lacking in others. The marketing team may have identified that needs fixing but doesn't have the means or time to tackle it.
For example, imagine the company developing a new product and listening to customer feedback about its latest prototype.
However, no one at the company knows about consumer research. Therefore, it's probably best to find someone to assist in carrying out a focus group or an in-depth interview with consumers.
In another situation, a company wants to develop its marketing automation for retargeting customers who usually abandon the cart before finalizing the purchase. Unfortunately, no one at the company has ever worked with retargeting before. Then the best would be to hire a marketing agency or a marketing consultant.
This is when it makes the most sense to bring in a marketing consultant specializing in this area. An outsider's perspective can help gain new ideas.
Renowned companies are regularly evaluating themselves through honest feedback. They do this to get better.
Before you can up your marketing game, you must know where your deficiencies lie.
An experienced marketing consultant can provide a much-needed outsider perspective, helping companies identify market areas that need improvement.
How Much Does A Marketing Consultant Charge?
Let's get into it. After knowing the impressive number of advantages that hiring a marketing consultant can generate, expect to pay a pro marketing consultant at an hourly rate from $150.00/hour to $300/hour. After all, the bottom line is what this is all about.
Which is justified!
A consultant gives you 20 hours of his time per month-centered strategy for a monthly cost of $3,000, and his work could yield a great return on your investment. Worth it, right?
If you want to find more consultant roles, check our list of guides to becoming or hiring consultants:
Conclusion
A marketing consultant helps companies understand market intricacies, competition, strengths and weaknesses, trends, and other elements. They work jointly with businesses to develop brand awareness, campaigns, products, or services.
They can also help you build and develop your marketing team or processes. Sometimes they can search for marketing suppliers, advertising agencies, or marketing software and platforms.
Whether there is a soliciting to hire a marketing consultant or planning on becoming one yourself, this article explains the details.
Becoming a marketing consultant takes years of study, hard work, and dedication. You must first understand how to market, how to sell a product, how to develop a marketing strategy, and how to market a business.
There are many ways to break into the world of marketing consulting. Some people are lucky enough to get a job from an established company like Coca-Cola or Procter and Gamble, which will give them the experience that could lead them down this career path.
Others are looking for more of a freelance role, which will allow them to make more money than they could in another job. The most important thing is knowing you have the passion and skills necessary for this career. If you do, have a lot of success as a marketing consultant!
Christian has over ten years of experience in marketing agencies.​ ​Currently, he has been dedicating his time to a tech startup and also writing for major publications. He loves podcasts and reading to keep up with the latest trends in marketing.