When we finish our studies, we start looking for an internship. Internships are an excellent way for a fresher to ease into an industry, and it gives you a trial run before you take up a full-time job. Internships also help you build your resume. But what is an externship? Is it like an internship?
In this article, we will talk about externships. But, like internships, externships can also be beneficial for your career. It can give you the exposure you need before you start working full-time. And some even prefer them over internships.
Externships can be done during a student's spring and summer breaks or even during a January inter-session since they have a short duration, lasting from a few days up to two months.
So, how do these externships work? Read on to know everything there is to know about externships. And if any of you are interested, we will also tell you how to find them. But, first, let's discuss what an externship is.
Table of Contents:
What Is an Externship?
An externship is an experiential learning opportunity for college students, and it allows them to gain some necessary working experience. The words "experience" and "internship" fuse to make the word "externship."
Externships allow you to apply academic knowledge in real-world scenarios. As we discussed, they are all about experiential learning. Therefore, it is a great way to gain practical experience before taking up a full-time job or internship.
Educational institutions partner with private businesses to provide externship opportunities to their students. It is like a training program that helps students feel about working in the industry.
There are externships available for most fields of study.
Until recently, few students knew about externships. They are not as popular among youngsters as internships. But they offer various benefits to young students. They prepare them in many ways to deal with the pressures of a full-time job.
We will talk about the benefits of externships later in the article. But, for now, let us move on to the difference between internships and externships.
How Do Externships Work?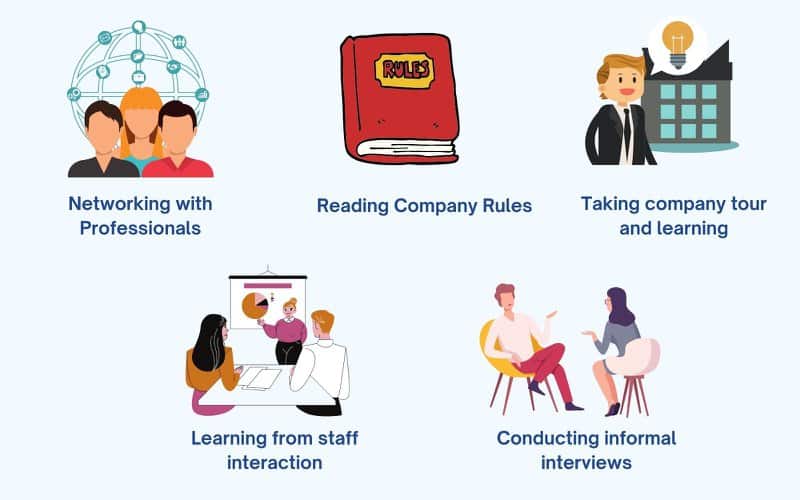 Employers and educational institutions partner to create externships. And these educational institutions then send their students to get valuable work experience. We have discussed how externships are different from internships. Now let's see how they work.
Responsibilities in an Externship Include:
Network with professionals and observe them working as a team.
Go through company rules and regulations.
Take a tour of the workplace and learn as much as you can.
Be a part of staff meetings and learn from the interaction.
Some externships also allow you to conduct informational interviews.
As we can see, these are all about learning. Also, externships are in line with what you're learning in school. First, students get to test theoretical knowledge in real working situations, and then, they understand ways to apply that knowledge to get results.
Also, there is little pressure on students to do well. There are tasks you have to do in an internship, and there are deadlines to follow. But externships are all about observing and learning.
What Is The Difference Between An Internship And An Externship?
One should not confuse an externship with an internship since there are notable differences between the two. So, let's make those differences clear:
Time of Year
The first difference is when the two of them take place. An internship usually takes place in the summer months. In other words, it occurs when the academic session is not going on. Therefore, students use their free time to gain work experience and earn money.
Externship opportunities go along with the academic session and take place during the school year.
Sometimes, educational institutions make it compulsory for students to go for an externship. Their reasons are that they're helpful for students looking for working experience without missing any classes.
Duration
Internships usually go on for several weeks. On average, you will find internships lasting between two and three months. As a result, not every student can commit to months of interning, and they can have various reasons for not being able to.
But externships can be as short as a day. And some externships might also last the length of an entire semester.
Every student can find an externship based on how long she can commit to it. This is not possible with internships. One will never see training that lasts only a few days.
Depth of Working Knowledge
An internship allows students in-depth training at a company. Interns spend months working at the same company. They gain more working knowledge than someone who does a short externship, and their depth of working ability is more significant.
But many see this point as another positive for externship. Young students out of college are not always sure about their career paths.
Short externships allow them to try various niches and companies before choosing one. Thus, although they gain less experience, they have various options to choose from.
Pay
Students always look for internships that pay well and see them as an opportunity to earn money as they gain experience.
The idea of an unpaid internship doesn't appeal to college students. After all, around 70% of companies offer full-time jobs to interns. The companies are also looking for young talent to recruit, and that's why most internships pay well.
Since some internships can be paid or unpaid, what determines whether the internship is paid or unpaid?
Financial stability
Most fortune 500 companies are financially stable and can allocate a budget to pay interns. However, small organizations might have budget constraints and cannot afford to pay interns. Thus, if you want a paid internship, apply to work in large organizations.
Government policy
Some sectors of the economy, like health care, are highly regulated; thus, the government can legislate against unpaid internships. Therefore, educate yourself on the current legal framework in your industry regarding the compensation of interns.
State or country-specific regulation
In some countries like the UK, not paying interns violates labor laws; hence all interns must be paid. Similarly, some states in the US have a law agonist unpaid internship. Thus, research the state laws regarding paying interns in the different states before choosing where to conduct your internship.
Industry-standard
Some industries, like tech industries, take pride in being the best companies to work for; hence to attract the best talent, they offer the most competitive internship package.
The risk involved during the internship
It is riskier to intern at an oil exploration company than at a software development company. Thus, to attract interns, high-risk companies must pay interns to attract interns.
Externships, on the other hand, are always unpaid. Its purpose is to provide the working experience to young college students, and it prepares these students for working full-time jobs and internships. Therefore, it is not a good option for students looking for a paid opportunity during the summer break.
Format
Internships are about the work one does. Interns concentrate on building an excellent work history to include in their resumes. They observe how the company works from the inside. But also have to deliver assignments and complete tasks. Companies usually have a well-structured internship program.
Externships are more about students observing the work. They get a chance to explore the company or job that interests them. It allows students to watch the working of the company from the inside.
There is no pressure on them to deliver assignments or complete tasks.
Job prospects
Most companies advertise an internship as an entry-level position. For instance, if the company wants to employ an assistant accountant, they might start by posting an internship in the accounting department and specify that the applicant must be a recent graduate or someone who has completed studies and is awaiting graduation. Most interns, particularly final-year students, get absorbed by the companies at the end of the internship.
At the end of the internship, if the intern meets the company culture, they might be offered a job as an accounts clerk. Externships have limited job prospects, and because it's a short and shallow program, it is hard for companies to absorb externs. Even if the extern has expressed interest in working in the company, they might be forced to apply for an internship as they transition slowly to a company employee.
College credit
Students earn credits if the internship is organized by the university and is a requirement to graduate. If the university does not organize the internship and is not required to graduate, the student might not earn credits. Thus, an internship can earn you credits depending on the university policy and the specific course. However, in most cases, you don't earn credits through an externship.
The student's motivation to undertake an externship is to prospect in the specific company, field, or career before, during, or after undertaking the course.
But what value do they provide to students and employers? Let's find out!
Benefits of Externships
Externships benefit both students and employers. They work wonders in preparing students for full-time jobs. But how do employers benefit from externships? We will look at the benefits from both perspectives.
From the Student's Perspective
Students get excellent exposure to their job of choice. As a result, they understand the pros and cons of making a better decision.
Externships also allow them to explore various companies. In a nutshell, it helps them make an informed career decision.
Unlike internships, they don't have to commit for months. They can do quick externships at different companies. It is an opportunity to gain a more expansive knowledge of various job opportunities.
They increase your chances of landing a good job or internship. So, yes, a couple of externships on your resume can help you get into the company you want to work for, and it can be hard to get a good internship without any exposure.
Lastly, they allow you to build an impressive resume. The more industry exposure you have on your resume, the better your chance of getting a job.
From the Employer's Perspective
First of all, externships are unpaid. They come at no financial cost to the company. So, companies don't have to think twice before partnering up for externships.
Externships create awareness about the company in colleges and universities. It is a helpful way for new companies to generate conversations about their brand. That's the reason why so many new companies are giving externship opportunities.
Companies get to look at a wide range of potential hires. That's because externships are shorter than internships. A couple of programs expose them to a range of talented freshers, and they can pick the best among them to hire soon.
Companies sometimes treat externships as part of their recruitment. They can spot quick learners among students. One can think of it as stages of the interview process.
Give opportunity to students to learn, showing its social reponsibility.
As you can see, an externship program benefits both students and employers. So, will you try to get an externship soon?
After all, it can be the launchpad you need for your career. But how can you find an externship opportunity? Do you have to wait for your university to partner with an employer?
No, you can look for externships yourself. Let's see how and where to find them!
How Can You Find Externships?
Unlike internships, you can't find externships by browsing the internet. So you might have to do some networking of your own to get an opportunity. Also, your educational institute will arrange externship programs for students. But if you want to look for them by yourself, here's how you can do it:
Ask Your Professors
We all have professors in college that guide us. They act as mentors to us, and we feel free to share our problems with them. So, when looking for an externship opportunity, why not ask them? They might be able to use their contacts to find a good opportunity for you.
Also, they will find an externship program that goes along with your course. This will help you test the theoretical knowledge in real-life situations. Who knows? You might end up earning some college credits as well.
Contact Career Services
As we discussed, colleges and employers partner to create externship programs. So, make sure you check with university career services. There are usually a bunch of opportunities available in various fields. You can tell them your field of study, and they will direct you accordingly.
You can also contact the university career advisor if they have assigned you one. If not, keep checking with the career services for any new programs.
Use Your Networking Skills
Finding externships on your own can be challenging. But your networking skills can help you find some. Use any business contacts you already have.
After all, we have a few contacts in the field of our choice. So stay in touch with them and let them know you're looking for an externship.
Social media can also help your track externship programs. Find out if there are any business events or conferences taking place.
Even as a student, you can visit these events and build your network. And having contacts in your field of choice will always prove to be helpful.
Contact Community Organizations
If your university doesn't offer externship opportunities, be creative with your search. For example, try contacting non-profit organizations like the Rotary Club. These types of organizations can assist you in finding externships.
If not, they will at least give you leads on where you can find an externship opportunity.
You can also contact government agencies like the police department. If that's your field of interest, you can ask them if there are any learning opportunities.
See if any of your family members have contacts in these departments. It will make it easier for you to land an externship.
When Should You Begin An Externship?
Externships offer valuable opportunities for gaining work experience and developing skills in a specific field.
Before beginning an externship, it is important to evaluate the nature of the position and the company in order to make sure that the experience will be beneficial and worth your time.
Some factors you should consider when deciding whether or not to take on an externship include:
The type of position you are applying for
Are you interested in learning about a specific industry or field? If so, an externship at a company within that industry may be a good fit for you. On the other hand, if you are looking for hands-on experience with a particular type of product or service, an externship at a company outside your area of interest may be better suited.
How long will your externship last
Is one week enough time to learn everything you want to know about the company? Or do you want to spend more time getting involved in various aspects of the business?
If you are studying a career, an externship will open doors for your next internship. So when should you begin an externship? As soon as possible!
What Can You Expect From An Externship?
An externship is a great opportunity to gain experience in a specific field and to network with professionals in that field. In most cases, externships are unpaid, but they can be an enjoyable way to learn about a new career or profession. Many companies offer externships as part of their recruiting process, so it's important to research the organization you're interested in interning for before you commit.
Some common responsibilities of an extern include researching a topic, conducting interviews, and taking notes. It's important to be prepared for all aspects of the internship, but make sure you schedule time for relaxation and fun too!
Get a Head Start With Externships
To conclude, let's talk a little more about the benefits of externships. But, first, you must be familiar with the competition for jobs and internships. The higher you aim, the more stiff the competition is. That's why it is crucial to start early and start confidently.
Externships can help you gain a head start in your career. In addition, they increase your chances of getting an internship in your field of choice. That's because you have prior experience even when you start as an intern.
Also, you're familiar with the work as you were a part of an externship program.
Even as a student, you start preparing for your career. You build a decent network in your field of choice. And these are some practical steps that will prepare you for a promising career. So, don't miss out on getting this early start!
Christian has over ten years of experience in marketing agencies.​ ​Currently, he has been dedicating his time to a tech startup and also writing for major publications. He loves podcasts and reading to keep up with the latest trends in marketing.