Job interviews can be quite an overwhelming experience. To get the job one desires, several things have to fall in place. This process includes possessing the proper skill set, getting referred for the most suitable opportunities, getting called for the interview after your resume is shortlisted, and finally clearing the interview. To get to this stage, it is important to get various aspects right such as interview outfits. This article examines the finer points of interview outfits in detail.
As the saying goes –
"Dress for the job you want, not the job you have."
One should bear in mind the job and the sector they are interviewing for. When in doubt, it is always advisable to dress up. Clearing a job interview involves a mix of confidence and skills, and immaculate dressing helps create a great first impression.
Here is what we will cover in this article:
What Is A Good Interview Outfit for Men?
Sponsored Content - Posts And Ads You May Like:
Now that we understand the importance of dressing sharp for a job interview. Let us take a look at some interview attire options for men. There are three kinds of interview outfits for both men and women. In this section of the article, we look at some suggestions for the gents.
Business Formals
This type of dressing is highly conventional, and it is something that has been the gold standard for interview attire for a long while. Business formals are the preferred look for jobs that are client-facing.
An impeccably well-tailored suit is first on the list of business formals for men. There should be a matching tie and polished leather shoes to complete the look. The suit and tie should be dark-colored, and the color of your shoes should match the suit. It is ideal for wearing business formals when applying for banking, law, or senior executive positions.
Business Casuals
Business casuals assist in creating a great impression in a job interview, and they are most certainly a good choice. While not being as formal as the business formals described above, they are highly professional.
Business Casual outfits for men consist of collared shirts with long sleeves, chinos, or dress pants. Dark shoes and matching socks will fit in nicely here. One can also choose to wear a wristwatch and a leather belt that is matching with your shoes. A casual business style of clothing does not require ties, and an open collar is entirely acceptable.
Smart Casuals
An outfit classified as smart casuals is the bare minimum to wear for a job interview. Smart casuals are suited for firms where the dress code is casual. They present you with an opportunity to strike the right balance between looking stylish and professional while appearing for an interview.
A preferred smart casual outfit for men would have the following- A neutral button-down shirt and neutral colored chinos also fit the bill here. A pair of casual leather or suede shoes go perfectly with any smart casual look.
Smart casuals for men also include sports jackets, polos, khakis, sneakers, belts, and boots.
What Is A Good Interview Outfit for Women?
Now that we have the outfit choices for the gents sorted, it's time to discuss some interview attire options for the ladies.
Business Formals
Women have the option of wearing a traditional suit, and they can also opt for a well-tailored dark skirt or suit pants. Apart from this, they can also choose to go for slacks with a matching blazer or blouse.
Some good color choices for the suit pants are black, navy blue, or gray. As far as shoes are concerned, pumps are a great choice, but ballet flats or loafers could work if heels make one uncomfortable. Makeup and jewelry should be minimal.
Business Casuals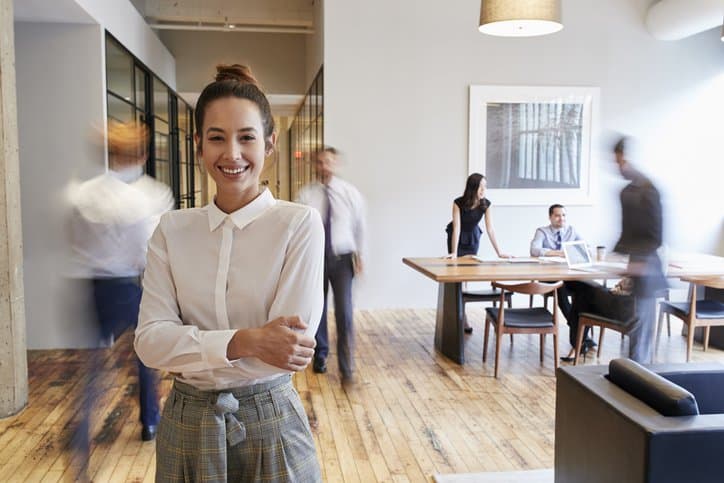 It is challenging to choose the right business casual outfit because of the ambiguity in its definition. It is generally agreed upon that business casuals are traditional business attire but in a more relaxed style.
Business casuals for women consist of any of the following – slacks, dark jeans, chinos, blouses, or button-downs. A sweater would most certainly improve the style quotient, and one also has the option to go for cardigans, jackets, or blazers. Comfortable pumps or fancy flats are the most appropriate footwear for the business casuals look.
Smart Casuals
Smart casuals, as explained earlier, are a blend of the professional and the trendy. They give an individual a clean, well-groomed look without the use of formal attire.
Women can go for a basic blouse or top. They can choose to wear long skirts apart from standard options such as slacks or chinos. Dark-colored skirts go well with simple tops. They can also go for Corduroy skirts with tops.
Casual heels or bullet flats go well with smart casual outfits. Scarves, necklaces, and watches are ideal accessories to accentuate the desired look.
What Outfits To Avoid For A Job Interview?
We are now familiar with what to wear for a job interview, and it is also essential to know what to steer clear of when it comes to interviewing outfits.
Clothes That Come Across As Too Casual
Business casuals or smart casuals can be misinterpreted, and this leads to candidates showing up in flip-flops or sandals, ripped jeans, shorts, T-shirts with funny quotes on them, yoga pants, and so on.
Even if employees at the workplace show up in casual attire, one is expected to take the interview seriously as a candidate.
Ill-Fitting Clothes
This includes any type of clothing that is either too tight or too loose. One must also avoid outfits that are too long or too short. Ill-fitted clothes make a person look out of place. A person who has a job interview coming up must always visit his tailor beforehand to prevent unnecessary surprises on the big day.
Excess Makeup Or Flashy Jewelry
While looking your best self is the goal in the interview, too much makeup or flashy jewelry is not the way to go about it. Lots of bracelets or bangles tend to distract the interviewers.
People will do well to stay away from dark eyeshadow, bright lipstick, or a heavy foundation when it comes to makeup. Potential employees are also advised to cover up any tattoos or body piercings.
It is important to note that some of these rules don't apply when the applicant is interviewing for a position in the fashion industry.
Headgear
Yes, people look cool in a hat. But hats are a no-no when it comes to job interviews, and this also holds for hoods and beanies. Additionally, it is entirely okay to listen to music on your way to the interview to calm your nerves. However, keep your earphones away once you reach the office as you don't want to be seen fumbling with them once you are called in for the interview.
Not Dressing As Per The Work Culture At The Company
This scenario occurs when the candidate has not done his homework on the culture of the organization. Showing up in casual attire at an office or a bank where everyone is suited up or vice-versa can jolt a person's confidence. This also makes the interviewer rethink whether the candidate is suitable for the job.
Unkempt Clothes
Unironed outfits, creases, wrinkles, stains are all signs of a tardy individual, and they immediately send the warning bells ringing in the interviewer's mind. Make sure to reach the interview venue well ahead of schedule and freshen up before the interview.
How To Prepare For Professional Outfit For An Interview?
So you have decided to choose an outfit from the options listed above. Excellent. Well, here are a few additional pointers to ensure that it all goes smoothly on D-Day
Research On The Type Of Outfit
It is ideal to do a little research on the dress code of the firm before the interview. One can do this either by browsing through their social media posts or by asking the recruiter either by mail or on the phone. If you receive generic replies, ask someone who works in the company. Always dress a little more formally than the company culture demands.
Make Sure The Interview Outfit Is Ready
Your interview outfit should be free of wrinkles, creases, or stains. To avoid unnecessary stress, it must be washed and ironed at least 2-3 days before the interview. Layout your interview clothes the night before so that last-minute panic does not set in.
Have A Backup Interview Outfit Ready
You never know what might happen on the day of the interview. There could be a chance of heavy rain, or you might spill something on your suit while having breakfast. It is good to have a spare outfit at the ready for these situations.
Dress Up For The Video Interview As Well
It might be tempting to slack up on the outfit front if you happen to be giving a video interview. It is certainly not recommended because even in a video interview, the interviewer notices how serious you are regarding the job, and your outfit is a significant indicator. Remember, there are always marks for effort.
Prepare for the Interview
It is essential to wear a good outfit to your interview, but that alone will never land you the job. Your skills, knowledge, understanding of the role, and confidence are the crucial componenDon'ton't neglect them and focus too much on what to wear.
This wraps up our guide on interview outfits. Now it's your turn to prepare, dress up, go out there, and get that job!
If you want to learn more about job interviews, check our topics below: