Surprising as it may seem, the Interests section of your LinkedIn Profile carries more weight than you think. It connects you to your recruiter or reader on a more personal level. It might give them that little reason to meet you and know you further on a deeper level. But the question is how to add interests on LinkedIn – in a strategic manner and thus help you land your dream job.
If you want to go straight to the steps to add interests on LinkedIn, we list each one here below:
In the search box, type the organization/company or any other public institution that interests you.
If you want to know how to remove interests on LinkedIn, here are the steps:
LinkedIn is a powerful tool, which you should not use passively. Managing your application the right way, updating your profile to be 100% complete, and connecting with other professionals is the underlying basis. However, if you leave your account untouched for days, you can't expect prospective employers to come crowding your way. Instead, you should focus on making LinkedIn work for you.
Sponsored Content - Posts And Ads You May Like:
With more than 20 million listed open jobs on LinkedIn, the odds are pretty high that the dream job you have wished for is there too.
Why Are LinkedIn Interests important?
Birds of a feather flock together.
The centuries-old English proverb holds even today. When you walk into another person's office for the first time, the very first thing you do is look around. You look for pictures, prizes, trophies, memorabilia, and other objects that give you an idea of his/her personality. As soon as you catch hold of any commonality, you have a conversation starter. Right there.
As a result, you form a connection and move ahead towards building a relationship.
The truth is people like working and associating themselves with those who have a life outside of work. Hence, your interests should be honest, and they should simultaneously connect to your target audience.
Your interests must be listed professionally. So, pay attention to that fine line that divides your professional interests and personal hobbies.
For example, you may love traveling, reading books, listening to music, or horse riding. Still, you should choose those appropriate to your job role or education when adding LinkedIn interests. They should reflect on how you want to be seen by your target recruiters.
There is no more significant way to forge rapport when you have shared interests in common. Don't lie about your interests, but determine what you have in common with your target audience and then add interests on LinkedIn.
Being relatable to potential employers makes them more prone to contacting you.
How to Add Interests on LinkedIn?
Earlier, to add interests on LinkedIn, one had to access the 'Additional Information' section after logging into their Profile and then update it manually.
However, LinkedIn has since updated its interest section. You can no longer manually update the interests on LinkedIn.
As per the company, to keep it professional, you can only add the companies and organizations that you're interested in following and not any personal interests.
Therefore, to add interests on LinkedIn, follow the steps given below.
1) When Opening your LinkedIn Account, Chose To Follow People or Companies.
As expected, if you are not on LinkedIn yet, you have to sign up. Follow the steps they request, such as inserting your phone number or email to create a password. Then, add your full name, address, last or current job, and job goal (if you are looking for a job or not), among other quick steps. At the last stage, LinkedIn will start asking to follow people or companies, and that's where you start defining your interests.
2) In the search box, type the organization/company or any other public institution that interests you.
For example, type Deloitte.
When doing that, Linkedin will show all options related to the keyword Delloite. It can be a company or a person.
3) Go to the organization's page that you wish to add to your interests.
On the page of the organization you want to follow, click the "+Follow" button (the Blue one) nestled beside the Visit Website option.
The institution you followed will now be visible in the Interests section on your profile.
If you meticulously and strategically add interests on LinkedIn, it could boost your profile in the current, highly competitive business environment.
You can't add LinkedIn Interests from your profile.
As you can observe, there is not a plus icon to add your interests to your profile. You will have to follow the steps mentioned above.
How to Remove Interests on LinkedIn?
The "Interests" at the bottom of your profile are created automatically based on four things:
(1) Influencers you follow
(2) Companies you follow
(3) Schools you follow
(4) Groups you've been accepted into
To add interest to LinkedIn is a pretty straightforward procedure.
Removing the same isn't a tedious job but can prove to be a bit tricky. Here's a clearly defined step-by-step procedure to follow:
1) Login using your credentials and View your Profile on LinkedIn.
2) Scroll down until you come across the "Interests" section and click on See All.
3) View your Interests by Category.
You'll see the four categories of interests as tabs near the top: Influencers, Companies, Groups, and Schools.
4) To remove interests in the categories of Influencers, Companies, and Schools.
Click the checkbox (✓Following) to Unfollow. Once you do that, you'll see a +Follow instead of a check.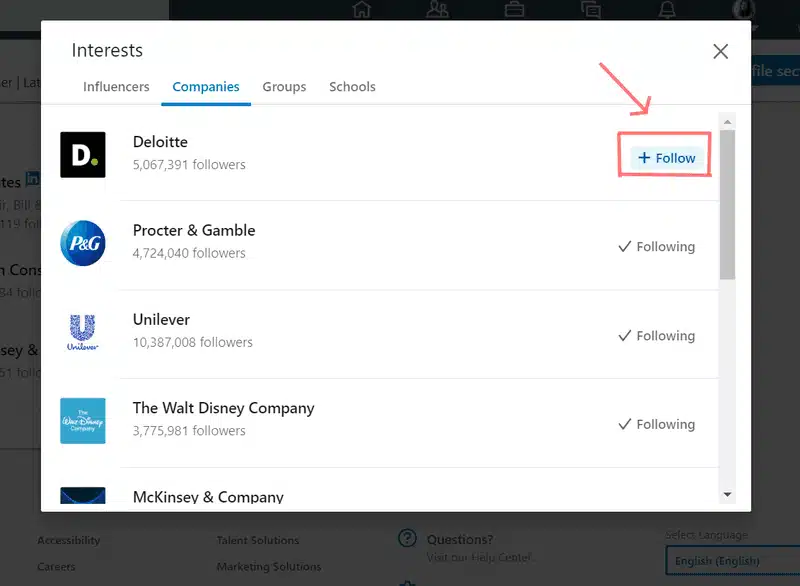 Alternatively, you can navigate their profile/page, click on More (looks like three horizontally arranged dots), and select "Unfollow".
They'll be removed from your LinkedIn profile.
5. Removing/Deleting Groups From Your Interests.
This one's not so straightforward. To remove Groups, first, view all your groups here.
Click the group you want to remove from your profile
You don't have to leave the group to remove it from your profile necessarily
You'll be taken to your group page. Click the settings menu at the top right (three dots) and select "Update your settings."
Change "Display group on profile" from 'Yes' to 'No.'
Phew! Removing your LinkedIn interests can be tedious, but moving forward demands effort, changes, and evolution.
How to View the Interests of Others?
You will agree that LinkedIn, without a doubt, is a leading and eminent professional space on the internet. Apart from building your profile, you should get acquainted with the interests of others as well.
To view the interests of others, follow the instructions given below.
1. Open your LinkedIn profile.
2. Search the name of the person whose Interests interest you.
3. Scroll down till you locate the Interests section of the person.
In this way, you can get an idea of the other person's interests, and you can search for some shared interests. Moreover, you can add their interests to your profile by following the instructions below.
Search the person in the search box.
Scroll down to the end, where you will see the person's interests.
Click on See All
Follow the interests you like by clicking on the '+Follow' option.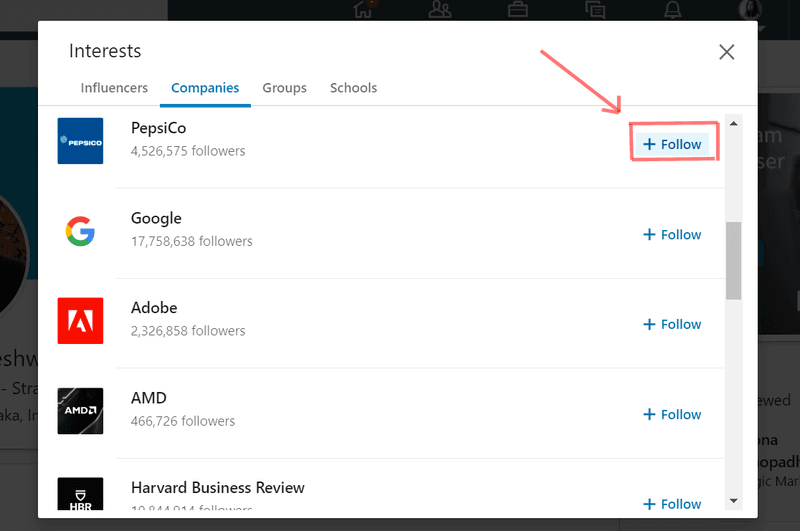 You will see a checkbox along with the '✓Following' icon.
LinkedIn is all about building a solid network. This feature right here enables you to do that exact thing.
To Add Interests on LinkedIn comes with its Benefits
The key benefit of adding interests on LinkedIn, as aforementioned, is that it could make your potential and robust candidate compared to others whose 'Interests' section is not updated.
Moreover, it also benefits the advertisers on LinkedIn, which indirectly might come back to you.
Suppose you are adding "Amazon" to your interests as you might want to get a job role in the company and learn more about their latest updates on LinkedIn. And after a month, if they advertise their upcoming walk-in interviews on LinkedIn, then as an advertiser, they've got a choice to select the target audience as those who are interested in Amazon.
Therefore, if you've added Amazon in the Interests section of your profile, you could receive their advertisement, and there will be many who might not be aware of it.
So indirectly, adding interests on LinkedIn could also offer you additional benefits and help you find your dream job.
LinkedIn Secrets
Do you want to know more secrets about LinkedIn? Check out all our topics about it:
Final Thoughts
Interests are the founding base of communication when looking for jobs and people to work with. In the constant networking progression through social media, adding interests on LinkedIn can undoubtedly help you find your dream job.
Moreover, LinkedIn is undoubtedly a powerful platform and a tool you must care about.
To add interests on LinkedIn is relatively significant, yet it is just one part of the picture.
You need to do a lot of work for your LinkedIn profile to attract the right kind of people. It is not merely an online resume. LinkedIn is much more than that and is growing further.
LinkedIn is a more dynamic approach to representing your experiences, skills, objectives, what you know, and what you are interested in within a professional context. It's all in the details. LinkedIn is the ultimate epicenter of your branding. The insights you provide about yourself will float across the digital sphere and define how you will be perceived by your audience and the people looking you up.
The key is to show that you're a good match online and then rock prospective employers with your skills once you land the interview.