LinkedIn is arguably the world's most popular professional networking platform. As of today, it boasts a whopping 706 million users worldwide. LinkedIn aids networking among the world's professionals to make them more successful and productive. This vision of theirs has been seen to work wonders for professionals from various industries.
The popularity of LinkedIn was already moving upwards. It became the pace for managing your job searches, sharing interests, or creating an amazing job portfolio to show off.
Yet, the increase of flexible and remote jobs has further accentuated the importance of a professional networking platform such as LinkedIn. Although most of the world is still working from a physical space, since remote work has been increasing, networking on LinkedIn has to be a non-negotiable part of a professional's daily routine.
One central question that is often asked is can you tag or mention somebody on LinkedIn? Same as it is on social networking websites, tagging and mentioning increases engagement. Tagging has always been an integral part of networking online.
Before we move on to explain how to tag someone on LinkedIn, let us first investigate why one should do it and what function it serves.
Why Should You Tag Someone on LinkedIn?
There are quite a few cases in which tagging someone comes in handy when it comes to practical reasons. For instance, when a freelance content marketer posts a short article on "how to approach content marketing during the pandemic", you can acknowledge them for writing that post if you loved the content.
Similarly, you can tag someone who has taken a conference that you attended. Tagging and mentioning is simply a way of involving or acknowledging other professionals on the platform.
What tagging and mentioning professionals in comments does is, it enhances engagement and can help you increase your connections. Once you start doing it while constantly interacting with a lot of professionals, it builds your network, a network of like-minded professionals from the industry—which is the sole purpose of a professional networking platform like LinkedIn.
Now, let us move on to understanding how to tag someone on LinkedIn.
How to Tag Someone on LinkedIn?
This is a question very often asked by internet users, especially those who are new to LinkedIn. So, the answer to how to tag someone on LinkedIn is a few simple steps. These simple steps are:
Firstly, you can either tag or mention someone on your post, and you can also do the same while commenting on someone else's post by using the same procedure.
When you've clicked share and, say, are about to share a picture or comment on someone else's post, press "@" and continue typing the name of the person you wish to tag.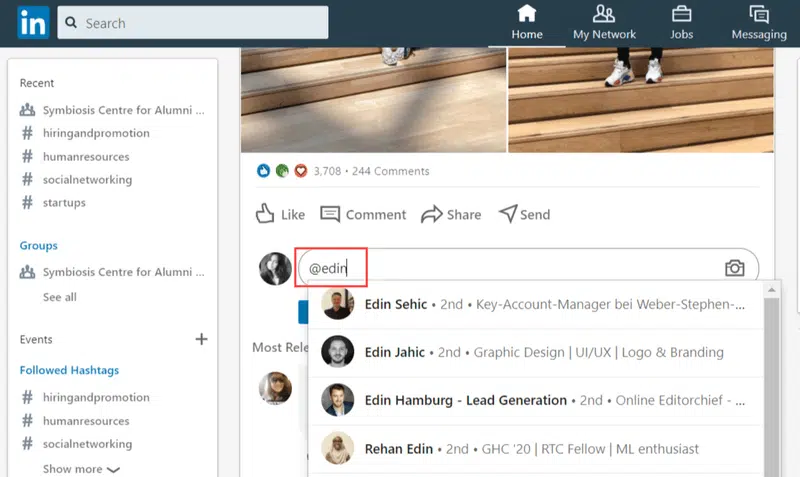 As soon as you type the first few letters of the person's name on LinkedIn, you will get suggestions in a drop-down. Choose the person you wish to tag from among them.
Now, you have successfully mentioned that person in your comment or post. You can now proceed to complete the message you want to type to let that person know.
With this, you have completed the entire process of tagging the person in question. That person will get a notification saying that you have mentioned them in a particular post or a comment.
It was simple, wasn't it? Now that you know how to tag someone on LinkedIn, you can go on to enhance engagement with fellow professionals. The process saves us a lot of time.
As a professional, it can be a great opportunity to sit at home and build your networks and connections within and outside your industry. Use the tagging function of LinkedIn to the utmost benefit and meet like-minded professionals from around the globe.
Things to Remember About Tagging on LinkedIn
You can tag on old posts
Even after you've posted a comment or shared a post, you can edit it and tag someone. This aspect you should keep in mind as you can mention people on your old posts and comments.
Most importantly, the person you wish to tag or a mention need not be your connection. Similarly, anybody can tag or mention you even if you are not among their connections. This considerably widens your networking field and provides an opportunity to interact and engage with the top names from your industry.
You shouldn't expose people unnecessarily
Tagging someone on LinkedIn, in the beginning, can be intimidating, sometimes you don't know if the person will like it or not, or if this is related to this person. One suggestion we recommend you follow is to start with a close friend. Another essential thing is, don't tag someone with topics that you can't make public.
For example, if you know this person is searching for a marketing specialist job, but she is still working on her current position, you can't just tag her on a job post that you found on LinkedIn: "hey @mary, I thought about you, how is your job search going?". For sure, this is a no-go.
LinkedIn Secrets
Do you want to know more secrets about LinkedIn? Check out all our topics about it:
Conclusion
Now that you know how to tag someone on LinkedIn, you're equipped with better tools to enhance engagement with professionals on LinkedIn. So, keep the factors mentioned earlier in mind and avoid excessive tagging as it doesn't look good on any networking platform. Remember to:
Tag someone if this would help the person read an interesting article or go to an important event.
If you haven't tag someone you should tag, remember you can tag on old posts.
Use this tool for your benefit, to make people appreciate you and wanting to be part of your network.
Do not tag too much or expose people negatively. Remember that many others can see it, including those of the tagged person's company.
Are your master on tagging now? Why don't you start tagging your friends in college? Knowing the main factors won't let you make mistakes.