Do you want to know quickly how to cancel LinkedIn premium subscriptions right away? Take a look at this quick step-by-step guide:
Here is quick access to Cancel LinkedIn premium steps:
LinkedIn is the most-used professional networking platform in the world. Be it connecting with the top names within your industry or looking for a new job opportunity, the one name you turn to is LinkedIn. Some people even say that if you're a working professional and are not on LinkedIn, it is just as good as being invisible.
Professionals from various industries check their LinkedIn profiles, like how teenagers scroll through their Instagram feed. Why? Well, because it connects business professionals, thinkers, entrepreneurs, and professional interests, as no other platform has ever done.
Hence, it is natural when people are willing to spend money on their LinkedIn profiles. To get the most out of their presence on LinkedIn, they buy the LinkedIn Premium subscription. Some say that it is too expensive and go on to cancel LinkedIn premium. But let us begin with the benefits of a LinkedIn Premium subscription.
What Are the Benefits of Having a LinkedIn Premium Subscription?
Having a premium subscription on any social networking platform comes with a range of exclusive benefits. The same goes with LinkedIn, the world's largest professional networking platform. Over the years, LinkedIn has made changes that cater to job seekers and those who want to grow as professionals.
Hence, LinkedIn Premium now includes new features such as LinkedIn Learning Courses and Interview Preparation that allow users to prepare for their next interview. Added to these services are tools such as advanced search, InMail messages, and more results in search queries.
Here's how you can decide your plan according to your requirements:
The feature page is great for you to make a final decision on the plan you wish to take according to what you are looking for.
Is the Premium Subscription Too Expensive?
Despite the many benefits of having a LinkedIn Premium Subscription, some people say it is not worth the money. Many professionals find their premium subscriptions to be overpriced. They believe that some of the pricing is uncalled for and would eventually cancel LinkedIn premium subscription.
Similarly, some believe that they don't really need the many benefits that come with having a LinkedIn Premium subscription and want to cancel LinkedIn premium subscription as a result.
There is no denying that LinkedIn Premium provides professionals with many perks that users without a subscription don't get. Having said that, some people might think that they no longer need those extra benefits and want to cancel their subscription. Are you one of them?
Now, if you wish to cancel your LinkedIn premium account, the process is pretty simple. Although you cannot cancel your LinkedIn premium account on the mobile app, you can always log in with your laptop and cancel your premium subscription.
But before doing that, you should be aware of the consequences of canceling your subscription. After all, many professional networking experts have pointed out that most LinkedIn benefits are long-term, and you might have to be patient with it.
Factors to Consider Before Canceling Your LinkedIn Premium Subscription
Before you arrive at a decision and cancel your LinkedIn Premium subscription, remember to consider the following factors.
Once you cancel your subscription, your billing will end immediately, and your access to Premium features will also be removed when the current billing cycle ends.
You will also lose access to all the accumulated InMail credits at the end of the billing cycle. It won't be granted back.
Make sure that you did not rely too much on your premium subscription. Ask yourself whether you made sure that all the boxes were ticked. Did you use a professional profile picture? Did you use the right keywords? Remember, just having a premium subscription won't bring relevant people from your industry to your profile.
Before you cancel your LinkedIn premium subscription, ask yourself whether or not you used the advanced search option to its optimum. After all, the advanced search feature is not enough by itself for you to find like-minded people to work with.
Steps to Cancel Your LinkedIn Premium Subscription on the Computer
1. Open LinkedIn.com in a web browser.
2. Click on the "Me" option on the top of the screen.
3. Find the "Access my premium" option in the dropdown menu.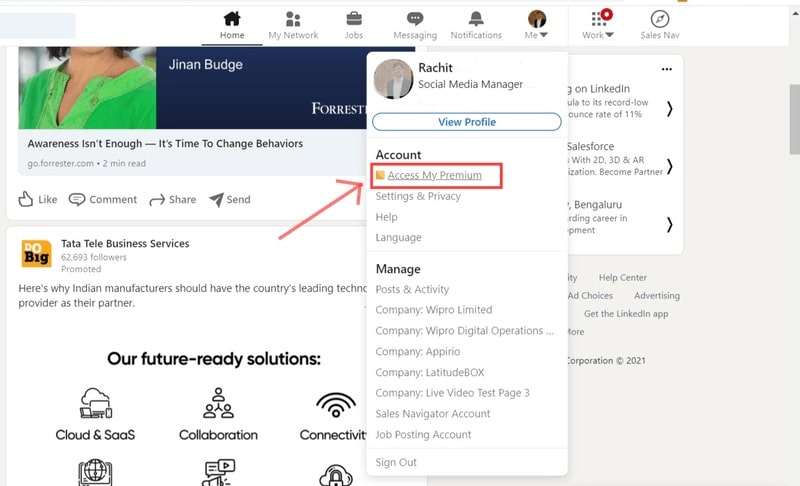 4. Once you click on it, you'll find a "Manage Subscription" option.
5. In the manage premium account section, you'll find "cancel the subscription." Click on the option.
6. You will be redirected to a new page for confirmation, where LinkedIn will also let you know about the Premium benefits that you will lose. Click on "Continue to Cancel."
7. Before LinkedIn confirms your cancelation, it will ask you for your feedback. Choose one of the options under "What's your main reason for canceling? (required)" as it is a "required" section.
Once you have chosen the most appropriate reason, you will have your "Confirm Cancellation" button activated. Click on it so you can cancel LinkedIn premium
8. On the new page that you get redirected to, click on "Done," and you have successfully ended your LinkedIn subscription plan.
Remember, even when you have successfully canceled your LinkedIn premium account, you will continue to receive all the benefits of a premium account until the current billing cycle is complete.
Steps to Cancel Your LinkedIn Premium Subscription on iPhone.
As mentioned above, you cannot cancel LinkedIn premium subscription on a mobile device. But you have purchased your premium subscription via iTunes, and you will have to cancel it from iTunes as well. Let's see how it's done:
Go to the settings app.
As you know, you'll find your name at the top of the screen.
Click on your name, and you'll find "iTunes & App Store."
Tap on your Apple ID and go to "View Apple ID" that arrives in the pop-up window.
Once you enter your touch ID, click on "Subscriptions."
In "Subscriptions," you will find "LinkedIn."
Tap on it and continue to confirm your cancellation.
And that's how easy it is to cancel LinkedIn premium subscription via a laptop or computer.
LinkedIn Secrets
Do you want to know more secrets about LinkedIn? Check out all our topics about it:
Wrapping Up
LinkedIn is beneficial if you look at the pros of getting a premium account. It is a great way to invest in your career. From InMail messages, with which you can connect with hiring managers and people relevant to you and your business, to Learning courses and Interview preparation, the LinkedIn premium is certainly the best platform for professionals.
So, if you've measured the pros and cons of canceling your LinkedIn Premium subscription and want to do it anyway, now you know how to. Remember, you will get to avail all the benefits until the current billing cycle is over, but after that, you're back to the basic (free) LinkedIn tools and services.
Remember that you get a free first month trial in a premium subscription to understand the benefits of a premium subscription and see how relevant it is for you.