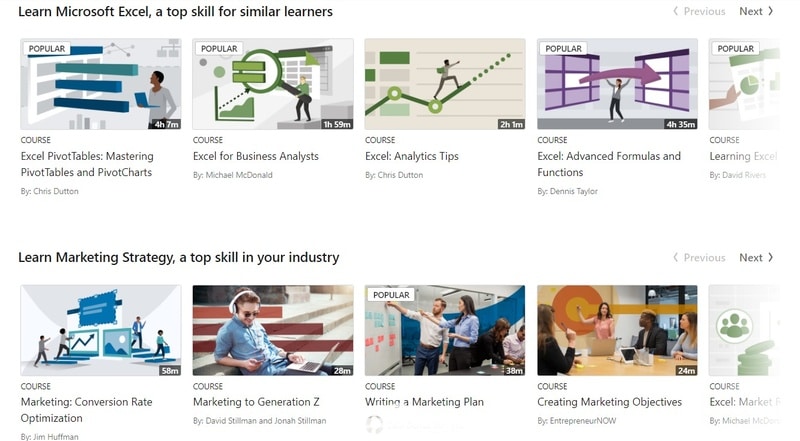 LinkedIn is the biggest professional networking platform today. We all know how useful it can be for job seekers and recruiters. Job seekers can find and manage their jobs, network with other people with the same interests, and much more. LinkedIn is active in more than 200 countries today. And it boasts a whopping 756 million members. LinkedIn Learning is also one of the things that make it such a good platform. In a previous article, you saw how to cancel your LinkedIn premium account easily. In this article, we will discuss how to cancel LinkedIn learning.
Go Straight to the Cancelation Process
If you want to go straight to the point, check below to advance on the article and find out how to cancel LinkedIn learning:
LinkedIn became an all-in-one professional tool
Another great thing about LinkedIn is how it has changed over the years. Today, it is of great use to freelancers as well. Earlier, freelancers did not expect much if they made a profile on LinkedIn. As for job seekers, LinkedIn has always done wonders!
Let's talk a bit about LinkedIn learning now. It is an on-demand library of instructional video courses. These courses cover three categories: Business, Creative, and Technology. Note that industry experts teach all these courses. This makes it an excellent tool for learning and growth.
LinkedIn Learning can help you reach your full potential. But not everybody prefers video courses. So, did you buy a LinkedIn Learning subscription? And you are regretting it now? Don't worry; we will tell you how to cancel LinkedIn learning!
But before that, let's talk about the reasons you would want to cancel your LinkedIn learning account!
Why One Might Want To Cancel Their LinkedIn Learning Subscription?
On the face of it, there is nothing to not like about LinkedIn learning. One gets to learn from the top industry experts. But some people don't find it as valuable a tool as others do. And they point towards two main cons of LinkedIn learning.
When you complete LinkedIn learning video courses, you get a certificate for completion. But remember, this is not an accredited certificate. This is not like a certificate from a University or a LinkedIn partner. Hence, these certificates are not as useful as them.
Some also say that LinkedIn learning has a limited number of courses. Are you looking for a broader range of courses? LinkedIn Learning offers courses only in Business, Creative, and Technology.
The pricing model of LinkedIn Learning has also come under criticism. Some people believe that it is not suitable for those looking to take just one course. And there are plenty of people who will be looking for a particular course. If you are one of them, you might not find LinkedIn Learning to be as helpful as others.
LinkedIn Learning comes with a lot of benefits. But as we can see, there are cons as well. Do you also have the same issue with LinkedIn Learning? Are you finding it hard to get the course you want and want to unsubscribe? Here's how to cancel LinkedIn learning.
How To Cancel Your LinkedIn Learning Subscription?
Canceling your LinkedIn Learning subscription is easy. All you need to do is follow the seven steps we mention below.
Bear in mind that you will need to cancel your paid account to cancel your LinkedIn learning. According to LinkedIn:
The following LinkedIn subscriptions include access to LinkedIn Learning at no additional charge: Premium Career. Premium Business. Sales Navigator Professional.
This shows that LinkedIn Learning is a feature included in one of the paid accounts.
So, are you all set with a stable internet connection? Let's list the steps one by one.
1. Click on work "Work" on the top right of the menu to visit your LinkedIn Learning home page.
2. Click on your profile picture in the top left corner of the page.
3. Go to "Settings."
4. In the section "Manage Your Account", click on "Manage."
5. It will redirect you to the LinkedIn "My Premium" page. On the "MY Premium" page, click on "Manage Premium Account."
6. Click on "Cancel Subscription."
7. Decide if you really want to cancel (it comes with some losses since you cancel your premium account).
LinkedIn clarifies that you will lose your access to courses that you started before losing all the in-mails still pending to use.
This is how you can cancel your LinkedIn Learning subscription using your laptop. As you can see, the process is pretty straightforward. All you need is a stable internet connection.
But there's something else you should do first. You should know what will happen when you cancel your LinkedIn Learning subscription. You won't have access to the courses you were taking.
Remember, you can continue with the courses till the current billing cycle expires. But will you get any refunds? And can you get the same offer you got when you subscribed? Let's find out!
What Happens When You Cancel Your LinkedIn Learning Account?
Now you know how to cancel LinkedIn learning. So, are you all set to cancel your LinkedIn learning account? But, before you do that, you must be aware of the consequences.
When will the special features no longer be available to you? After all, LinkedIn learning comes with a bunch of unique features.
You will be able to use learning features until the current billing cycle expires. For example, if it is a monthly plan, you can use the special features until the monthly renewal date. If you had an annual plan, you could use them till the yearly renewal date.
Also, you will get no refunds when you cancel your LinkedIn Learning subscription. You can learn more about LinkedIn's refund policy on their website. If you subscribed on a discount that is no longer available, you can't avail of it if you subscribe again.
When you subscribe again, you are back to square one. You will not carry anything from your previous subscription. So, make sure you don't cancel your subscription by mistake. You will lose all the courses you were taking!
It is a given that you won't be able to access the special features anymore. So before you go ahead and unsubscribe, please give it a thought.
Are you hopeful you will find the course you are looking for on LinkedIn Learning? Or are you sure you want to cancel your subscription? If you're confident, you can cancel it right away with a few simple steps!
LinkedIn Secrets
Do you want to know more secrets about LinkedIn? Check out all our topics about it:
Find Alternatives To Get The Courses You Need
LinkedIn is excellent for professionals of all kinds. But if LinkedIn Learning was disappointing for you, better to cancel your subscription. Remember, you will be able to use its unique features till the renewal date.
So, you can continue using LinkedIn for its other benefits. And for video courses, try finding alternatives to LinkedIn. After all, there are lots of online learning options for various fields. We hope you find the video courses you are looking for.