Choosing a career can be very confusing. New business models are slowly but surely replacing the old ones with rapid technological strides. And with that comes the question – Are conventional career choices still relevant? Well, we have decided to look at the broadcasting industry today and answer the question – Is broadcasting a good career path?
Like other careers, the media world has undergone a sea change over the last two decades. Let us look at different aspects of the broadcasting industry.
First, let's give you a quick summary of what will be discussed in this article:
Nature of the Broadcasting Industry
Goods and Services
In the broadcasting industry, radio and TV stations work on creating original content. Also, they acquire rights to broadcast other shows and pre-recorded content. The networks then transmit their signals from broadcasting studios through satellite. After that, these broadcast signals travel the airwaves from the station's transmission tower to radio and television antennas.
Anyone with a TV or a radio in the area can receive the programming. Several paid distributors provide TV broadcasts. However, most people these days are switching to streaming services such as Netflix, Disney Plus, HBOMax, etc.
Industry Organizations
Radio and TV networks telecast a wide range of shows. These could be news and news-related programming, movies, reality shows, talk shows, live sports, etc.
The stations produce some of these programs in their studios. However, most of the programming is made outside the broadcasting industry.
These TV shows earn revenue through the sale of ad slots. The rates of the advertising slots depend on the popularity of the show and the demographic details of its audience.
There are public broadcasting stations as well. The government generally runs these. Moreover, religious institutions run several broadcasting stations as well. These stations depend on donations to survive.
Work Environment in the Broadcasting Industry
Hours
People in broadcasting generally have erratic work schedules.
This industry has fewer part-time workers than other industries. For instance, they may have to work late nights or early mornings. Also, those on television put in more hours than their radio counterparts.
Work Environment
Despite the long hours, broadcasting studios and stations are comfortable and conducive environments to work in. There is a distribution of employees involved in the production of shows. Along with that, several people work in diverse roles such as advertising, promotion, sales, or marketing.
A television crew travels long distances to cover the news. Although this seems exciting, it can be hazardous, mainly when covering wars and natural disasters. The team is made up of reporters, camera operators, and technicians.
Radio Broadcasting Career Path
When we speak of a career in broadcasting and look to answer – is broadcasting a good career path – the radio gets wholly ignored.
Although television is undoubtedly a more popular medium, the advent of podcasting and radio internet has given a new lease of life to radio jockeying. This is evident from ta n increasing number of universities offering courses in this field.
Radio broadcasting schools
Going to a radio broadcasting school is a good start. But the critical thing to remember here is that just attending a radio broadcasting school does not guarantee success. The person needs to have a personality suited to becoming a radio jockey.
Community Radio Stations
These radio stations offer young people to explore, enjoy and earn on the side. So, if you are a college student looking to make some money and have fun simultaneously, a stint at a community radio station is ideal for you.
Internet and Radio Podcasting
The World Wide Web is used to disseminate information and distribute media in the case of internet radio and podcasting.
However, there exists a critical difference between the two. You cannot store any media played on internet radio, but it is possible to store several episodes of your favorite podcast on the device of your choice.
There are many various jobs in the field of radio broadcasting, such as news anchor, disc jockey, voiceover artist, talk show host, sportscaster, and production engineer.
How Many Jobs Are Available In Broadcasting?
In 2021, according to Statista, there were around 236 thousand jobs in the U.S. broadcasting industry. This figure represents a decrease of 32% compared to 2001. The number of employees, including radio, TV, cable, and other subscription companies, were around 346 thousand in 2001.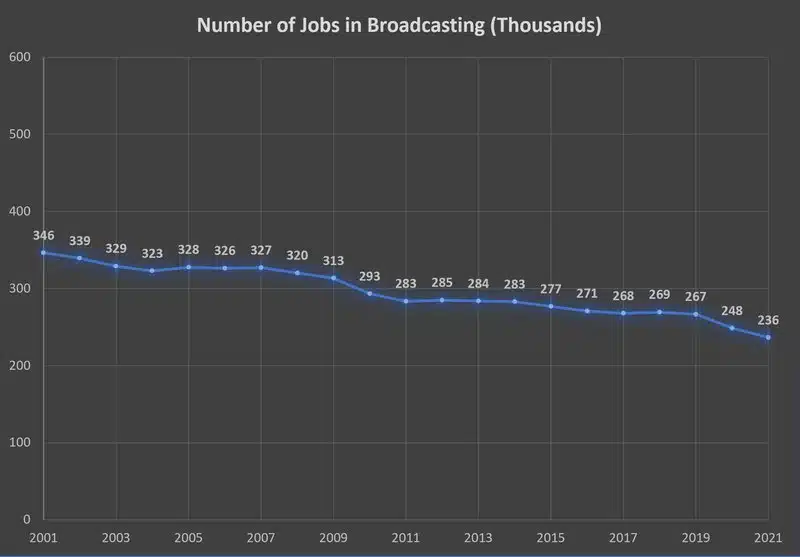 Job Profiles in Broadcasting Career Path
A crucial component of deciding whether a career path is suitable is looking at the number and the variety of jobs available.
In this section, we are going to do just that. This way, we will gain more clarity to respond to the question – Is broadcasting a good career path?
Camera Operator
Camera operators earn around $45,000 a year. They are a critical part of any TV crew. Camera operators work with directors and decide on the best possible ways to shoot scenes. Also, they work on creating and rehearsing scripts.
Production Assistant
They work on studios and sets. The primary responsibility of a production assistant is to assist the directors and producers with the lighting and other equipment before filming.
A production assistant makes $38,000 a year. Their work involves helping stars with their schedules and other administrative tasks. Also, they attend to guests and other celebrities.
News Reporter
A news reporter collects information on events from around the world. He then works on presenting the correct and factual information to the public. A news reporter can also host interviews or talk shows.
Additionally, he can decide to investigate any story in-depth and bring out the relevant facts in the public domain. A news reporter earns more than $46,000 a year.
Studio Manager
They can handle diverse tasks. Some of the responsibilities of a studio manager include working with artists, producers, and labels to set up recording sessions.
Moreover, they are also entrusted with hiring a team of recording engineers and other staff and working on marketing campaigns for the studio. Their work could also include handling operational aspects such as billing and invoicing for clients. A studio manager makes more than $47,000 a year.
Radio Technician
A radio technician is skilled in installing, testing, repairing, and adjusting radio equipment. Also, they work on determining faults and their causes.
A radio technician is adept at interpreting repair manuals, calibrating electronic instruments, understanding design instructions, and assembling telecommunication devices. A radio technician makes upwards of $50,000 a year.
Broadcast Engineers
They are responsible for maintaining the equipment required for sports events and shows. Also, they must check if all the equipment has been set up and is working correctly. They must always be on standby to fix any issues that might arise while on air. Broadcast engineers make more than $71,000 a year.
Pros and Cons of Broadcasting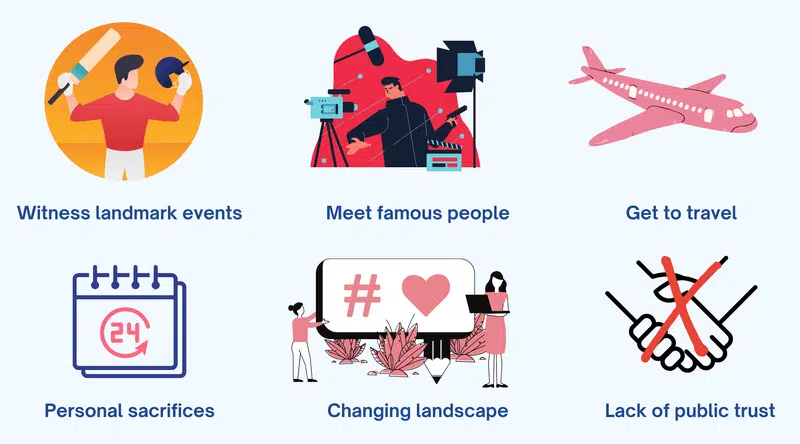 Now that we have looked at the nature of the broadcasting industry, understood its various facets, and explored the different available jobs, it is time to examine the pros and cons of working in broadcasting.
The Pros
You witness landmark events.
Being in the broadcast and media industry provides one with the unique opportunity of watching history unfold before your eyes. This could be your national team winning the football world cup after 30 years or the key speech of a legendary statesman, and much more.
You meet famous people.
Another perk of being in the broadcast industry is that you never know whom you'll run into. Lebron James, Tom Cruise, President Obama – just another day in the office for you. It is perfect for bragging amongst your friends and family. Also, you can collect photographs, autographs, and more that you can look back on with fond memories.
Travel
A career is in the broadcasting and media industry is ideal if you are looking to travel the world. You will need to be always ready to take the next flight to any city or country to cover the important events there.
The Cons
Personal Sacrifices
Low pay and long hours are typical of most entry to mid-level jobs in the broadcasting industry. You will have to work your way to the top due to the cut-throat competition. This lifestyle does eventually strain your relationships. Also, you are hardly left with any free time to pursue your hobbies.
Changing Landscape
Traditional media is being discarded, favoring social media, web, and streaming services. This calls for increasing versatility amongst the media professionals required to be social media savvy.
Lack of public trust
Most people do not trust the mainstream media anymore as they regard it to be manipulative and spread misinformation. Maintaining your poise in situations where you face hostility from the public can be highly challenging.
Is Broadcasting A Good Career Path?
If you still need some understanding of the Broadcasting industry, here's a video by Matthew Postgate – a British digital technology strategist – that might prove to help.
The broadcasting industry is an exciting career path that offers a roller coaster ride for those who do not like monotonous jobs. But is broadcasting a good career path?
Looking at the options available, if you have an extroverted personality and are looking to make a mark in the entertainment industry, the answer is most certainly yes.
Want To Learn About Other Career Paths?
If you want to know more about other career paths, check out this list on Totempool. You will be able to make your choices with solid information before moving to a particular industry:
If you are indecisive about the area, you want to work. Here we list a few functional career paths:
As more industries are published on the website, we will keep updating the list for you. If you want to learn how to choose your career path, check out this article.