There are several career options available for people who have specialized in finance, and one of the choices is banking. There are broadly three types of banking: investment banking, retail banking, and commercial banking. Here we shall examine the various aspects of commercial banks as a career and decide if commercial banking is a good career path.
What is a Commercial Bank?
These are banks that serve both individuals as well as commercial clients. Some of their functions include:
Accepting Deposits: Commercial banks accept money in the form of current accounts, savings accounts, or term deposits.
Creation of Credit Facilities: These are short-term or medium-term loans that customers can invest in for other purposes. Commercial banks also have various deposit accounts that borrowers can draw funds from.
Agency Functions: They also serve essential agency functions for their customers, such as collection and payment of cheques and dividends, paying insurance premiums. Another role of commercial banks is trading accounts for investments in securities and other instruments.
Commercial banks earn primarily through the fees they charge for their services. For instance, customers have to pay for a loan, and they also bear the interest based on conditions agreed upon earlier.
Additionally, they have service fees, convenience fees, and transaction fees for different services. Most commercial banks today have a physical as well as an online presence.
Is Commercial Banking a Good Career Path: Preparation
Sponsored Content - Posts And Ads You May Like:
As with any other industry, gaining entry into commercial banking requires due diligence. Here are some methods to prepare for a career in retail banking.
Research the Industry
While embarking on a career decision, one must conduct thorough research to enhance their understanding of the industry. This includes studying the competitive landscape, the variety of roles to specialize in, and the daily responsibilities of these specializations.
Earn a bachelor's degree
A person looking to pursue a career in commercial banking must take up accounting, finance, or similar areas of study. The coursework must contain multiple math courses, and there also has to be an intensive focus on business decisions through spreadsheet modeling.
A master's degree such as an MBA will help you advance further in your career and land those coveted client-facing roles.
Gain Work Experience
While there may be entry-level positions requiring work experience, one can also apply to banks or other financial institutions to gain the requisite work experience. Subsequently, one can also choose an internship to gain experience depending on the skillset he wishes to develop.
There are various internships with differing pay scales and hours available. One can look for these opportunities by contacting banks, local financial organizations, or the school's career development services.
Obtain Certifications and Licenses
It is expected that individuals who carry out specific duties are certified.
Take, for instance, people who sell securities or insurance. Aspiring commercial bankers can pursue certifications such as the Certified Public Accountant (CPA) or the Mortage Loan Originator (MLO).
Interview Preparation and Applying for Jobs
Go through available commercial banker roles by searching for them either online or via job fairs or online.
The ideal interview preparation for a commercial banking role should focus on financial ratios and credit metrics. So research the bank or institution you are applying to and bring all the necessary documents to the interview.
Is Commercial Banking A Good Career Path: Roles Available
An extremely crucial facet of answering the question is whether commercial banks are a good career path is the variety of roles. Well, anyone who decides to pursue commercial banking as a career has plenty of options.
Here, the section below will dive into them in detail.
Credit Analyst
Here due diligence is done on a person's financial statements, annual reports, or credit scores. This is to determine an individual's creditworthiness before the approval of business or personal loans.
Other factors such as regulatory frameworks and stock market fluctuations are also taken into account. Then, a final report is prepared.
As a result, this entry-level job has immense demand, and a person must possess sound quantitative and risk analysis for this role. As per the US Bureau of Labor Statistics, the median annual income for a credit analyst is $71,520.
Account Manager
This role involves looking for new clients for the bank. Furthermore, account managers should also maintain a healthy relationship with existing clients. The account manager achieves this in the following two ways:
Upsell or cross-sell other services of the bank
Resolve customer complaints
An account manager interacts one-on-one with the customer and answers any query he may have. The average annual salary for an account manager in the US is $58,670
Branch Manager
A branch manager or a general manager oversees the operations of a particular branch of the bank. The responsibilities include:
Hiring and training new staff
Working closely with higher management to improve performance of the branch
Setting and tracking sales goals.
Marketing the branch to new and existing customers
Supervising credit and loan approval
Accounting or a finance degree is ideal for a branch manager role. A branch manager typically earns $68,035 on average every year.
Quality Assurance Specialist
This role ensures that the daily operations of the bank conform to specific quality standards. Additional responsibilities include assessing the various factors that contribute to the success of a project or the organization.
Some essential functions of a quality assurance analyst are –
Implementation of company and regulatory standards
Reviewing documents and performing an audit
Non-compliance to regulatory requirements could lead to serious legal challenges. A quality assurance analyst earns $68,430 on average per year.
Loan Officer
The primary function of a role officer is to facilitate loans for individuals or businesses, and he assists the borrower through the entire process.
Furthermore, he provides information on the products of the bank. A loan officer also educates the customer on the risks and alternatives to different solutions. He has an average annual income of $56,987.
Executive
Reaching the executive position of a bank is a dream for many people, and this requires a combination of knowledge, hard work, and time. As a result, one must be thorough with the strategy, handling clients, and top talent.
The salary for senior executives and leaders at banks is around the $100,000 per year mark.
The range of roles ensures that the answer to 'Is commercial banking a good career path' is yes.
Is Commercial Banking a Good Career Path: Pros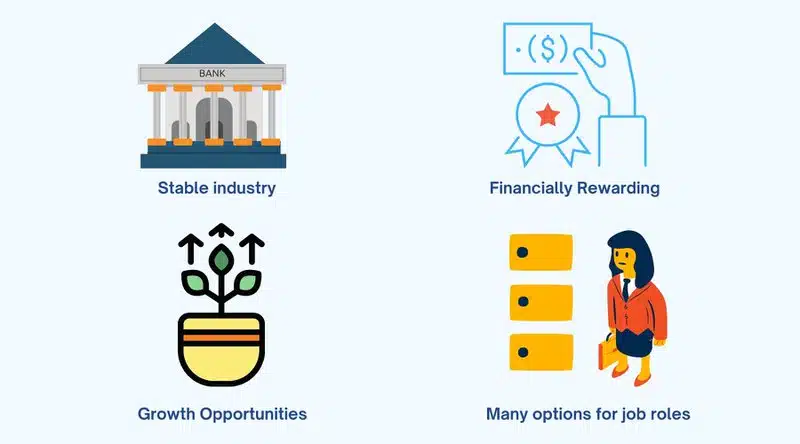 Now that we know the various opportunities available in commercial banking, it's time to look at the pros of working in this field:
Stable Industry
Commercial banks have been around for a while, and things are expected to stay that way. This is the case even after many changes in the landscape, such as digital wallets and e-banking.
However, it is expected that an individual would be versatile enough to adapt to the changing requirements.
Financially Rewarding
If you are looking for high-paying jobs, then you should consider a career in commercial banking. The pay is attractive even at the entry level and only increases as you go higher.
Great Growth Opportunities
Most people start as loan officers or credit analysts. And with time, hard work, and performance, they move on to bigger and better opportunities.
Wide range of jobs to choose from
It does not matter if you like client-facing or back-end roles, as there are plenty of opportunities in commercial banking to suit your personality.
Is Commercial Banking a Good Career Path: Cons
Unfortunately, there are a few cons to building a career in commercial banks. Moreover, it is necessary to be aware of them before one decides to take the plunge. In this section, we are going to examine some of these drawbacks.
Increasing Competition
While newer banks are being established quite frequently, this also increases the competition for the people who are already customers of other banks. Banks may be tempted to offer loans and other financial products without assessing the customer.
Further, this lack of pre-qualification is a threat when customers default on loans stressing the financial system. Additionally, it could pose serious legal challenges for the banks and the individuals involved.
Demanding Careers
A career in commercial banking can be quite taxing because of the long hours and the number of transactions. As a result of this, many people do not stay in the banking sector for long.
Dealing with Customers
One has to be prepared to deal with angry or rude customers asking questions. This is understandable as money is a sensitive topic for all people. As a banker, one must remain courteous and professional at all times.
In Conclusion
Is commercial banking a good career path? If you love numbers, money, and people. Then the answer is a definite yes. You might not focus too much on the cons, as every career option comes with both a boon and a bane.
Moreover, a career in commercial banks can be lucrative as you go up the ladder with the proper knowledge and skills. So don't wait. Start your research today.
Want To Learn About Other Career Paths?
If you want to know more about other career paths, check out this list on Totempool. You will be able to make your choices with solid information before moving to a particular industry:
If you are indecisive about the area, you want to work. Here we list a few functional career paths:
As more industries are published on the website, we will keep updating the list for you. If you want to learn how to choose your career path, check out this article.