As you are probably aware, a prosperous career consumes a lot of time and effort to be built. To make yourself more marketable for other jobs, and get paid for it, demands many years. Developing your knowledge and becoming up to date with trends you should always have in mind to succeed professionally. Today we will specifically look into one of the most talked-about career paths: The marketing career path.
A career can lead to success and happiness, but never forget that it will take years of your life. So it is crucial to consider if this is really what you want to do with your coming years before committing so much time and energy to something.
Before we get into the details, let's start with the most basic questions about the Marketing Career Path. If you want to know any specific section, follow our index below:
What is Marketing?
Marketing is an umbrella term for virtually everything in business. It involves developing the strategy behind any product or service, creating the tools to sell it, and bringing that product or service to people who want/need/use it.
At the most basic level, if marketing doesn't exist, nobody knows anything about your product, which means nobody will buy it. Marketing is essentially the process of "getting people to spend money on your products/services."
You can be reduced to a simple phrase:
No marketing, no product. No product, no business.
Why Marketing As A Career?
Regarding career opportunities, marketing is one of the most diverse areas you can work in. There are many different marketing types that are bound to be something for everyone.
Whether creative or analytical, outgoing or introverted, organized or spontaneous, you will find an appropriate place while creating a Marketing Career Path.
Marketing covers everything! From strategizing social media campaigns and writing press releases right through to designing packaging and creating adverts – if you could think of it, somebody does it as part of their job as a marketer somewhere.
This means that once you've got your foot on the career ladder, there's no limit to where you can go.
What Is The Career Path For Marketing?
Intern
The marketing intern is where you would typically start your career in marketing. A marketing intern can provide support to a marketing department by doing simple daily tasks.
In recent research run by Totempool about marketing internships, we were able to divide the most common marketing internships in four types:
Digital Marketing
Branding
Product Marketing
Social Media
Each of them can drive the person a different marketing passion.
Remember that you don't necessarily need to start as a marketing intern to succeed in marketing. Many professionals come from fields of finance, engineering, etc.
Specialist, Assitant, and Associate
These are some of the titles to describe entry-level positions in marketing. Typically you will see jobs like Digital Media Specialist, Brand Associate, Product Marketing Specialist, Social Media Assistant, etc. And you can combine these titles with the subarea listed above.
The entry-level positions are in charge of executing tasks such as creating the social media calendar, designing social media posts, writing content, and designing and sending emails, among others.
It's an opportunity for growth in the marketing department up to the higher levels. Here you will learn hands-on work and will be able to master many areas in the marketing world.
Supervisor and Coordinator
The supervisor or coordinator will work with the marketing team to understand the company's priorities or strategies drafted by upper levels and include these priorities in the marketing daily tasks.
They can be Social Media Coordinators, Digital Marketing Supervisors, Product Marketing Supervisors, Brand Coordinators, etc.
They may or may not have direct reports. Some of them just coordinate processes or tasks. Others will be able to supervise direct reports such as interns or associates.
Manager
Marketing managers are the ones who ensure the KPIs and work have been done correctly by the marketing team. If the company is not a large corporation, they may be in charge of many marketing subareas at the same time.
In case it's a larger company, they may be able to take care of a smaller subdivision, such as SEO, Business Intelligence, Product, or Email Marketing.
If the company is also a marketing agency you will find account managers who are the ones who attend a certain client account or several client accounts.
Director
The director of marketing oversees the company's marketing strategy.
When the company grows in size, the number of products, or services, t starts creating more levels such as directors, VPs, and CMOS.
Therefore, the director can either be responsible for one specific area as well, such as the Director of Search Engine Optimization (SEO). They can group part of the marketing subdivisions, such as the Director of Inbound Marketing.
In some cases, they can be responsible for a product category or a brand, such as the Director of Printers or Director of Beauty Products/
The Director of Marketing takes care of implementing strategies and KPIs in their marketing area, aiming to achieve goals and the ROI.
VP of Marketing
When it comes to the vice presidency, there are not many variations on the marketing area than the title VP of Marketing or Marketing VP.
After being a senior director, this is your next step. A Vice President of Marketing is the second-highest position in a company, but bear in mind that small companies usually don't have these higher-level titles, but if so, it will be closer to a marketing director job responsibilities.
A Vp of Marketing maters the marketing area and is usually a great leader.
The VP of marketing often represents the company in public situations. He works to resolve conflict among a company's different sectors and sustain the overarching goals of the business. He may also handle the hiring of other important, high-level marketing positions within the company.
Chief Marketing Officer
This is the top of your marketing career path. If you reach this point, you did it! Congratulations!
The chief marketing officer or commonly known as CMO is at the top of the food chain. The CMO is the one who makes big decisions related to brand investments, budget, team hiring, and promotions. Besides, they keep a close connection with the C-Level team. Usually is the one who presents to stakeholders all marketing numbers and ensures the company's marketing is healthy and gives total support to the corporation's needs for growth.
Since the CMO is the last position you can reach in the marketing career path, the next step is to become a CEO. And this transition is not that uncommon since the marketing professionals are very well versed in many different areas and know the market and clients as almost anyone in the company.
So now that you know the steps of the marketing career, let's take a closer look at the possible marketing streams.
What Are the Different Marketing Streams?
The marketing department of a company is usually structured into different marketing streams or marketing specializations, which can vary from business to business.
Here is a list of a few streams of marketing.
1) Social Media Marketing
In marketing terms, social media marketing is a form of marketing that involves using social networks such as micro-blogging services and other online communities to advertise a product or service.
The job scope of a Social Media Marketing Manager requires them to develop marketing strategies by selecting appropriate tools such as blogs, forums, Flickr, Twitter, etc. These are used for marketing & promotional activities through various forms of online communications.
2) Search Engine Marketing
This type of marketing is about getting your business website to rank highly on the Google search results page so potential customers can find you easily.
Firstly they have to choose appropriate keywords that their target audience would likely search for. Then they need to create high-quality content with those keywords in mind.
3) Public Relations (PR)
This marketing strategy is concerned with building closer relationships between an organization or individual and the public through media publicity, brand awareness, goodwill, etc. The goal of PR marketing is to obtain favorable publicity for your business.
4) Digital Marketing
Digital marketing describes advertising on computer screens and mobile devices like smartphones or tablets. On desktop computers, digital marketing consists typically of banner ads, videos, or slideshows that reach people using the Internet at home or work.
It can also take place on social media sites like Facebook, Instagram, and Twitter, where companies create pages to promote their products and services.
5) Email Marketing
Email marketing is a marketing technique businesses use to keep in touch with potential or existing customers. Usually, it involves sending emails containing special offers and promotional information about its products and services.
Marketing messages are typically displayed as banners in a webmail service such as Gmail.com but can also appear as regular email messages from a person or organization.
6) Traditional Advertising
Marketing scholars and practitioners typically regard traditional marketing, such as television, as the most potent of all marketing strategies for introducing new products and services and creating rapid demand.
Furthermore, traditional marketing is an expensive marketing method, but it can significantly increase a company's revenue. The effects of TV marketing last up to three weeks in the minds of consumers.
7) CRO Marketing
If it is a business, it needs to have an online presence. And once it has an online presence, you need to drive people to the website. And CRO is one critical factor here.
CRO stands for conversion rate optimization. CRO marketing involves various fine-tuning elements on the website. This should result in a better experience for website visitors and increase their chances of performing the desired action, such as making a purchase or signing up for a newsletter.
Some examples of successful CRO marketing are:
8) Product Marketing
The marketing of a product is all about creating a go-to-market strategy for a product. Product marketers act as a bridge between product management and the sales teams. Also, it involves working on the positioning and messaging around the product. However, this is just the pre-launch phase.
The post-launch phase includes driving the demand and the usage of the product. In this phase, both the sales teams and the customers have to be educated about the features and benefits.
Some successful product marketing campaign examples are:
Airbnb introduced the 'Belo' symbol to instill a sense of belonging in their users is another excellent example.
9) Marketing Research
Marketing research is a process that involves determining the viability or feasibility of a product or service. The results are arrived at after direct discussions with potential customers.
The whole marketing research exercise has several objectives. It seeks to understand the business opportunities available and the competitive landscape. Also, it helps make the product more customer-centric and forecast demand.
Even well-established brands like Apple, Starbucks, and McDonald's use market research extensively to stay relevant. LEGO also launched an inclusivity campaign and included 3,500 girls and mothers in a study and used the results to bring out a new range of toys called "Friends". All this was based on market research and understanding of the customers and their awareness.
10) Business Marketing Intelligence
Marketing intelligence can be defined as collecting actionable data and information that helps an organization stay ahead of the curve. The data collected can pertain to competitors, customer preferences, the industry, or market trends.
Marketing intelligence usually contains a mix of qualitative and quantitative data. This information helps guide and shape a firm's marketing strategy. When marketing intelligence is utilized correctly, it leads to a more significant marketing ROI.
However, the ROI depends on various factors such as:
Quality of input data
The depth and sophistication of the analytical model
Usage by marketing and account managers
11) Field Marketing
When a business has to take its products to specific audiences at events and other public locations, it is known as field marketing. This activity encompasses distributing and selling promotions, direct sales, and product demonstrations in stores, malls, and streets.
Creating brand awareness and engaging with local communities are the aims of field marketing. A classic example of field marketing is BudLight creating awareness for its lime-flavored beverage.
B2B firms also engage in field marketing. Some standard field marketing methods include – webinars, roundtables, and fireside chats.
Some benefits of field marketing are:
It complements the sales team's efforts.
The ROI from field marketing is measurable.
The targeting is highly accurate.
It convinces cynical audiences.
Different Aspects of Marketing Activities
Marketing is one of the most influential business disciplines. It allows businesses to think strategically about creating, communicating, and delivering value to customers to drive profitable customer relationships.
Marketing touches upon every aspect of a business, and the activities related to it can divide into four categories:
1. Marketing research
It is the foundation of Marketing decision-making. Marketing researchers collect and analyze data to understand the marketplace. They also define markets, estimate market potential, recommend sales or marketing program changes, and monitor trends that affect business performance.
2. Marketing strategy
Marketing strategy defines how an organization will create value for customers, identify effective channels, establish competitive advantage and communicate value propositions. A marketing plan also outlines the goals achievable with available resources.
3. Marketing implementation control activities
Marketing implementation activities include advertising & promotion, product management, pricing, sales force management, distribution & logistics, and inventory management.
4. Marketing Plan
A marketing plan defines the mission of an organization & sets goals. Marketing planning includes activities such as marketing strategy development, segmentation, targeting, positioning, pricing strategy, brand/ product planning & management
Top Marketing Profiles and Positions
Marketing jobs are widespread from small local businesses up to large corporations.
A marketing career path can lead one to different industries and organizations depending on one's goals and interests. There are many types of career choices for Marketing Career Paths, such as:
1) Marketing Management
Marketing managers are responsible for planning, directing, and coordinating marketing policies, projects, and campaigns to ensure the maximum profitability of the firm. This also involves supervising the entire marketing department.
Marketing managers must have a bachelor's degree in business administration or marketing and several years of experience working in an administrative capacity. The marketing manager bags a salary of $104,295 per year on average.
2) Marketing Research
Market research analysts often conduct marketing research and collect data about customer preferences and purchasing habits.
Marketing research analysts typically work in marketing firms or organizations that produce consumer products such as food, clothing, and beverages. They also use their findings to help inform product development decisions.
On average, Marketing Researchers earn up to $80,841 per year.
3) Media Relations Representative
Media relations representatives promote their company's image through different media outlets such as radio and television programs, magazines, and newspapers. They also develop strategies for their company to maintain its image.
Furthermore, media relations representatives typically hold bachelor's degrees in communications, marketing, or public relations. A media relations representative can make up to $61,027 per year.
4) Marketing Analyst
Marketing analysts are responsible for evaluating market research findings to help inform organizational decision-making processes. They also conduct data analysis using statistical software programs, manage databases and create marketing reports.
They typically have a bachelor's degree in business administration, economics or statistics. The average base pay a marketing analyst can make every year is around $67,319.
5) Marketing Coordinator
Marketing coordinators work directly with sales representatives to promote products through various marketing channels.
They usually work within a specific product category, such as automobiles or healthcare services. They perform administrative tasks such as scheduling meetings, preparing presentations, and compiling market reports for their teams.
Marketing coordinators usually need a bachelor's degree, and some employers prefer candidates with an MBA. They typically earn around $50,967 annually.
6) Marketing Trainee
Marketing trainees receive on-the-job marketing services training such as public relations and advertising. They also support experienced marketing professionals by completing various administrative tasks.
Furthermore, they should have strong writing skills to work on promotional materials such as advertisements, newsletters, and press releases. They often work closely with account executives, graphic designers, and copywriters to produce these materials.
Marketing trainees typically need a bachelor's degree in business or marketing management, and on average, they earn around $54,929 per year.
Professionals who want to become market research analysts can gain valuable experience working as marketing trainees.
Marketing trainee positions are common within large corporations, advertising agencies, and publishing companies. They usually work for several months to a year before moving on to other positions within the company or elsewhere in the industry.
How To Start A Career In Marketing?
Marketing is not just about advertising or selling products, but more than that. It promotes increasing the sales volume, providing new product ideas and services that generate new revenue streams.
Here's all you need to start and create a successful Marketing Career Path: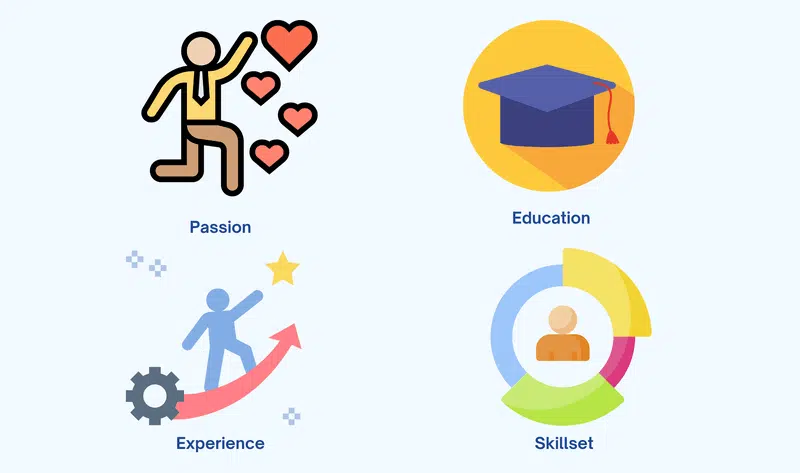 1) Passion
If you don't have a genuine interest in Marketing, trying this career path might not be fruitful. Marketing is never just a 9-to-5 job because there's always something new happening everywhere.
So marketers need to stay up-to-date with the latest news related to their field by following social media platforms like Facebook and Twitter, subscriptions to industry-leading magazines and newsletters, etc.
2) Education
A marketing degree or Marketing qualification is essential because these courses will give you an insight into what marketers do in their work life.
Marketing degrees also provide expertise in market research, consumer behavior, marketing strategy, advertising, public relations, sales management, finance, and economics.
These qualifications also help develop practical skills that can be used in real-life situations—for instance, taking part in marketing projects that companies sponsor.
It also helps in preparing students for career advancement through further education
3) Experience
Although experience isn't mandatory to pursue this job, having one certainly makes your resume stand out. Marketing is all about convincing others with data analysis and market research.
However, if you have practiced this skill even in one of your projects, it makes a big difference. If you are just getting started with marketing, internships or practicum opportunities are always available.
4) Respective skillset
The marketing career path requires excellent communication skills and presentation abilities. Marketing professionals need to be clear and concise when presenting their ideas to the target audience.
The marketing field is growing as marketing professionals must help develop marketing strategies and create effective marketing plans for businesses. And there are more and more businesses coming up almost every day! Even marketing gurus also need analytical thinking and interpersonal skills to identify and address customer concerns or issues.
Degree Programs and Certification in Marketing
Creating a Marketing Career Path usually requires a degree or certification from a marketing program.
However, some marketing jobs don't require formal schooling but require relevant experience. Each path to the marketing profession starts with education, training, and relevant experience.
Degree
The following list provides examples of undergraduate degrees that can lead to marketing careers.
Bachelor of Business Administration (BBA) degree
Bachelor of Arts (BA) degree in Marketing
Master of Business Administration (MBA) degree
Bachelor of Science (BS) degree in Marketing, Economics or International Business
Bachelor of Arts (BA) degree in Journalism
Certifications
The following list provides some essential marketing certifications to pursue the Marketing Career Path.
This will enable marketing professionals to understand better marketing channels and how marketing campaigns can use them to reach their target market.
This professional certification program provides participants with marketing knowledge, tools, and best practices for developing successful content marketing strategies.
The Hubspot Inbound Marketing Certification is a four-hour course that will teach inbound marketing fundamentals such as SEO, blogging, landing pages, and lead nurturing.
Google Analytics Training course certification aims to train students on implementing analytics tools through practical examples using real data sets from multiple sources such as websites, mobile applications, or social media platforms.
Before beginning a career in marketing, it is crucial to have a foundation of marketing knowledge that can be used in marketing jobs across different marketing specialties.
Digital Marketing Career Path
Digital marketers are very much in demand right now. And there has never been a better time to enter into the field. The jobs in Digital marketing are booming these days, and on average, a digital marketer or a digital media specialist can earn up to $60,176 per year.
Skills
Digital Marketing is primarily about analytics. To have an entry point into Digital Marketing, you have to have a technical background. However, knowledge of web analytics tools like Google Analytics or Adobe Digital Optimizer is essential.
Even though Digital Marketing primarily comprises digital campaigns, digital media buying, and digital strategy, you need to have some writing skills. Many companies expect their digital marketers to develop blog content that can be published on company blogs or industry blogs.
You will also need excellent presentation skills to land online marketing roles. The primary responsibility is to present reports and analyze results before clients. So make sure you brush up on your PowerPoint skills as well.
If you wish to take up Digital Marketing Consulting Services, you will also need consulting skills. The consulting skills may include conducting workshops, facilitating group discussions, or conducting interviews and surveys to gather data and insights.
Once your Digital Marketing Career Path is in place, you need to keep yourself up-to-date with Digital Marketing Trends and Methods. Digital marketers always stay abreast with Digital Product Development trends so that they can help their companies come up with products that customers would love to purchase
Finally, there are lots of Digital marketing courses available online where learners take admission and complete the certification program under expert guidance.
These industry-level certifications not only add value to your resume but also serve as proof of Digital Marketing skills.
Why Marketing Is a Good Career?
Careers in Marketing are booming, with ever-increasing advertisements for Marketing graduates on job boards. With an enormous amount of work being done online, the marketing field seems to be expanding more and more every year. It gives enthusiastic students, passionate about marketing, an infinite amount of opportunities.
In Marketing, there is a lot of potential for job promotions, and marketing graduates can advance through the ranks very quickly. Marketing professionals in large companies often have much higher titles at much younger ages than their counterparts in other industries do.
Marketing jobs are also available in many industries, not just consumer goods or online services. There are better chances to get a job in Marketing if the candidate has working experience before applying for a job.
In this era, marketing can prove to be a very lucrative career path.
In Conclusion
The marketing career path is a long winding road full of possibilities. So marketing is in nearly everything around us.
The path to marketing success requires dedication and hard work, but it can be gratifying when you reach your goals. The best way to prepare yourself for a job in marketing is by getting as much real-world experience as possible.
While you are still in school, try taking business classes that will help round out your resume before graduation, look into internships at companies that interest you, or spend some time creating marketing pieces on behalf of nonprofits.
Want To Learn About Other Career Paths?
If you want to know more about other career paths, check out this list on Totempool. You will be able to make your choices with solid information before moving to a particular industry:
If you are indecisive about the area, you want to work. Here we list a few functional career paths:
As more industries are published on the website, we will keep updating the list for you. If you want to learn how to choose your career path, check out this article.
Christian has over ten years of experience in marketing agencies.​ ​Currently, he has been dedicating his time to a tech startup and also writing for major publications. He loves podcasts and reading to keep up with the latest trends in marketing.